Review: Ultimate Ears Boom Bluetooth portable speaker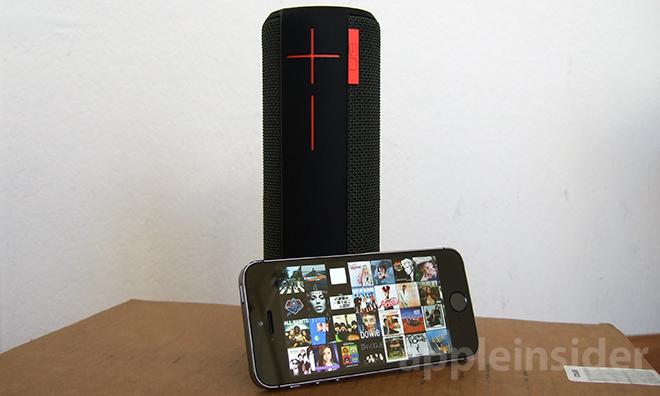 AppleInsider is supported by its audience and may earn commission as an Amazon Associate and affiliate partner on qualifying purchases. These affiliate partnerships do not influence our editorial content.
Ultimate Ears brings its third Bluetooth speaker offering to market in the Boom, a device that features "360-degree sound" and the ability to "Double Up," or pair two speakers together, for stereo output.
With roots in the professional music industry, Logitech subsidiary Ultimate Ears has a reputation for making some of the best custom in-ear monitors around. But the company is wading deeper into premium audio accessory territory with the Boom, its third wireless speaker following last year's UE Boombox and the more portable UE Mobile Boombox,
Design
The UE Boom is one of the more compact speakers on the market, standing at 7.1 inches tall, or a little under one inch shorter than Apple's iPad mini. Despite its small stature, the Boom packs in 538 grams' worth of components, substantially more than the Retina iPad mini with Wi-Fi + Cellular's 341 grams.
With a cylindrical form-factor, the Bluetooth-enabled speaker's 2.6-inch diameter fits comfortably in the hand, but is a tad too large to stuff in a pocket. Although it doesn't have any handles, Boom can be tethered to a lanyard via a flip-up D-ring located at the base of the unit. The ring also unscrews to reveal a tripod mount supporting 1/4-20 UNC threads.
UE's choice of materials is notable. The "acoustic skin," or debris shield, is made of a non-removable water and stain resistant cloth covered in a plasma coating. A textured surface, the cloth gives just a little when pressed, but feels taut and well attached to the rest of the speaker body, which is covered in smooth rubber.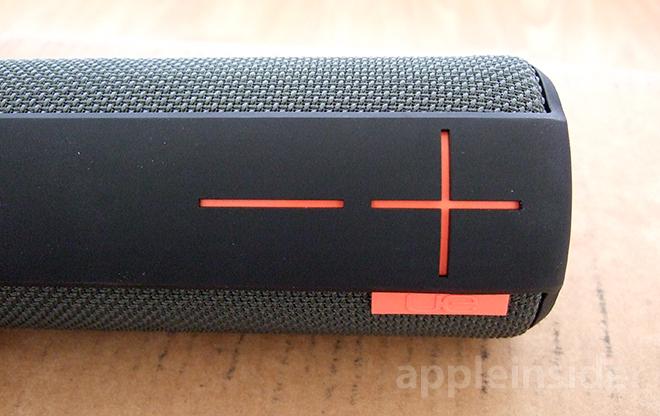 The Boom's tactile buttons are hidden beneath the rubberized sheath, with huge plus and minus signs marking volume controls. Aside from the "UE" tag, the two symbols serve as the only design adorning the walls of the device, while the large rubber strip helps keep the device from rolling around.
The Boom's power switch is located on one end of the speaker, positioned in the middle of a shallow concavity. Just above the power button is a raised dimple that houses Bluetooth control actuator. Altogether, there are four tactile buttons.
A white LED integrated into the power symbol turns on and remains illuminated when the speaker is powered up. Another LED is located in the Bluetooth dimple to show pairing status, while a third is situated by the Micro USB charging port. Other than these indicators, the Boom uses sounds to relay its status to users.
On the end opposite the power and Bluetooth controls are two inputs: a 3.5mm audio-in jack and a Micro USB port for charging.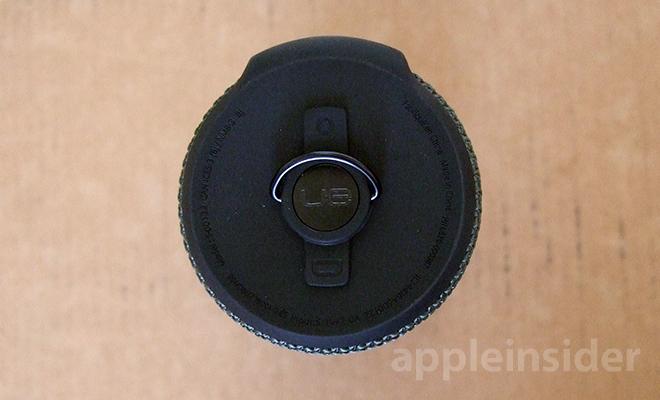 Inside the speaker chassis are two 1.5-inch low impedance drivers and two 2-inch passive radiators, each paired on opposite sides of the round body. The system is vented at both ends with square cutouts, allowing sound to flow out in all directions, hence "360-degree sound."
In use
As mentioned above, the Boom runs through a startup sequence much like a computer; when it is turned on, a short drum beat is played to confirm its power state. Other distinct beats are used to indicate Bluetooth discovery mode, a successful pairing and device shutdown.
Like many Bluetooth audio devices that support the A2DP protocol, pairing with the Boom is easy. On first power up, the speaker automatically goes into pairing mode, meaning it can be discovered via the iOS Settings menu. If a user wants to add another source device, the Boom can be forced into pairing mode by holding down the Bluetooth dimple for three seconds.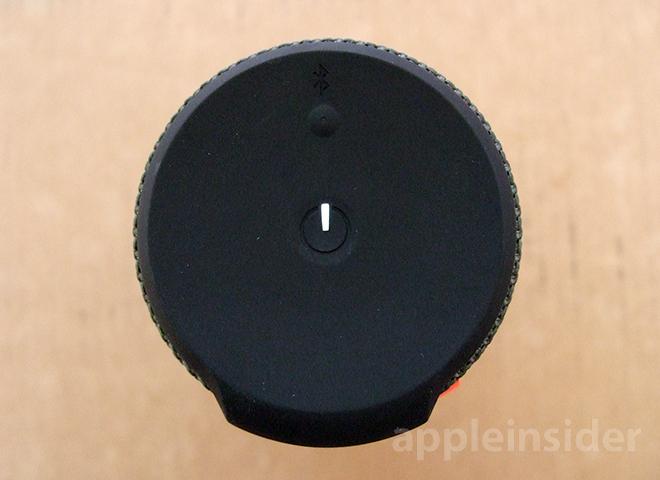 Up to eight devices are supported, including an interesting function in which two sources are connected at the same time. For example, a user can play songs from an iPad and remotely control volume and other speaker functions with an iPhone. Alternatively, two devices can be used for quick song switching or cross fading by pausing one device while the other is streaming.
In our tests, we found battery life to be up to UE's claims of 15 hours of playback at listening levels set at around three-quarters from maximum. That number dipped at full blast, dropping to around 13 hours between charges. It should be noted that we were not able to test the unit at full volume without taking breaks, as battery life surpasses reasonable listening hours.
As the Boom has no display, the battery level is presented in a pre-recorded voice, accessed by pressing the plus and minus volume buttons at the same time. When connected to a source device like the iPhone, a battery indicator appears next to the Bluetooth icon.
In addition to being a competent speaker, the Boom also serves as a speakerphone and sports dual internal microphones. When a call comes in, the unit will automatically pause what is playing and switch to a hands-free calling profile.
Performance
While we're not completely sold on the "360 degrees" of sound — there is a distinct dead spot where the rubber covers the unit's top and bottom audio vents — the Booms proved to be one of the better performing portable speakers we've tested. Sound quality is high and assertively loud.
Listening with the four provided equalizer options — Out Loud, Bass Boost, Intimate Spaces and Vocals — we found the "Out Loud" settings to be the most versatile, giving a sense of space while retaining clarity.
Bass Boost muddled the low end substantially, especially at louder volumes, which is not surprising given the Boom's tiny physical volume. Intimate Spaces flattens the highs and constrains low end to a certain degree, but the mode simply took too much away from the mids. Vocal further dampened the peaks and troughs, making for a less dynamic sound suitable for talk radio and other non-musical tracks.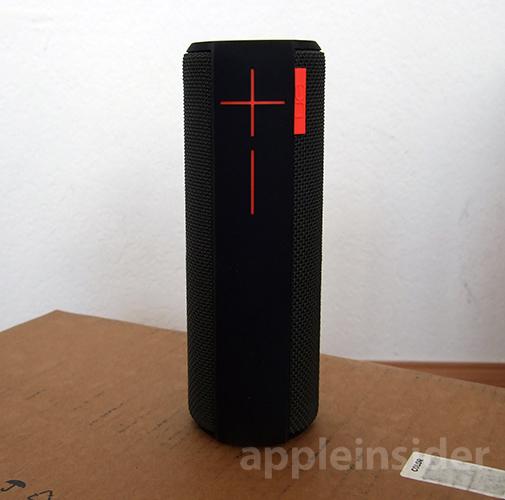 Although its cabinet is not made of wood, UE's speaker was able to recreate a warm, rich tone that resulted in a plump sound. We can guess the passive radiators are to thank for this unique quality, as the components are installed parallel to the active drivers.
Testing various genres, artists and recordings, we noted the speaker lends itself nicely to simple, well produced tracks. Because the Boom is capable of reproducing warm tones, Jazz cuts sounded the best, followed by R&B and early rock.
Modern dance, rock and rap albums played equally well. Dynamic thumping bass lines were reproduced faithfully, while vocals came to the fore with the Out Loud EQ setting. There was a taste of shimmer on loud cymbal crashes, but we didn't hear any sibilance even at high volumes.
The speaker strained when we threw a full orchestra at it, however, and nearly buckled under the weight of heavy early-20th century classical, losing the clear delineation of strings and winds enjoyed by larger full-range systems.
The otherwise solid performance was marred by low end distortion. While minimal, we did hear fade and some crackling on bass-heavy tracks.
Double Up
One of the Boom's marquee features is the ability to "Double Up," or connect two speakers together
over Bluetooth. In this mode, users can select from "Double" or "Stereo" modes. Double simply links the two Booms in parallel, meaning they both play the left and right channels of a track, while Stereo affords separation.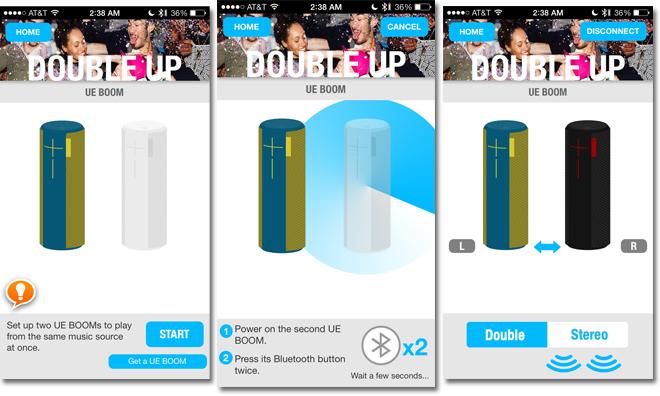 In operation, the second Boom unit feeds off the primary speaker's audio stream instead of the source. This means the UE BOOM app is needed to pair and manage both speakers, but the process is as simple as turning the slave unit on and pressing its Bluetooth button twice. With the app, users can select which speaker outputs left and right channels, as well as toggle Double/Stereo modes.
We found Double to be a bit overwhelming, with a wall of sound that was seemingly less cohesive than a single speaker. The Stereo mode, however, was impressive, with true left/right channels and accurate timing coming together to form quite a bit of spatial separation.
The feature is a pricey alternative to a standalone stereo setup, but it might be worth looking into if friends have their own Boom.
We did experience signal dropouts and audio artifacts when the Booms were about ten feet apart, even with a clear line-of-sight, but things cleared up when we brought them closer together. Later tests suggested there was a radio interference issue in our main testing environment, as the speakers were able to keep a clean connection at distance when outdoors.
The App
The UE BOOM app is relatively sparse, with few options beyond EQ settings and the "Double Up" feature. An alarm can be set to play music from a paired source device or, in the case of a lost connection, a default alert.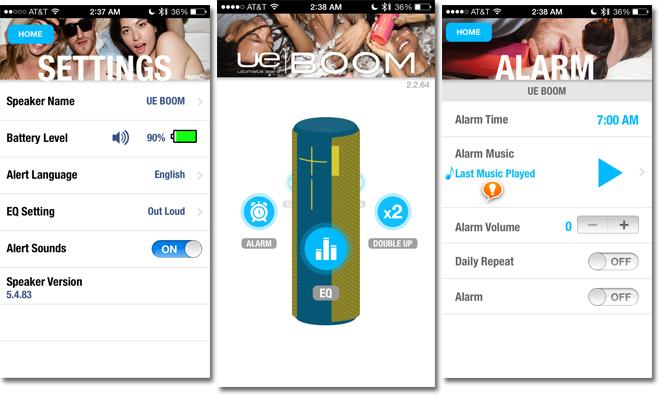 Also included in the app is a brief device tutorial, the aforementioned EQ selector and a dedicated menu for Double Up mode.
Conclusion
Ultimate Ears accomplished a lot with the Boom, taking a few steps forward from their previous speaker entries in both sound quality and design. Although a number of other devices share a similar form factor, the UE model stands apart with touchable, resilient materials and high quality audio.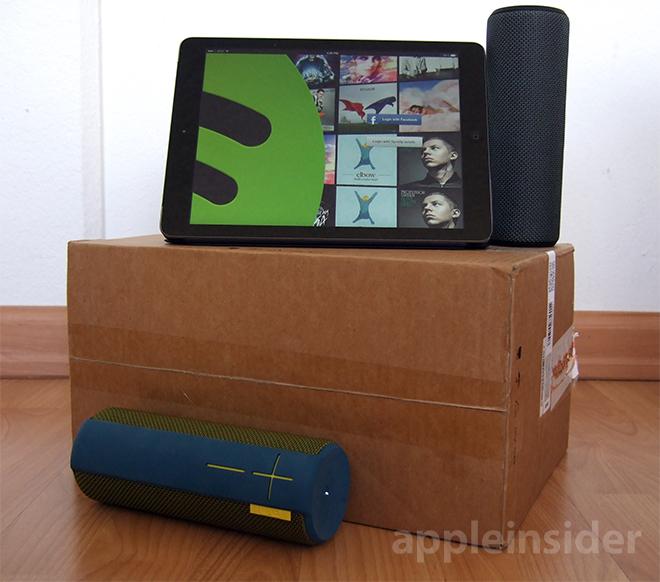 From such a small device, the sounds reproduced by the Boom are amazing. Perhaps not entirely "360-degree sound," it is enough to fill a medium size room. The addition of stereo in Double Up mode is impressive, but for many the costs will likely outweigh the benefits.
We were disappointed to learn that UE went with the vanilla SBC codec and not AAC, but the company did a good job making up for the relatively plain encoding tech with solid hardware and design.
For its size and portability, the Boom offers up plenty of great sounding audio, putting it among the upper echelon of premium portable speakers.
The UE Boom is priced at $180 and is available in a number of colors, including black, moss, blue and red, among others.
Score: 4 out of 5

Pros:
Giant, clear sound
Good battery life
Double Up stereo capability
Cons:
Expensive
Some bass distortion at high volumes