Tim Cook tweets support for World AIDS Day, tints Apple Store logos red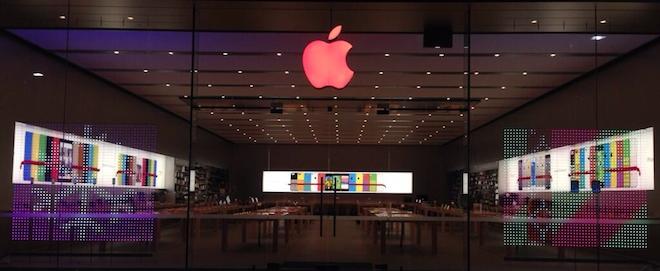 Apple's chief executive Tim Cook called attention to World AIDS Day via Twitter, noting that the company would be "turning Appe's logo red" in support of achieving an AIDS-free generation.
Included in the tweet was an image of an Apple Store with a red-tinted logo, an awareness campaign Apple began last year on December 1. Using antiretroviral drugs, researchers believe it may be possible to achieve an AIDS-free generation by 2015, reducing the 700 babies born with HIV every day in 2012 to virtually zero over the next two years.
In 2011, Apple Store employees began specifically promoting Product(RED) products, which Apple donates part of the purchase price to the Global Fund to fight AIDS in Africa.
Apple has been selling Product(RED) devices since 2006, the year the program was created by U2 lead singer Bono and Bobby Shriver. Bono praised Steve Jobs for calling attention to the program, noting that Apple has has been the largest contributor to the Global Fund to Fight AIDS and that "Apple's involvement has encouraged other companies to step up."
Last year, Apple started tinting store logos red for World AIDS Day, as well as linking to the JoinRed.com site from its public web page, calling attention to other fund raising activities linked to the Global Fund.
In November, Apple's lead designer Jony Ive and industrial designer Marc Newson collaborated on a series of products auctioned off to raise money for the Global Fund.
The products offered for auction included a special Product (RED) Mac Pro that brought in $977,000, a pair of rose gold Apple Earpods that sold for $461,000; a 1966 bottle of Dom Pérignon housed in a red cooler auctioned for $93,750; a custom designed Leica Digital Rangefinder Camera that fetched $1,805,000 and "The (RED) Desk," which was sold for $1,685,000.