Honda introduces new iPhone-driven in-dash touchscreen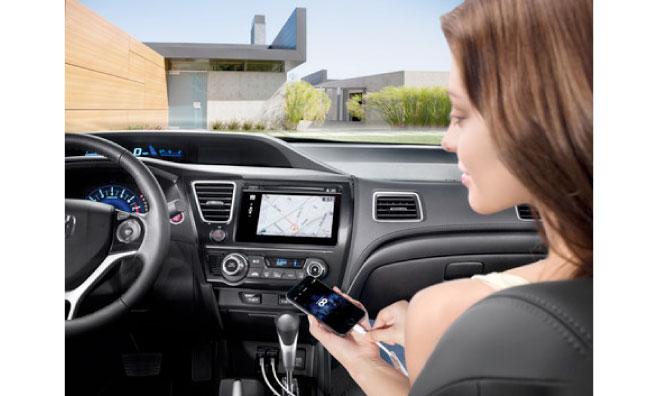 Japanese automaker Honda on Tuesday announced that the 2014 Civic and 2015 Fit will gain access to the company's new Display Audio system, a 7-inch built-in touchscreen with functionality partially powered by Apple's iPhone.
Display Audio's HondaLink Navigation powered by an iPhone
Display Audio represents perhaps the deepest integration seen from any automaker between smartphones and in-vehicle infotainment systems. In addition to combining several now-standard phone-connected functions — Â like placing and receiving calls and messages over bluetooth — Â with a new pinch- and swipe-able touchscreen user interface, Display Audio acts as a "second screen" for Honda's suite of HondaLink apps.
The HondaLink suite consists of four apps: Connect, Navigation, Aha, and Launcher. Connect powers most of Display Audio's information search functionality, giving owners access to things like point-of-interest search, local weather, and maintenance reminders. Aha focuses on entertainment, providing access to internet radio — Â in addition to the built-in Pandora integration — Â podcasts, audiobooks, news, and Twitter and Facebook access.Display Audio will be available on the 2014 Honda Civic and 2015 Honda Fit
HondaLink's Navigation app is the most interesting of the group. Leveraging mapping data from Nokia, Navigation can be used outside of the vehicle to plan a trip, and the route can be displayed and edited on the Display Audio touchscreen, with turn-by-turn announcements routed through the vehicle's audio system once the user's iPhone is plugged in.
The touchscreen itself is a high-definition capacitive model measuring 7 inches diagonally, which Honda says is among the largest in its class. Display Audio will also integrate Apple's Siri Eyes Free mode, making the personal digital assistant a factory-installed option rather than the dealer-installed add-on Honda announced last month.
The Display Audio system is compatible with Apple's iPhone 5, 5c, and 5s, which connect to the vehicle via a special cable. While not a full implementation of Apple's iOS in the Car, Display Audio and the new HondaLink apps represent a significant leap forward in smartphone-vehicle integration.