Kickstarter projects let you charge your iPhone with fire, snap pics in the dark with better flash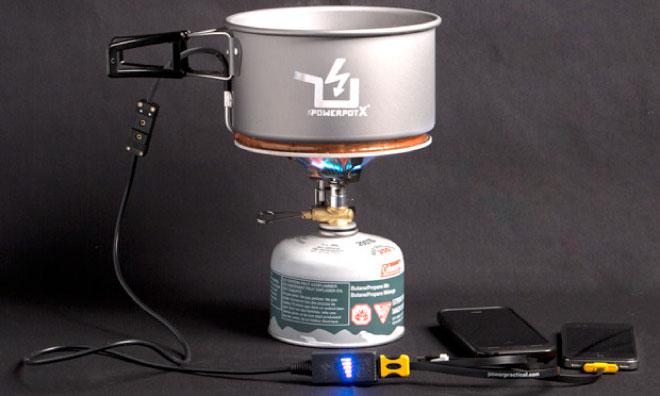 A pair of interesting new Kickstarter projects may allow for more versatile uses of Apple's iPhone, with a product for campers that provides electricity-generating campsite cookery, and a strap-on iPhone ring flash to improve low-light photos and video recordings.
The PowerPot X
The aptly-named PowerPot X aims to do exactly what it says on the label: provide electrical power from a pot. When paired with a camp stove, thermoelectric modules affixed to the bottom of the anodized aluminum kettle can provide up to 10 watts to the PowerPot's dual USB ports, which the pot's creators say is enough to charge a single iPad, two iPhones, or four GoPro cameras.
Power passes through a regulator before reaching the USB ports, ensuring that devices receive a constant and predictable flow of electricity. The regulator also features a built-in power meter that uses LEDs arranged in the familiar signal strength triangle to visualize exactly how much juice is flowing.
The second-generation portable power apparatus is designed to be lighter and more efficient than its predecessor, and comes in two sizes — Â the 4-quart PowerPot XL and the 2.4-quart PowerPot X — Â which both include a 36-inch charging cord to keep devices away from any flames.
Though innovative in its own right, the PowerPot is not alone in providing fire-driven power in remote settings. An earlier Kickstarted project, the FlameStower, generates just 3 watts of power but comes in a significantly lighter package.
There is no word on retail pricing, though the Kickstarter reward level that brings backers a PowerPot X is set at $165 and is set to ship by May 2014. At press time, the PowerPot X had raised $26,916 of its $30,000 goal from 158 backers with 41 days to go.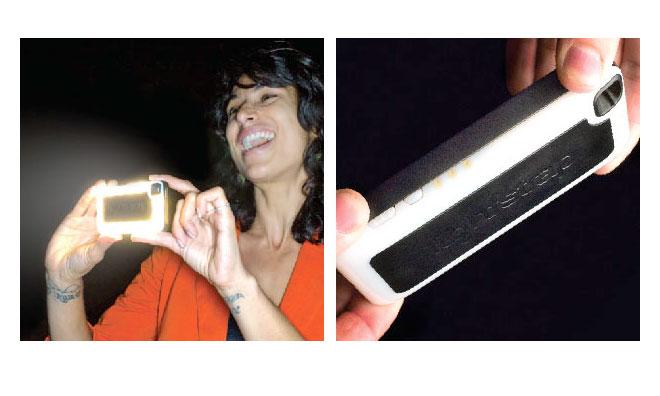 Lightstrap
Apple's iPhone 5s, with its camera's redesigned lens system and new dual-LED True Tone flash, is a capable low-light shooter, though not all "low light" situations are created equal — Â shooting nocturnal scenes in the Scottish Highlands is a bit different than foodspotting in a faintly-lit bistro.
Father-and-son team Ben and Cassidy Clawson have created the Lightstrap, a flash-equipped iPhone case which mimics a professional photographer's ring flash, that is designed to help Cupertino's handset take better low-light shots in a variety of conditions.
Lightstrap allows the photographer to select from seven brightness levels and six color temperatures, and the team says its flash is 10 times as bright as the built-in option on the iPhone 5s, 15 times that of the iPhone 5, and 30 times the brightness of the iPhone 5s's video-mode LED. A built-in 1000 mAh battery will power Lightstrap through more than 500 photos or 30 minutes of video and can be recharged over USB.
The 16-millimeter thick, 2.5-ounce accessory does not require a specialty camera app — Â Lightstrap is triggered by the iPhone's built-in LED flash.
Lightstrap's creators hope to ship the device by April 2014 — Â just in time for summer backpacking trips — Â for a retail price of $97. As of this writing, $12,173 of Lightstrap's $245,000 goal had been raised from 128 backers with 28 days to go.