Apple honors Nelson Mandela on company homepage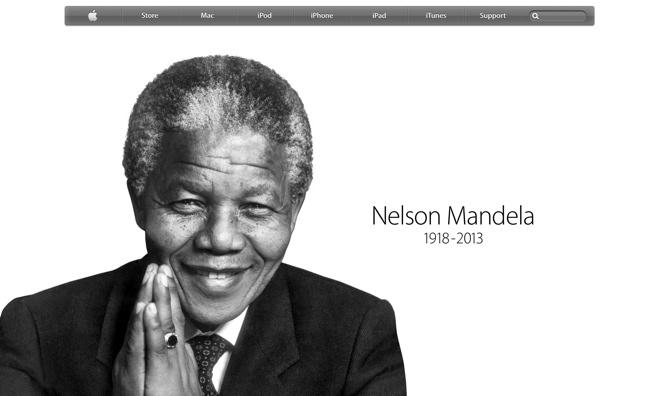 AppleInsider is supported by its audience and may earn commission as an Amazon Associate and affiliate partner on qualifying purchases. These affiliate partnerships do not influence our editorial content.
Apple late Friday updated its website landing page with a tribute to late South African President and anti-apartheid advocate Nelson Mandela, who passed away on Thursday at the age of 95.
Like it did for the passing of company cofounder Steve Jobs and a select few other world figures, Apple posted a picture of the late political leader to its homepage along with his birth and death dates.
Yesterday, Apple CEO Tim Cook tweeted out a Mandela quote and message, adding his voice to the many world leaders, industry titans and media personalities who extended their condolences through the micro-blogging platform.
"Amazing human being. Champion of freedom and human dignity. He set an example for all of the world. RIP Nelson Mandela. We miss you already," read Cook's tweet.
During his life, Mandela rose to prominence fighting South Africa's apartheid state-enacted racial segregation policies, which ultimately landed him in jail for 27 years. From his cell, he inspired generations by preaching a civil rights message that sought to make peace instead of spark conflict.
Following his release from incarceration in 1990, Mandela became a central figure in the movement to abolish apartheid, winning the Nobel Peace Prize alongside then-South African President F.W. de Klerk. He petitioned for a multi-racial presidential election in 1994, won the office and served until 1999. His tenure was marked with monumental changes to South Africa's governmental system including a new democratic constitution and staving off a brooding civil war.
The later years of Mandela's life were spent counseling world governments as an elder statesmen and humanitarian work that won him numerous accolades.
Apple rarely pays tribute to an individual on its official homepage, but has made exceptions for Rosa Parks, board member Jerry York and Steve Jobs, among very few others.