First look: Using iBeacon location awareness at an Apple Store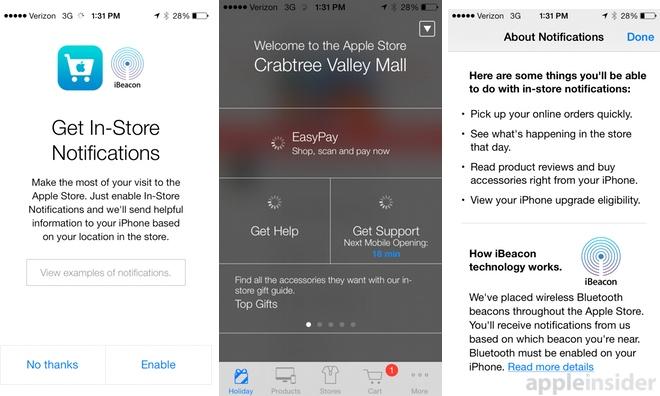 Apple on Friday enabled iBeacon location-aware transmitters at all of its U.S. retail stores, giving the company the ability to easily provide product information and allow shoppers to quickly check out via their iPhone. But initial tests by AppleInsider show the use of iBeacons remains limited at launch, suggesting bigger things are yet to come.
Upon launching the official Apple Store application as of Friday, users are asked to enable in-store notifications. Doing so requires that users give the application access to location data, as well as the ability to send push notifications.
Upon enabling in-store notifications, our tests found that the app immediately began using the geofencing functionality of the iPhone to track our location, even though we were not in or near an Apple Store. Force-closing the app prompted the geofence perimeter apparently established by the software to go away.
Upon entering an Apple Store, we found that the official app knew immediately that we were present at that location, even before we connected to the store's free Wi-Fi. A splash screen in the app provided quick links to EasyPay, help, support, a gift guide and more.
When walking around the store, we found that at the moment only one push notification was provided: "Shopping for accessories? Read product reviews and make you purchase right from your iPhone." This same message popped up regardless of what part of the store we were in.
The lock screen notification invites users to "slide to get started." The message left us with the impression that we would be taken to view details about accessories, but instead we were provided with the Apple Store app's EasyPay functionality, which lets users scan and pay for an item on their phone without talking to a store employee.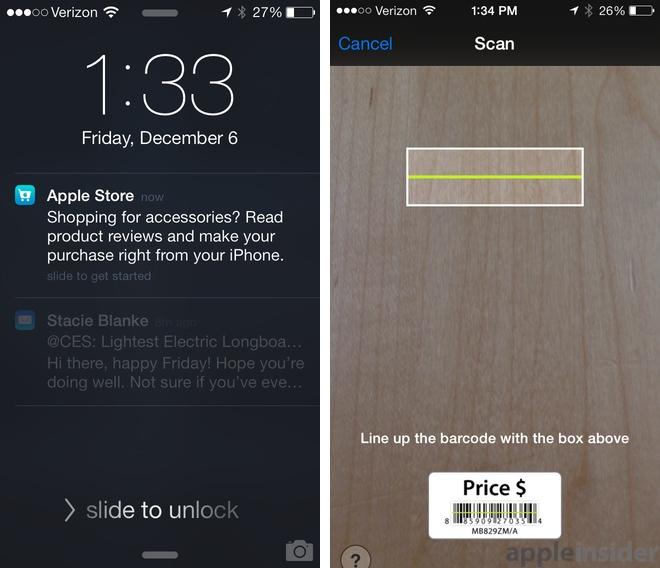 From our test at a smaller Apple Store, it would appear that the initial implementation of iBeacons is simply designed to allow holiday shoppers the ability to more easily purchase and check out from the store. This could be beneficial as crowds grow and employee availability may be limited.
However, Apple's ambitions for its iBeacon rollout are much greater. The company's own application states that users will be able to pick up orders quickly, see what's happening in the store that day, read product reviews and buy accessories, and view upgrade eligibility all with in-store notifications.
Employees at one Apple Store revealed that a large number of iBeacon base stations were installed at that location, though they declined to say exactly how many. The large number of installations was done to ensure that shoppers would be able to receive an iBeacon Bluetooth signal throughout the store.While the functionality is limited now, Apple has promised that iBeacons in its stores will become more full-featured in the future.
As such, employees said they took measurements in the store to ensure that an iBeacon signal could be accessed no matter the location.
Separately, analyst Brian Marshall of ISI Group also tested out iBeacons in an Apple Store on Friday. He came away with two message prompts: the aforementioned accessory notification, and one asking users to check their upgrade eligibility and offering information on how to trade in an old iPhone.
Marshall also found it annoying that iBeacon repeated the same notification about upgrade eligibility once again after it had already been viewed and declined. He did not experience any notifications while browsing iPad or Mac product stations.
"iBeacon was not being used to offer special deals/promotions, but instead as a tool to convey information," Marshall wrote in a note to investors. "We were hoping to find deal offers."