Razer iPhone game controller leaks, Ryan Seacrest creates an iPhone keyboard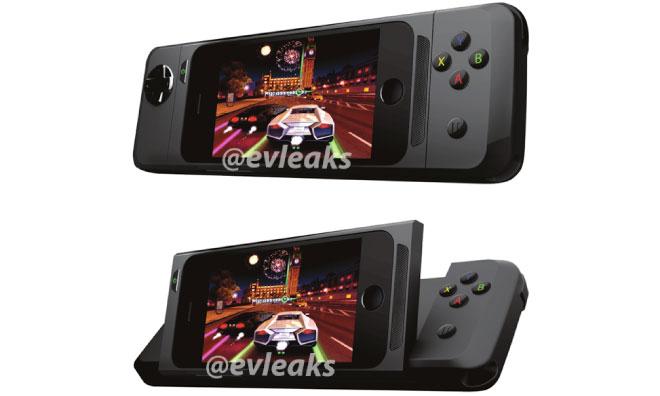 A pair of forthcoming iPhone accessories have been revealed, as purported images of a new Made for iPhone game controller — Â this time from major gaming peripheral manufacturer Razer — Â have hit the internet, while Typo, a new iPhone keyboard case, has emerged with a unique backer: entertainer Ryan Seacrest.
Razer "Kazuyo"
Razer's rumored entree into the iPhone controller market is shown sporting an understated industrial design similar to Logitech's competing PowerShell product, with four function buttons, a directional pad, and two shoulder buttons that match Apple's "standard" profile for MFi game controllers. The device, dubbed "Kazuyo," was revealed by Twitter user @evleaks, who also outed prerelease images of the PowerShell and Moga's Ace Power.
Unlike Logitech's offering, however, the "tray" in which an iPhone would be seated on the Kazuyo is capable of tilting away from the rest of the device at what appears to be a 45-degree angle. The unit is also shown packing a front-facing speaker and rear cutouts for the iPhone's camera and flash.
The Kazuyo would be the first Apple-specific accessory from Razer. Razer is known in the PC gaming world primarily for their ultra-configurable, high-end mice and keyboards, though the company has recently branched out into the laptop computing market with their Blade lineup of gaming laptops, generally well-reviewed devices with a design reminiscent of a black MacBook Pro.
Typo Keyboard Case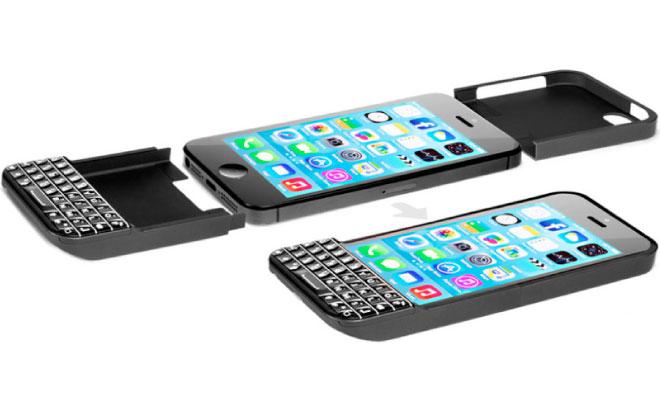 The Typo keyboard case is a 14-centimeter-long, 1-centimeter-thick clip-on iPhone case that adds a small hardware keyboard below the display of an iPhone 5 or 5s, which appears similar to the keyboards on older-generation Blackberry devices. The keyboard connects to the iPhone via Bluetooth and is powered what the company says is "the world's smallest Lithium-ion battery", a 1-millimeter thick, 180 mAh unit, though there is no word on battery life.
According to Typo, users testing the case — Â which, in addition to company cofounder and investor Ryan Seacrest, include a heavyweight list of entertainment industry veterans — Â report typing 50 percent faster and with fewer typographical errors than with the iPhone's virtual keyboard.
The keyboard is backlit and, perhaps in an indication of who Typo believes their target market is, sports a quick-access feature for entering currency symbols. Typo also contains its own autocorrect algorithm and, when installed, adds 0.25-inches in thickness and 0.75-inches in length to the iPhone.
Typo is now accepting preorders for the case, which costs $99, and expects to debut the product at CES 2014 with shipping around the same time.