Made for iPhone gaming controllers continue to debut with Logitech's new PowerShell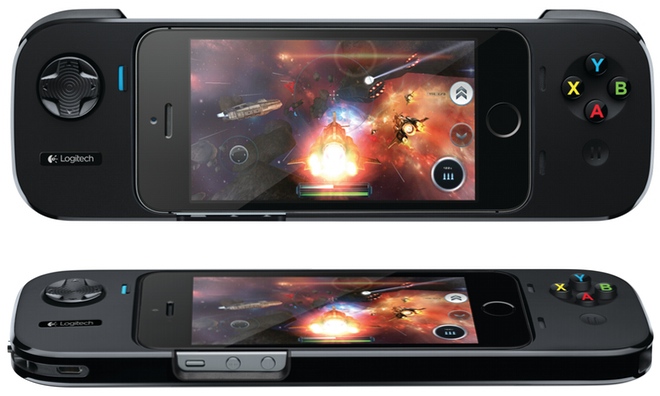 AppleInsider is supported by its audience and may earn commission as an Amazon Associate and affiliate partner on qualifying purchases. These affiliate partnerships do not influence our editorial content.
Accessory makers continue to debut their officially sanctioned Made for iPhone gaming controllers ahead of the holiday shopping season, with Logitech on Wednesday announcing its new battery-equipped, Lightning-connected PowerShell Controller.
Compatible with the iPhone 5s, iPhone 5, or fifth-generation iPod touch, the $99.99 PowerShell Controller + Battery requires a device running iOS 7. Users insert their compatible device into the controller as they would a standard case, and are granted access to analog, off-screen controls for more precise gaming.
The PowerShell is equipped with a D-Pad on the left side and A, B, X, and Y face buttons on the right. Shoulder buttons are also located on the top of the controller.
The accessory offers full access to the power on-off, volume, camera, speakers, headphone jack, and charging. And the inclusion of a 1500 mAh battery increases longevity while playing.
"We designed this controller to deliver a true console-gaming experience on an iOS 7 mobile device," said Ehtisham Rabbani, general manager of the Logitech gaming business. "With gaming so pervasive on the mobile platform — our research shows that 87 percent of iPhone and iPod touch users play games on their device — it's time to revolutionize the experience."
The announcement of Logitech's official iOS-compatible controller comes a day after MOGA announced its own $99 controller, the Ace Power. MOGA's offering goes a few steps further than Logitech's, offering both a D-pad and twin joysticks on the face of the accessory.