Apple's iPad Air, iPad mini take 6 of Japan's top 10 tablet sales spots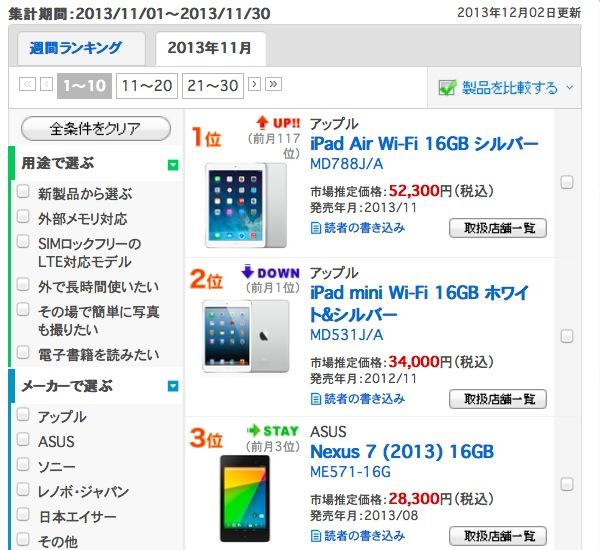 AppleInsider is supported by its audience and may earn commission as an Amazon Associate and affiliate partner on qualifying purchases. These affiliate partnerships do not influence our editorial content.
During its first month on the market, Apple's iPad Air has taken four of Japan's top ten tablet slots while iPad mini has taken two additional spots, giving Apple 60 percent of the sales charts.
Monthly sales rankings for November by Japan's BCN list the 16GB iPad Air as the nation's the top selling tablet, with the 16GB iPad mini taking the second spot.
BCN's smartphone rankings similarly depicted Apple's iPhone 5s and 5c as trampling competitors' offerings in the phone market during the same month.
Nexus 7 most popular non-iPad tablet
Apple's domination of the top ten comes despite competition from Google's significantly cheaper Asus-built Nexus 7, which sells for between $234 and $393. iPad models in Japan's top ten sell for between $314 and $719.
In July, Google launched a new version of the Nexus 7 at an event where its new Android chief Sundar Pichai claimed the previous Nexus 7 model had been Japan's most popular tablet last winter, outselling Apple's iPad mini.
However, those numbers came solely from BCN, which only counts sales from 2,400 stores in Japan representing just 16 percent of the sales channel, and does not include sales from the Apple Store. IDC disputed the figures, saying that Apple had shipped about 773K iPad units versus about 350K Nexus 7 units for Asus.
Currently, Apple maintains a similar 60 percent representation across BCN's top 20 tablets, with total of 12 different iPad models. Along with Nexus 7, Asus sells three self-branded devices while NEC sells a tablet for just $170 within the top 20. That NEC model is being outsold by a high end 128GB iPad Air that costs $799.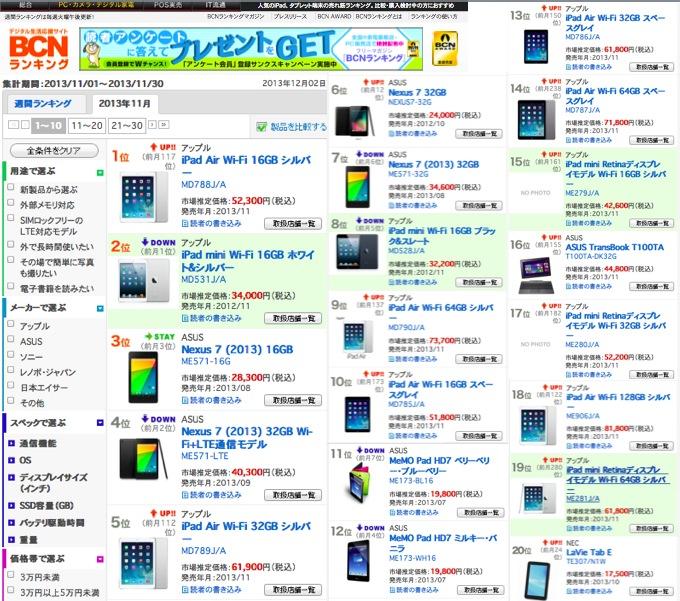 Japan doesn't love Samsung
Despite being a distant second to Apple in worldwide tablet shipments, Samsung doesn't have a top selling tablet in Japan anywhere in the top 50.
Complicating Samsung's efforts to sell its products in Japan is an unfavorable view of South Korea related to a territorial dispute over islands located between the two nations, a squabble that has been escalating for years.
In 2011, Japan's foreign ministry instructed its staffers not fly with Korean Air. The two countries have long maintained a rivalry. In stark contrast, modern Japan has long viewed America more favorably, with a particular affinity for Apple and in particular Steve Jobs.