Apple CEO Tim Cook expresses need to protect 'principles of basic human dignity' in Auburn speech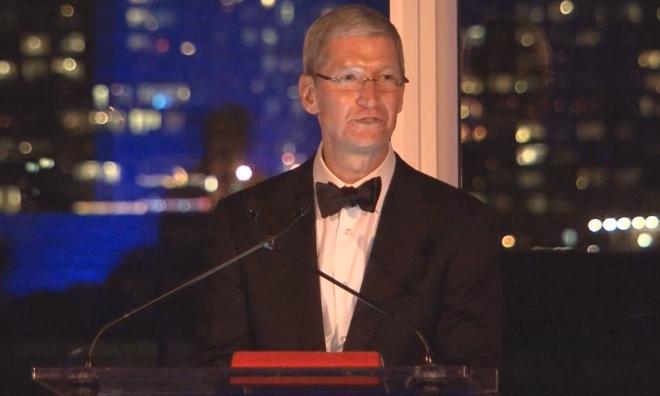 Tim Cook this week was awarded the Auburn University Lifetime Achievement award, and the Apple Chief Executive used his acceptance speech to push the importance of equality and human rights.
Cook's 13-minute speech was delivered last Tuesday in New York City, marking the 20th straight year that Auburn haas recognized "significant and lasting contributions to people's well-being." Apple's CEO earned a bachelor of science in industrial engineering from Auburn University in 1982, and the school's College of Human Sciences honored him at its annual International Quality of Life Awards.
Cook spoke of growing up in Alabama in the 1960s, where he saw firsthand the "devastating impacts of discrimination." He said those experiences helped to form who he is as a man today, and help guide his own fight for equality both at his company and throughout the larger world.
The CEO said he personally saw a cross burning as a young man — Â an event that is "permanently imprinted" in his brain, and changed his life forever.
"I could never understand it, and I knew that Americans and Alabama's history would always be scarred by the hatred it represented," he said.
Cook's office at Apple features three photos: two of Robert Kennedy, and one of Martin Luther King Jr. Those two men "sacrificed everything, including their lives, as champions of human rights and human dignity," he told attendees at the event at the United Nations headquarters.
His speech also touched on the Employment Non-Discrimination Act, a measure passed by the U.S. Senate but which has yet to appear before the U.S. House of Representatives for a vote. The proposed bill would bar discrimination of gay, lesbian, bisexual and transgender workers at American companies.
Cook said he believes that "now is the time to write these principles of basic human dignity into the book of law." Even though such protections are not yet part of U.S. law, Apple has worked to implement its own measures for employee equality.
On the lighter side in his speech, Cook even alluded to Auburn's upcoming appearance in the college football BCS National Championship game against Florida State University, joking that he may ask for an extra second at the end of his speech. In Auburn's recent pivotal matchup against the University of Alabama, an extra second was added to the clock and resulted in a play that led to Auburn's game winning touchdown. The remark drew big applause and cheers from the crowd.
"Yes, Auburn is still very much in me," Cook said with a laugh.