Survey suggests China Mobile deal will add at least 12M iPhone sales for Apple in 2014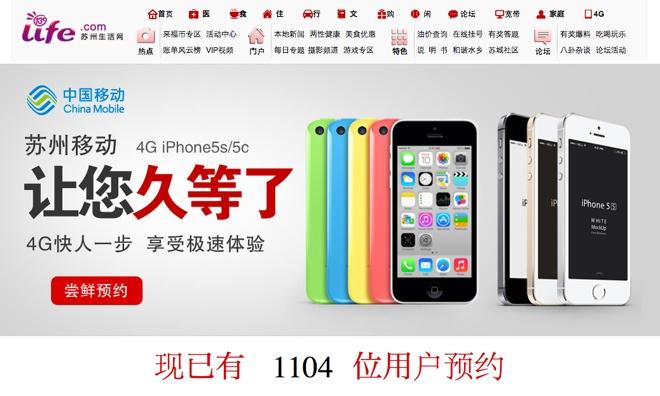 A survey of consumers in China has found that an anticipated deal to sell the iPhone with carrier China Mobile could incrementally boost Apple's handset sales in calendar 2014 by at least 12 million units, though there is potential for much more.
The projection comes from data compiled by AlphaWise and Morgan Stanley Research, which identified 12 million units as a "base case" scenario. The survey polled consumers in major Chinese cities earlier this year.
In a more optimistic "bull case" scenario, analyst Katy Huberty said China Mobile could allow Apple to sell 23 million additional iPhones next year. That would assume an addressable market of 279 million users, and would include respondents from the poll who were otherwise not planning to purchase a smartphone in the next year unless Apple's iPhone arrived on China Mobile.
In Morgan Stanley's projections, sales of 12 million iPhones in 2014 would add $2.40 to Apple's earnings per share for the calendar year. If the "bull case" were to play out, the investment firm sees $5 in earnings per share added to the company's bottom line.Morgan Stanley's survey sees Apple realistically selling 12 million iPhones on China Mobile in 2014, though its 'bear case' sees sales reach as many as 23 million.
On the pessimistic side, Morgan Stanley's "bear case" scenario would see Apple sell just 5 million additional iPhones. Huberty sees this scenario playing out if Apple faces a much smaller addressable market of 121 million users. It also presumes that iPhone owners polled in the survey, who said were planning to switch to a non-Apple handset if the iPhone did not launch on China Mobile, do in fact decide to switch.
Though China Mobile is not yet an official carrier of Apple's iPhone, a number of unlocked devices are used on its network, as the carrier is the largest wireless provider in the world. Morgan Stanley estimates that as many as 40 million iPhone users are already on the China Mobile network.
Investors have been hotly anticipating an iPhone debut on China Mobile, though an official announcement from the carrier or Apple has yet to become a reality. While a deal between the two parties has been rumored for years, there have been a number of false starts in recent weeks.
China Mobile boasts some 759 million subscribers, making it the largest wireless provider in the world. This week, it will launch its 4G TD-LTE high-speed network, and Apple's new iPhone 5c and iPhone 5s are expected to sport compatibility.
Earlier projections from other investors have suggested Apple could sell as many as 17 million iPhones through China Mobile in calendar 2014. That would represent about 10 percent of the carrier's current 3G subscriber base of 170 million.