Apple's new cylindrical Mac Pro desktop arrives Thursday starting at $2,999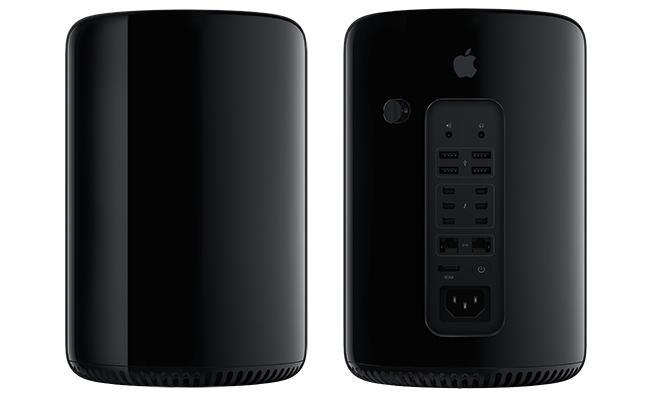 AppleInsider is supported by its audience and may earn commission as an Amazon Associate and affiliate partner on qualifying purchases. These affiliate partnerships do not influence our editorial content.
Apple's much anticipated new high-end Mac Pro desktop, in a completely new and unique cylindrical design completely manufactured in America, will become available to order starting Thursday at an entry price of $2,999.
Apple announced availability of the new Mac Pro on Wednesday, boasting that the redesigned desktop will sport the latest Intel Xeon processors, dual workstation-class GPUs, PCIe-based flash storage, and ultra-fast ECC memory.
The launch less than a week before Christmas means Apple will meet its self-imposed December deadline, announced by the company in October, when it also revealed pricing for the professional-grade machine.
The new Mac Pro is 9.9 inches tall and one-eighth the volume of its predecessor, featuring Xeon E5 processors of up to 12 cores, as well as AMD FirePro graphics that can deliver up to eight times the graphics performance of the previous Mac Pro. It also sports next-generation flash with a PCIe controller with up to 1.2GB/s reads, 1.0GB/s writes, and up to 1-terabyte capacity.
Thunderbolt connectivity with six integrated ports offers 20Gb/s throughput, and the new Mac Pro can drive up to three 4K displays with HDMI 1.4 support. In all, Apple says the Mac Pro can support up to 36 high-performance peripherals, including the latest 4K displays, all at once.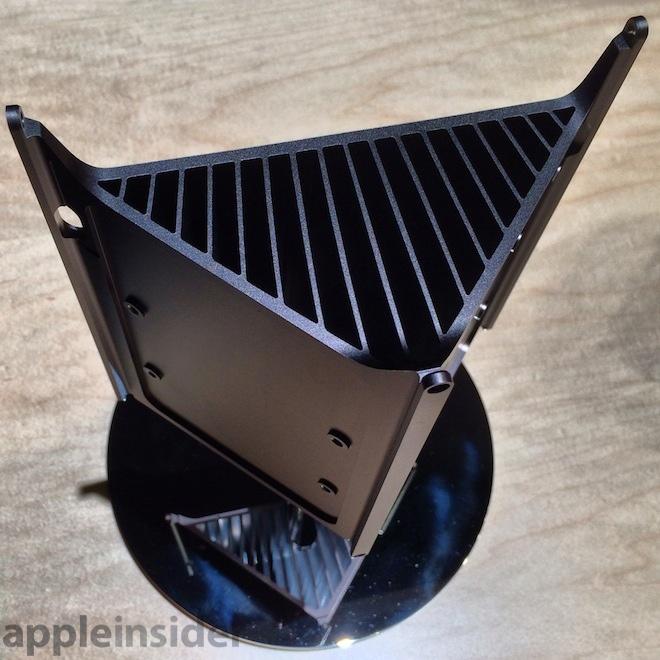 With ECC DDR3 RAM, the system can deliver up to 60GBps of memory bandwidth, which Apple says will allow seamlessly editing full-resolution 4K video while simultaneously rendering effects in the background.
The Mac Pro is also a landmark achievement for Apple, as it will be the company's first machine entirely assembled in the U.S. Apple and its supply chain partners have been under fire for years for working conditions in mainland China and the Far East.
AppleInsider took a first look at the Mac Pro when Apple showed off the revamped hardware in October. Its innovative industrial design rethinks the entire concept of desktop computing by looking at the current state of computing with a fresh perspective.
Apple said the all-new Mac Pro will be available to order on Thursday through its online store, Apple's retail stores, and select authorized Apple resellers. No word was given on when shipments may arrive.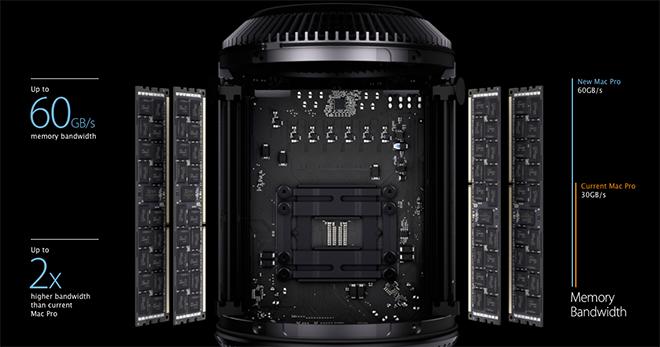 The Mac Pro is available with a 3.7 GHz quad-core Intel Xeon E5 processor with Turbo Boost speeds up to 3.9 GHz, dual AMD FirePro D300 GPUs with 2GB of VRAM each, 12GB of memory, and 256GB of PCIe-based flash storage starting at $2,999.
When configured with a 3.5 GHz 6-core Intel Xeon E5 processor with Turbo Boost speeds up to 3.9 GHz, dual AMD FirePro D500 GPUs with 3GB of VRAM each, 16GB of memory, and 256GB of PCIe-based flash storage, the desktop starts at $3,999.
Configure-to-order options are also available, including faster 8-core or 12-core Intel Xeon E5 processors, AMD FirePro D700 GPUs with 6GB of VRAM, up to 64GB of memory, and up to 1TB of PCIe-based flash storage.