Activations of Apple devices grew by 2.3 times on Christmas Day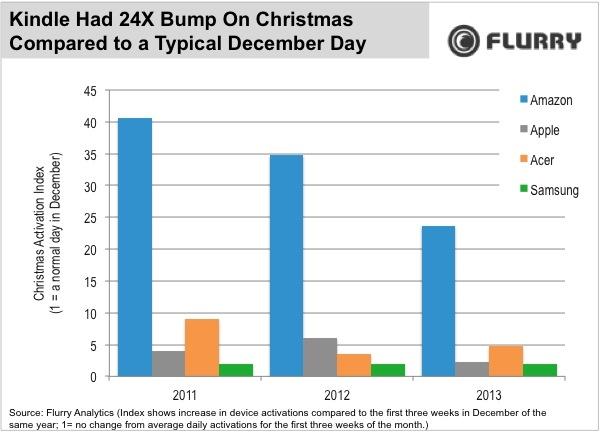 AppleInsider is supported by its audience and may earn commission as an Amazon Associate and affiliate partner on qualifying purchases. These affiliate partnerships do not influence our editorial content.
The rate of device activations for Apple more than doubled on Christmas Day this year, though the real winner was Amazon, whose low-margin Kindle devices saw a 24-fold surge in new devices for the single day.
The figures were published on Friday by mobile analytics firm Flurry, which showed that Amazon once again saw the biggest gains by far on Christmas Day. The figures suggest that Amazon's Kindle products are exceptionally popular Christmas gifts, allowing the number of activations to surge from their normal levels on a single holiday.
But while Kindles continue to be the gifts of choice, Amazon's activations are not increasing as significantly as they were in years past. While 2011 activations increased by a factor of more than 40 in 2011, they grew 24 times this year.
Apple, meanwhile, saw its device activations grow 2.3 times on Christmas Day, edging rival Samsung which saw activations of its hardware grow 1.9 times on Dec. 25.
Both companies trailed Acer, which saw about a fivefold increase in device activations after Christmas gift giving began.
The popularity of Acer and Amazon products on Christmas Day suggests that those companies' affordable pricing strategies make their products ideal for gift giving. However, devices made by more premium electronics companies, such as Apple and Samsung, may be less popular for gifts, as individuals are more likely to buy themselves an iPhone or iPad.
Flurry speculates that overall activation bumps are decreasing for everyone, including Amazon, because of the modern ubiquity of smartphones and tablets.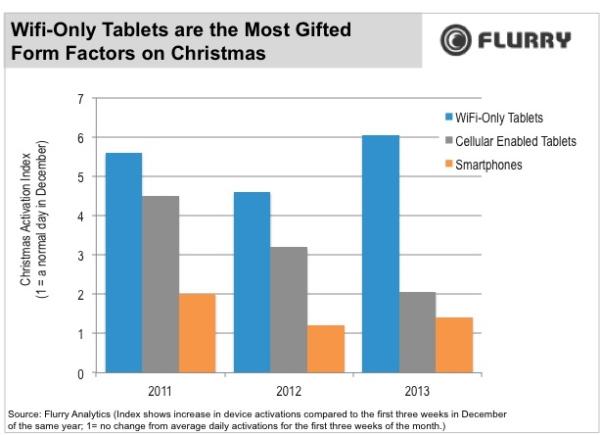 "With more people having smartphones and tablets, there are fewer new users to give them to, and giving to existing users is more challenging since existing users are already tied into carrier contract renewal cycles, app ecosystems, etc.," Flurry's Mary Ellen Gordon wrote.
The data released Friday also shows that Wi-Fi-only tablets continue to be the most gifted devices for Christmas, as they have been since 2011. These are the least expensive options, when compared to cellular-capable tablets and smartphones, and they also have the benefit of working out of the box without the need for carrier service.