Teardown of Apple's new Mac Pro reveals socketed, removable Intel CPU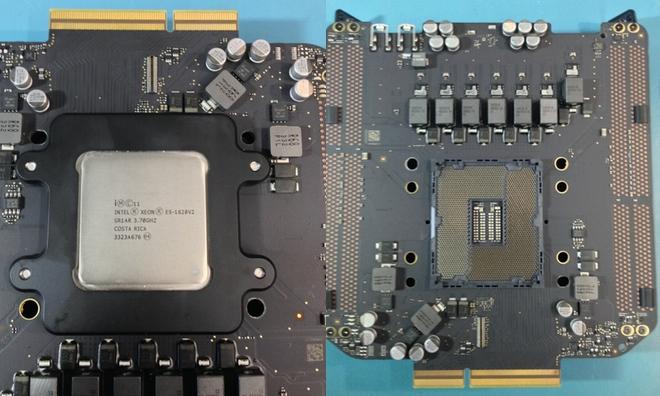 Hardware enthusiasts will likely be pleased to know that the processor powering Apple's new Mac Pro desktop appears removable, meaning that future upgrades of the CPU could be possible.
The CPU in the new Mac Pro is removable, Other World Computing has confirmed.
A closer look at the parts inside Apple's late 2013 Mac Pro were offered in teardown photos published on Friday by Other World Computing. They show that the Intel Xeon processor found inside the Mac Pro is socketed and can be removed from the system, should a user choose to do so.
On its other systems, Apple in recent years has chosen not to cater to users who may be interested in upgrading their computers, even for the company's professional-grade MacBook Pro lineup. Decisions such as permanently soldering in RAM have been a point of frustration for enthusiasts, though those decisions have also allowed Apple to pursue thinner and more portable designs.
This year's cylindrical Mac Pro has a volume just one eighth that of the desktop's cube-styled predecessor. But that drastic reduction in size has apparently not come at the cost of upgradeability — on a few fronts, at least.
In addition to the socketed CPU, RAM in the new systems will also be user-upgradable, as Apple has opted to use traditional RAM slots.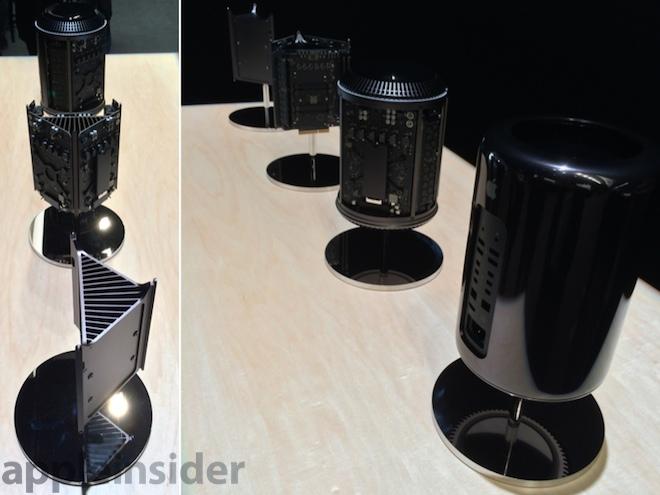 However, user-replaceable components appear to end there, as the new Mac pro uses custom-designed graphics cards to fit in the case, as well as a proprietary interface for its flash-based hard drives. It's possible that third-party accessory makers could develop compatible hardware in the future, but there's still a question as to whether those parts — as well as any user-inserted CPUs — would be compatible with Apple's OS X operating system.
And while the small size of the new Mac Pro means users will not be able to add additional internal components such as multiple hard drives, as has been traditionally done with desktop computers, Apple has opted instead to allow expansion through exterior peripherals.
To that end, the Mac Pro sports six high-speed Thunderbolt 2 ports, allowing a number of bandwidth-consuming accessories to be plugged into the machine. It also includes four USB 3.0 ports, two Gigabit Ethernet inputs, and an HDMI 1.4 video output, leading Apple to call the system its "most expandable Mac yet."