Hackers continue to tweak Apple's obsolete iOS 3.1.3 for legacy iPhones, iPods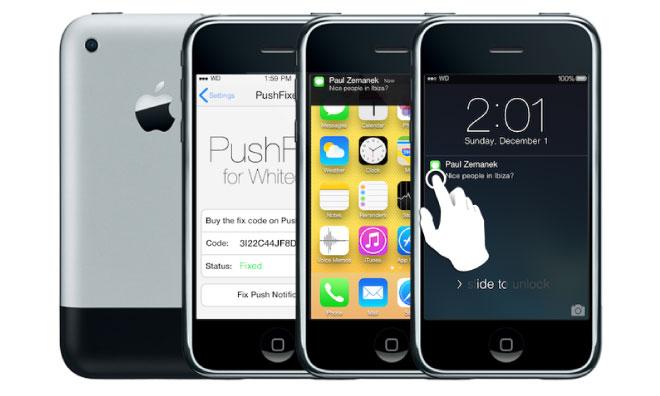 Even as Apple's first- and second-generation iPhone and iPod touch gain "vintage" status, intrepid programming group "whited00r" is working to bring many of iOS's latest features, like Control Center, to the geriatric devices.
The group is responsible for production of the eponymous "whited00r" firmware, a heavily-modified version of Apple's iOS 3.1.3 that mimics the look-and-feel of newer iOS versions on devices that Apple no longer officially supports. Whited00r's firmware is targeted at Apple's first-generation iPhone, the iPhone 3G, and the first- and second-generation iPod touch.
Whited00r 7, the cabal's most recent release, is designed to emulate many of iOS 7's standout features. Control Center makes an appearance, as does a new iOS 7-style camera app and multitasking view.
The firmware's push notification feature has been updated to mimic Apple's latest "windowshade" design, and iOS's legacy Voice Control feature has been brought back. Most of iOS 7's other visual tweaks, like flatter icons and new menu designs, have also been backported in whited00r 7.
Users who find a specific item performs poorly on their device can enable and disable individual features with a special settings menu.
Installing whited00r on a supported device is a relatively straightforward three-step process. After jailbreaking their device with the popular Redsn0w utility, users load whited00r's custom firmware using iTunes, and restarting the device completes the installation.
Whited00r first appeared in 2010 as a project to backport new iOS 4 features to devices running iOS 3, and has maintained a small but devoted following since that time. According to download statistics from open source code hosting service Sourceforge, the whited00r 7 firmware has been downloaded tens of thousands of times since its release.