BlackBerry sues Ryan Seacrest-backed Typo iPhone keyboard, alleges patent infringement [u]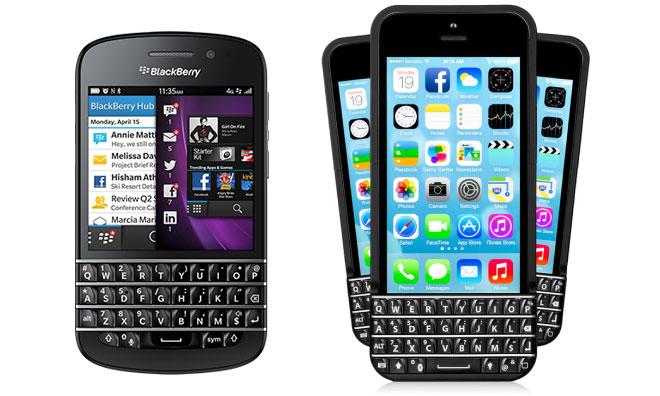 Troubled device maker BlackBerry on Friday filed suit against Typo, makers of a new snap-on iPhone keyboard case, alleging that the Ryan Seacrest-backed startup "blatantly copied" BlackBerry's own keyboard.
Update: Typo has issued a statement regarding BlackBerry's suit. The full text can be found at the end of this article.
Typo's keyboard "is a blatant infringement against BlackBerry's iconic keyboard, and we will vigorously protect our intellectual property against any company that attempts to copy our unique design," BlackBerry's General Counsel and Chief Legal Officer Steve Zipperstein said in a release announcing the suit. The company did not specify whether it had been in contact with Los Angeles, CA-based Typo before initiating legal action.
Designed to slip on to an iPhone 5 or 5s, Typo features a small lithium battery to power its backlit keyboard as well as a quick-access feature for entering currency symbols. The company says early testers report faster and more accurate typing than they experience when using the iPhone's virtual keyboard, with some estimating speed increases of up to 50 percent.
The ironically-named keyboard case was announced in December to great fanfare, thanks in no small part to its celebrity backing. At the time, AppleInsider noted the keyboard's familiar composition, saying that it "appears similar to the keyboards on older-generation Blackberry devices."
BlackBerry seems to feel the resemblance is a bit too similar, but Zipperstein's statement appeared to leave the door open for a settlement that would allow Typo to continue production. The Canadian company is "flattered by the desire to graft our keyboard onto other smartphones," he said, "but we will not tolerate such activity without fair compensation for using our intellectual property and our technological innovations."
We are aware of the lawsuit that Blackberry filed today against Typo Products. Although we respect Blackberry and its intellectual property, we believe that Blackberry's claims against Typo lack merit and we intend to defend the case vigorously. We are excited about our innovative keyboard design, which is the culmination of years of development and research. The Typo keyboard has garnered an overwhelmingly positive response from the public. We are also looking forward to our product launch at the Consumer Electronics Show in Las Vegas next week and remain on track to begin shipping pre-orders at the end of January.