T-Mobile's 'Un-carrier 4.0' promo offers to pay early termination fees for switching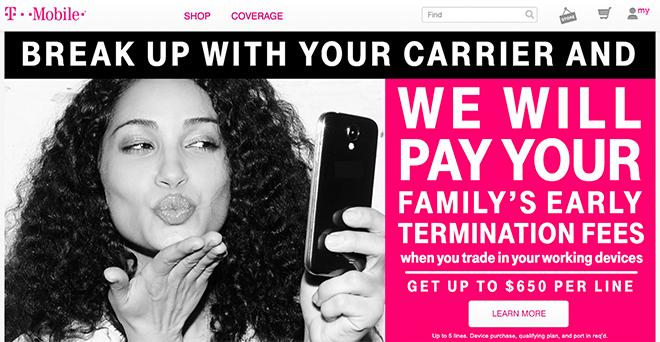 AppleInsider is supported by its audience and may earn commission as an Amazon Associate and affiliate partner on qualifying purchases. These affiliate partnerships do not influence our editorial content.
T-Mobile on Wednesday announced its latest plan to disrupt the U.S. wireless industry with "Un-carrier 4.0," a promotion that promises to pay customers' early termination fees when switching carriers.
Along with the $350 per line, T-Mobile is also offering up to $300 for device trade-ins under the Un-carrier 4.0 program, bringing the value of switching up to $650 per line. To be eligible for the payout, customers must currently be subscribers of AT&T, Verizon or Sprint services.
"We're giving families a 'Get Out of Jail Free Card,' said T-Mobile's president and CEO John Legere. "Carriers have counted on staggered contract end dates and hefty early termination fees to keep people bound to them forever. But now families can switch to T-Mobile without paying a single red cent to leave them behind."
The program starts on Thursday and switching looks to be a simple process. Customers selecting the postpaid Simple Choice Plan first have the option of trading in their current phone, which can be worth up to $300 in instant credit to be applied to an eligible handset. After receiving the final bill from their previous carrier — including early termination fees — customers can send in the document for reimbursement up to $350 per line.
T-Mobile is now an Apple partner carrier and sells both the iPhone 5s and 5c, sometimes at a deep discount to spur sales.
Legere made the Un-carrier 4.0 announcement during a speech at CES, where he is touting the new initiative and getting into a bit of trouble along the way. On Monday, Legere tried to "crash" AT&T's developer party and was promptly escorted out after claims he was harassing guests. For his part, Legere said he just wanted to see Macklemore perform.