First look: Toshiba's FlashAir II Wi-Fi SD card and Canvio portable storage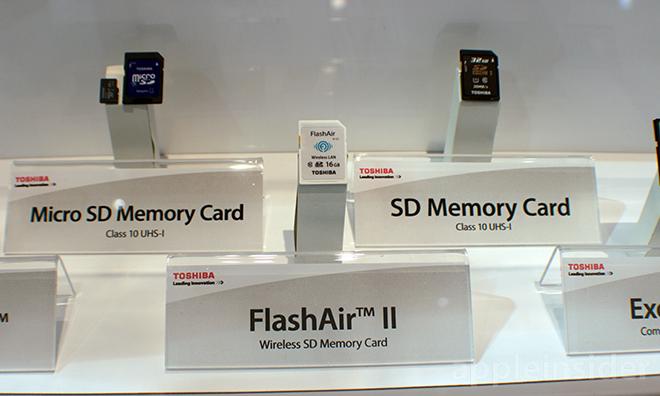 Japanese computing giant Toshiba brought a few interesting products to the show floor this year with its updated FlashAir II Wi-Fi-enabled SD card, Canvio Connect portable wireless HDD and Canvio Slim.
One of the more interesting products Toshiba had on display was a wireless SD card called the FlashAir II, which is already available from resellers like Amazon.
Comparisons will immediately be drawn to Eye-Fi's series of products meant to add instant Wi-Fi capabilities to a user's digital camera, but from what we saw, the Toshiba version looks to be a better value.
The Class 6 NAND-based FlashAir II creates its own Wi-Fi hotspot that supports up to seven simultaneous hosts, meaning stored data can be shared with a cluster of smartphones, tablets and PCs. In addition, the device is browser-based, allowing for OS independence.
Available now, the 16GB and 32GB versions of FlashAir II retail for $79 and $99, respectively. Purchasing through resellers brings the price down to $51 for the 16GB model and $61 for the 32GB iteration.
Toshiba's Internet-connected Canvio Connect is also on sale now and offers wireless data transfer to both Windows and Mac machines. Out of the box, the Connect is formatted as NTFS, but comes with a Mac driver for read/write operations. The result is a solid cross-platform solution.
"The other thing it does is, for the Windows users, is the connect function means that it works with Pogoplug [cloud storage service], and we include the service for that," said Toshiba's Bill Monroe. AppleInsider was able to confirm the Canvio Connect also supports Pogoplug on Mac. "If it's connected to a computer and online, you can access that data from your phone, including the Pogoplug iOS app, and other laptops anywhere in the world."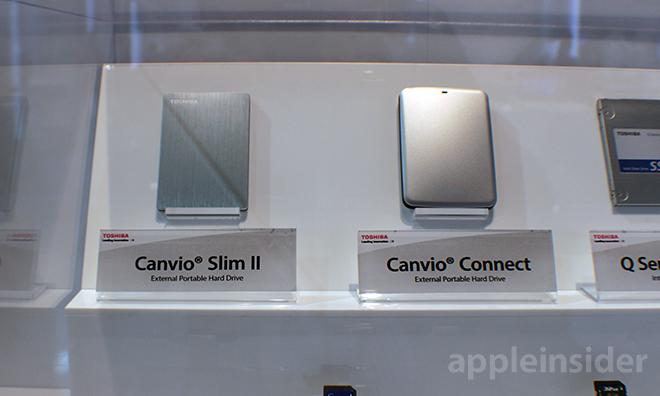 The 1TB Canvio Connect comes with a free downloadable copy of Pogoplug with 10B of cloud storage for $65, while a 2TB version can be had for $88. Other capacities are also available.
Finally, the Canvio Slim II eschews wireless connectivity for a smaller form factor. Pre-formatted for Windows or Mac, the Slim II transfers data over the speedy USB 3.0 protocol. Additionally, the brushed aluminum case makes it a good match for Apple's latest Macs.
The Canvio Slim II comes in 500GB and 1TB capacities. The lower model can be had for a price of $72, but Amazon sells the 1TB version for only $80.