Hands-on: IK's iRing brings air gesture control to iOS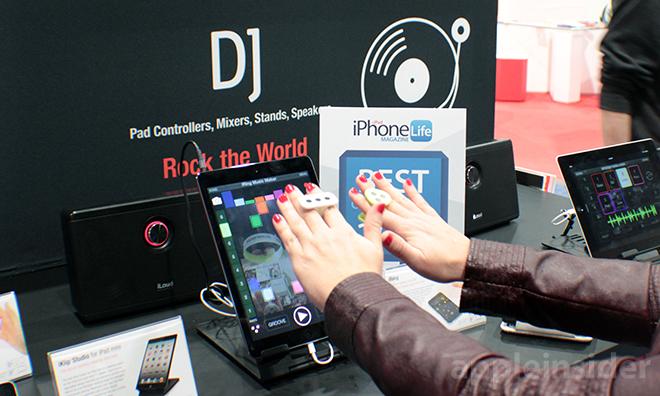 IK Multimedia, the company behind numerous music creation apps and the iRig series of MIDI, mic and mixer hardware for iOS, unveiled the iRing at CES; an inexpensive wearable motion control solution with tons of potential.
IK claims iRing is the future of motion control for iOS apps, music and more. The system consists of two "rings" that fit between a user's fingers, each with a different pattern of dots that can be picked up by an iPhone or iPad's front-facing camera.
Special software monitors the location of each iRing, as well as the size of the dots, meaning motion can be tracked simultaneously in three dimensions. Applying the data to certain apps allows users to manipulate sound with air gestures.
iRing was demoed using an app called "iRing Music Maker," which lets users set grooves, synthesizers, loops, filters and more with just two rings.
In the setup we tested, the triangular-patterned ring attached one hand and controlled grooves and tones by "pushing and pulling" along the z-axis, toward and away from the iPad's camera. The second ring with linear dots was worn on our other hand and triggered loops and different notes in the same way. All control was accomplished without ever touching the device.
Also, hiding a ring from the iOS device's camera can trigger even more app-specific functions, adding yet another dimension to the system's user interface.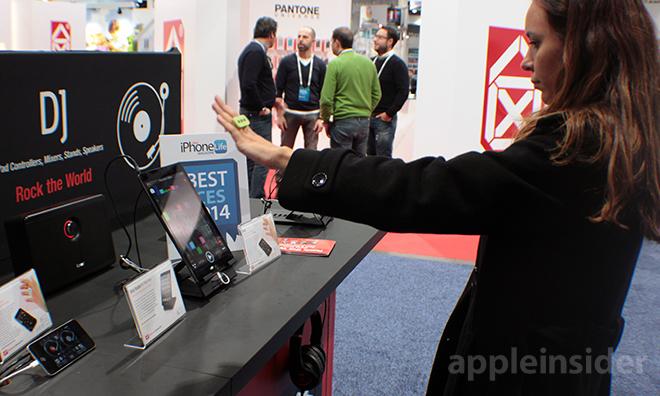 As for compatibility, the iRing was designed to be worn while holding traditional musical instruments or manipulating MIDI controllers, meaning the system can be used in tandem with other tools.
The iRing will be available later this quarter for $25 per set of two rings.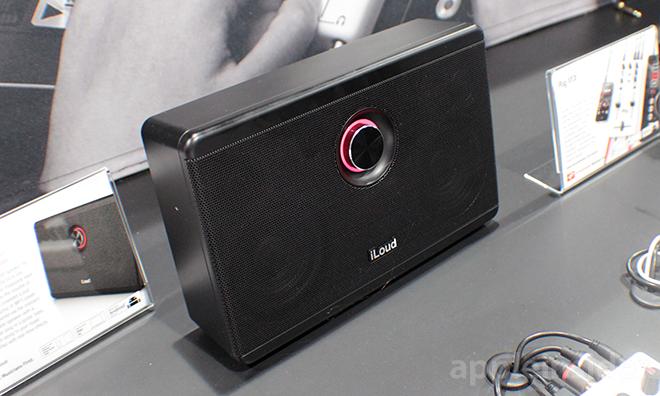 In addition to the iRing, IK had a number of other music-minded products on display, including its latest iLoud amplifier.
With 40W of total power driving iLoud's speakers and built-in iRig circuitry, users can hook up a guitar or mic through the provided 1/4-inch jack, connect an iOS device via a 3.5mm jack or Bluetooth and record live. Alternatively, the iLoud can simply be used to jam with IK's iOS post-processing apps like AmpliTube or VocaLive.
The iLoud is on sale now for a list price of $299, though Amazon resellers have stock starting at $289.