Owners of 2011 MacBook Pros report critical GPU failures, system crashes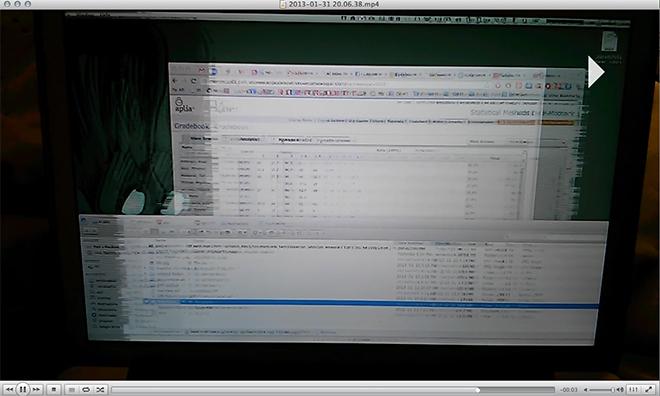 It appears a number of early-2011 MacBook Pro models with discrete AMD GPUs are seeing issues with system crashes and hardware failures, with reports of problems escalating in recent weeks.
According to a 157-page thread on the Apple Support Communities forum, an increasing number of owners of early- to late-2011 MacBook Pros with discrete graphics cards are seeing what is being reported as hardware-related system crashes. And the problem appears to be getting worse.
With 206,237 views and 2,348 replies, the forum thread dates back to February 2013 with a steady stream of posts all citing issues with the discrete graphics card. Since the start of December, 53 pages of posts have been added to the growing discussion.
A majority of cases first see signs of the problem during graphics-intensive operations, like viewing high-definition videos or running heavy compute tasks. Displayed graphics become striated in some cases, while other uses have seen their screens go blank unexpectedly. A reboot temporarily solved the issue for a few forum members, but the problems returned after a short time.
Following the onset of graphical glitches, many users see their machine reboot to a blue or gray screen. For this type of issue, Apple suggests that restarting an affected Mac in Safe Mode, or resetting NVRAM/PRAM will solve the problem. In severe cases, a clean install of OS X is recommended.
As noted by forum posts, these methods — and more — were attempted, but did not resolve the issue.
The cause of the reported glitches is unknown at this time, though some users have speculated that heat is to blame for aggressive degradation of the discrete GPU. Some have found a solution in inhibiting automatic graphics switching to the more powerful AMD card through specialized software. Others, however, did not see success with the stopgap and were forced to replace their MacBook's logic board.
While some owners were able to take their machine in to Apple for a logic board swap, the operation is quite pricey without an extended AppleCare warranty.
Anecdotally, one AppleInsider staff member suffered from an identical issue as described in the Support Communities thread. In their case, the screen went black during heavy Photoshop editing. Upon restarting the machine, a blue screen was displayed and the MacBook's fans spooled up to near maximum RPM levels.
Rebooting to single user mode and performing a fsck to check and repair possibly corrupted files fixed the issue temporarily. Forcing the machine to use Intel integrated graphics also seemed to help the problem until the system went down after about one day of normal use.
A clean install was performed, which again revived the MacBook, but this too was short-lived. After repeated attempts to resolve the issue in single user mode and multiple clean installations, the machine is now unresponsive. When turned on, a gray screen with horizontal "squiggly" lines appears, denoting a possible hardware failure.
AppleInsider has reached out to Apple for comment and will update when a response is received.