Apple's iPhone marketshare dips in Q4, Samsung falters under pressure from low-cost OEMs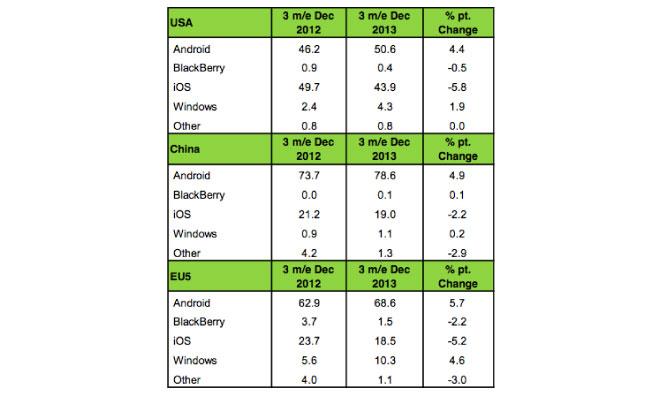 Apple's smartphone marketshare continues to ease downward despite record sales for the company's latest handsets, while rival Samsung's share of the Android ecosystem is being squeezed in key markets, according to new analysis covering the fourth quarter of 2013.
A new report from Kantar Worldpanel ComTech released Monday shows Apple ceding the top of the podium in most regions once again to handsets running Google's Android operating system. Apple's iOS took 18.5 percent of the market in Europe, 43.9 percent in the U.S., and and 19 percent in China to Android's 68.6 percent, 50.6 percent, and 78.6 percent, respectively.
One country where Apple continues to dominate, however, is Japan. The iPhone accounted for 68.7 percent of smartphones sold to Japanese consumers in the fourth quarter and was the top-selling smartphone on all three of Japan's major wireless carriers — Â Apple's handset booked 58.1 percent of sales at NTT DoCoMo, 91.7 percent at SoftBank, and 63.7 percent at AU's KDDI.
Meanwhile, Apple rival Samsung has begun to feel pressure from competing Android manufacturers, according to the report. The South Korean conglomerate's marketshare dropped 2.2 points to 40.3 percent in Europe and merely kept pace at 23.7 percent in China, which Kantar attributes in part to the proliferation of lower-cost local brands in the East Asian nation.
"It's no surprise that everyone is concentrating on high growth China, but currently local brands are proving clear winners. In December, Xiaomi overtook both Apple and Samsung to become the top selling smartphone in China - a truly remarkable achievement for a brand which was only started in 2010 and sells its device almost exclusively online," said Dominic Sunnebo, the group's strategic insight director.
"The combination of high spec devices, low prices and an ability to create unprecedented buzz through online and social platforms has proved an irresistible proposition for the Chinese," he continued.
For its part, Microsoft's Windows Phone platform is at a standstill. Windows Phone's 10.3 percent market share in Europe remained virtually unchanged from Kantar's previous analysis, and the operating system has not taken more than six percent of any other market.