Samsung widens lead in worldwide smartphone marketshare, smaller OEMs rising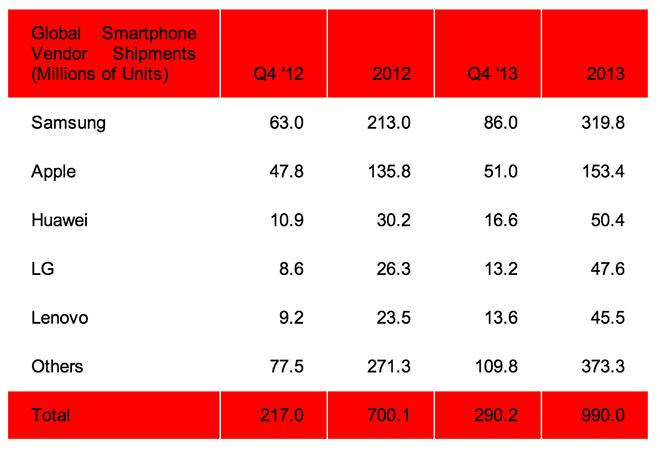 According to a fresh report from market research firm Strategy Analytics, Samsung shipped a record 86 million smartphones worldwide during the fourth quarter of 2013, boosting its stake of the worldwide market as Apple's share fell over the same period.
Despite announcing a record 51 million iPhone sales, Apple's share of the worldwide smartphone market fell to 17.6 percent in the three months ending in December, a 4.4 point dip from the year ago quarter. By comparison, Samsung upped its piece of the pie to 29.6 percent over the same period, up 0.6 percent year over year.
The Strategy Analytics report puts Samsung's fourth quarter smartphone shipments at 86 million units, up from 63 million in 2012. Apple also showed growth, moving from 47.8 million iPhone sales to 51 million.
For the year, Samsung reportedly shipped some 319.8 million smartphones, a huge increase from last year's 213 million. Apple's year-end sales reached 153.4 million units, up from 135.8 million in 2012. Samsung accounted for 32.3 percent of all smartphone shipments last year, while Apple came in at No. 2 with 15.5 percent.
"Despite tough competition from a long tail of Chinese and American brands, Samsung continued to deliver numerous hit models, such as the Galaxy S4 and Note 3," said Strategy Analytics Executive Director Neil Mawston. "Apple grew a sluggish 13 percent annually and shipped 153.4 million smartphones worldwide for 15 percent marketshare in 2013, dipping from the 19 percent level recorded in 2012. Apple remains strong in the high-end smartphone segment, but a lack of presence in the low-end category is costing it lost volumes in fast-growing emerging markets such as India."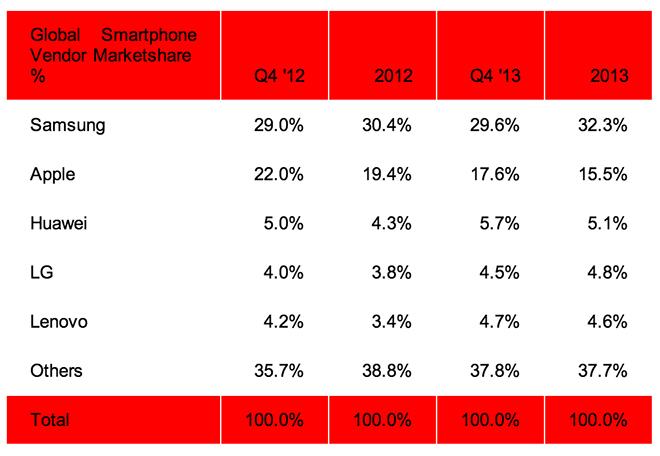 The bigger story may be upstarts like Huawei, LG and Lenovo, each of which grew their share of smartphone shipments substantially in quarter four. With cheaper price points and competitive features, the Asian manufacturers managed to take a combined 14 percent marketshare in the three-month period.
Huawei came in third behind Apple with 16.6 million units shipped for the fourth quarter of 2013, up from 10.9 million in 2012. LG and Lenovo also upped their shipment numbers and came out with 13.2 million units and 13.6 million units, respectively. For the 2013 calendar year, Huawei, LG and Lenovo shipped a respective 50.4 million, 47.6 million and 45.5 million smartphones.
"Samsung and Apple together accounted for almost half of all smartphones shipped worldwide in 2013," said Senior Analyst at Strategy Analytics Linda Sui. "Large marketing budgets, extensive distribution channels and attractive product portfolios have enabled Samsung and Apple to maintain their grip on the smartphone industry. However, there is clearly now more competition coming from the second-tier smartphone brands."
Overall, worldwide smartphone shipments came in at 990 million units, a huge increase from 2012, which saw 700.1 million handsets shipped.