Apple's iPad, iPhone face flagging growth as conventional markets reach saturation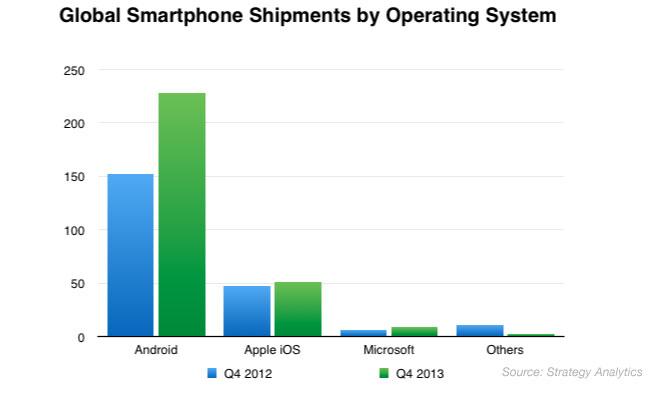 Apple faces an uphill battle when it comes to growing sales for its flagship mobile devices as fewer and fewer consumers in traditionally strong markets like the U.S. and Western Europe are left without smartphones or tablets, according to two reports released on Wednesday.
Sales of Apple's iPhone grew just 13 percent year-over-year while the iPad fared only slightly better at 13.5 percent despite record total shipments of both products. Those numbers trail growth in the overall market by 21 percent and 37.1 percent, respectively.
In comparison, sales of Android-based smartphones — Â which are also said to be feeling the pinch of market saturation — grew at a blistering 62 percent rate, besting the market by some 21 percent. Android's continued emergence may be attributed to the proliferation of low-cost Android handset vendors whose devices have been shown to be especially popular among less-affluent consumers in emerging markets like Southeast Asia and Latin America.
Tablets, meanwhile, have followed a similar path.
"It's becoming increasingly clear that markets such as the U.S. are reaching high levels of consumer saturation and while emerging markets continue to show strong growth this has not been enough to sustain the dramatic worldwide growth rates of years past," said Tom Mainelli, tablet research director for market research firm IDC.
Apple remains the dominant tablet vendor with a slice of the market nearly twice as large as its nearest competitor, but the Cupertino, Calif.-based company has seen its growth in the sector outstripped by less costly alternatives.
Chinese manufacturer Lenovo, for instance, grew by 325 percent in the quarter. IDC attributes this growth almost entirely to Lenovo's low-end lineup, saying that the company's "access to the Chinese whitebox manufacturing infrastructure has helped it drive more low-priced tablet products into the market."