Apple execs met with head of FDA to discuss 'mobile medical applications'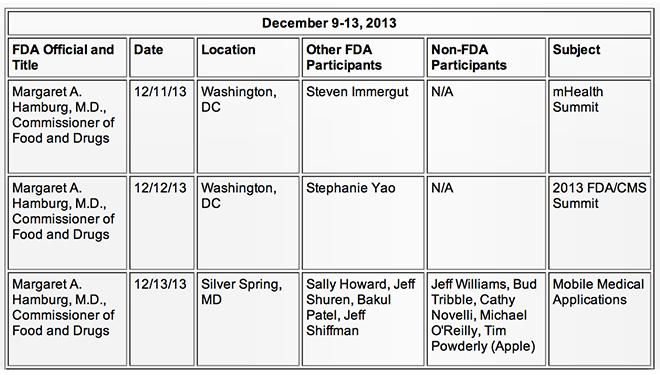 A report on Friday reveals high-ranking Apple executives met with FDA Commissioner Margaret A. Hamburg and others in December over "mobile medical applications," strongly hinting that a so-called iWatch with health-centric features is well into development.
As noted by The New York Times, senior Apple executives discussed medical electronics with Food and Drug Administration officials on Dec. 13 of last year, though the details and outcome of the meeting are unknown.
According to the FDA's public calendar listing, Apple was represented by SVP of Operations Jeff Williams, VP of Software and Technology Bud Tribble, Michael O'Reilly and government affairs counsel Tim Powderly.
It was reported on Thursday that O'Reilly was hired some time last year in an undisclosed role, though the executive's pedigree is in medical devices. Before moving to Apple, O'Reilly held the position of chief medical officer and executive vice president of medical affairs at pulse oximeter firm Masimo Corporation. He currently currently teaches anesthesiology at the University of Michigan and the University of California, Irvine.
Attending the meeting for the FDA was Jeff Shuren, director of the body's Center for Devices and Radiological Health, and Bakul Patel. The publication described Patel as a "staunch advocate" for patient safety, noting that he drafted the agency's mobile medical app guidelines.
While the reason for the meeting is unknown, Mark A. McAndrew, who spotted the meeting and is a partner at law firm Taft Stettinius & Hollister which handles health and science issues, said the high-level meet-up was anything but ordinary. McAndrew speculates Apple may either be looking for ways to clear regulatory hurdles ahead of a medical device or app launch, or is trying to push something through the FDA after seeing setbacks.
Most interesting is O'Reilly's presence at the meeting. Being a fairly recent hire, his attendance suggests at least one topic of discussion was a device capable of reading a user's pulse rate. Alternatively, Apple may have selected O'Reilly to head up the iWatch team.
Apple is widely rumored to be developing a smartwatch that some expect will have built-in health monitoring capabilities, along with other on-the-go applications. Most wearable devices on the market act as an accessory and connect with a smartphone or other device. Apple's solution is thought to work in much the same way; gathering information for specific iPhone or iPad apps, while serving as a remote screen for viewing of emails, messages and other correspondence.