Google's strict policies for 'open' Android OS revealed in newly public documents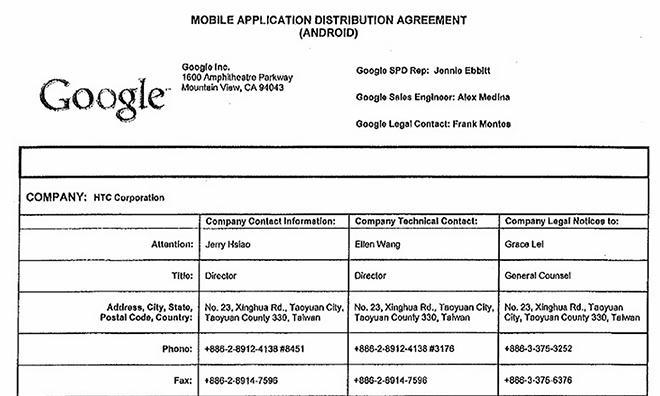 AppleInsider is supported by its audience and may earn commission as an Amazon Associate and affiliate partner on qualifying purchases. These affiliate partnerships do not influence our editorial content.
New documents published to the Web on Wednesday reveal Google imposes decidedly strict tit-for-tat terms on device makers looking to use the "open" Android platform.
In a report on Wednesday, The Wall Street Journal aired out Google's past and present dealings with Android device makers, noting OEMs must agree to a very narrow set of terms in order to fully comply with the "open" operating system's licensing.
The publication based its findings on documents from a 2012 Oracle v. Google patent and copyright trial, which were first published by Harvard Business School professor Ben Edelman in an in-depth treatise on Wednesday. Edelman points to a previously sealed document regarding Google's Mobile Application Distribution Agreement (MADA) provisions as applied to Samsung and HTC.
According to the document, Google requires manufacturers using Android agree to preinstall specific Google Apps, set Google Search as the default search provider for all Web access points and preload Google's Network Location Provider service. In addition, certain apps like the Play Store must be positioned "at least on the panel immediately adjacent to the Default Home Screen." Other stipulations are detailed in the embedded MADA documents below.
Although the documents refer to years-old policies that technically ended in December of 2012, the WSJ contends Google still uses similar agreements. Current restrictions and requirements are not known, however.
"These MADA restrictions suppress competition," Edelman writes. "Thanks to the MADA, alternative vendors of search, maps, location, email, and other apps cannot outcompete Google on the merits; even if a competitor offers an app that's better than Google's offering, the carrier is obliged to install Google's app also, and Google can readily amend the MADA to require making its app the default in the corresponding category (for those apps that don't already have this additional protection)."
Google has touted Android as an "open" platform, from which developers and manufacturers alike can thrive. The company's top executives, like Chairman Eric Schmidt, claim Google does not limit access to Android.
Edelman quotes Schmidt as saying, "Google does not condition access to or use of Android on pre-installation of any Google applications or on making Google the default search engine." Without parsing words, the exec's statement is mostly true. When read in the context of Samsung and HTC's MADA agreements, however, Schmidt leaves open the option that another Google property could impose these same limitations. Apps and search are just two examples.

Complicating matters is Android's positioning within the Google hierarchy. As it stands, the most dominant smartphone platform on earth is a funnel for Google's bread and butter search business, driving traffic to advertisers and adding to the firm's ever-growing user data cache. The agreement comes perilously close to engendering a climate of non-competition.
While not surprising, Google also built in a clause that had device makers reporting the number of devices distributed with a given preloaded application.
The WSJ reports that EU antitrust watchdog, the European Commission, has been looking into Google's Android distribution practices since last year. With a recent settlement over Google's search implementations, the agency's vice president and commissioner Joaquín Almunia last week said focus will now shift more heavily to Android.