Apple releases OS X 10.9.2 with fix for SSL security flaw, plus new FaceTime Audio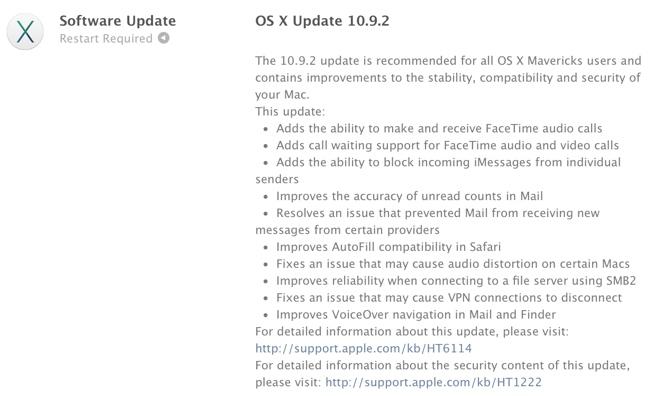 Apple on Tuesday released an incremental update for its Mavericks operating system, with OS X 10.9.2 addressing a critical SSL-related security flaw for Mac users, and also adding a handful of new features, most notably additions for FaceTime calls and iMessage user blocking.
The newly released update also gives users the ability to make and receive FaceTime audio calls. This functionality was previously limited to iOS devices.
With OS X 10.9.2, users also gain the ability to use call waiting when using FaceTime audio and video. Users on iMessages can also block incoming messages from individual senders.
As for the "goto fail" SSL bug, AppleInsider was first to report on Monday that Apple was providing its internal employees with a prerelease build that addresses the flaw. Such measures signal that the public release of a new OS X build is imminent.
The SSL security issue was also addressed in iOS 7.0.6, an update for the iPhone, iPad and iPod touch that was delivered late last week.
Additional features in the latest version of Mavericks, now available through Software Update on the OS X App Store, include:
Adds the ability to block incoming iMessages from individual senders
Improves the accuracy of unread counts in Mail
Resolves an issue that prevented Mail from receiving new messages from certain providers
Improves AutoFill compatibility in Safari
Fixes an issue that may cause audio distortion on certain Macs
Improves reliability when connecting to a file server using SMB2
Fixes an issue that may cause VPN connections to disconnect
Improves VoiceOver navigation in Mail and Finder