Apple now charging for some online chat support, rates cheaper than phone support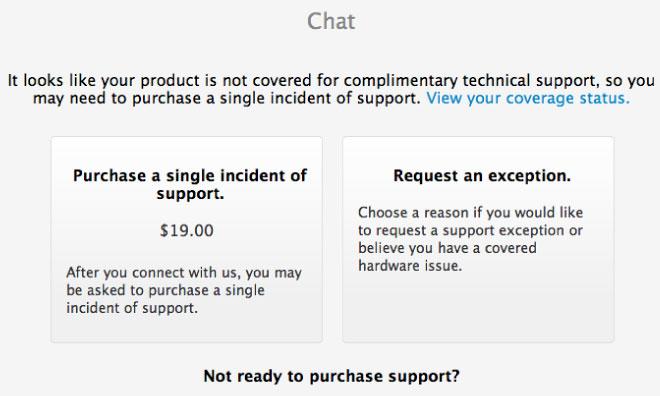 Apple has begun rolling out changes to its online chat support service that will require some customers to pay a per-incident fee, though the new policies could result in lower costs for those who might otherwise dial the company's telephone support line.
After entering their device's serial number in Apple's support portal, customers whose AppleCare coverage has lapsed are now notified that they may be asked to pay a new $19 fee during the chat session. Support staff have been given flexibility in deciding when to levy the tariff, however, and consumers with quick queries — such as "how can I change the time display format" — are not likely to incur any charges.
Users can also ask that the fee be waived in advance if their issue falls into one of a few predefined categories, including "I recently purchased Mac OS X" and "I recently purchased Apple branded software, and I'm having issues using it with this computer."
One Apple support representative told AppleInsider that incidents which do require payment will be covered for 30 days, both online and via phone. That means customers can begin a case online and then continue to receive support for the same problem over the phone without paying any additional fees, saving as much as $30 compared to AppleCare's current per-incident telephone charges.
Apple introduced the live chat service as part of a larger online support overhaul last August, and reports that it would soon transition to a fee-based option began to surface in late February. The company is said to have developed a new, proprietary payment method specifically for the live chat that will also allow customers to fast-track hardware repairs and replacements that usually require a credit card.