Microsoft releases free OneNote information organizer on Apple's Mac App Store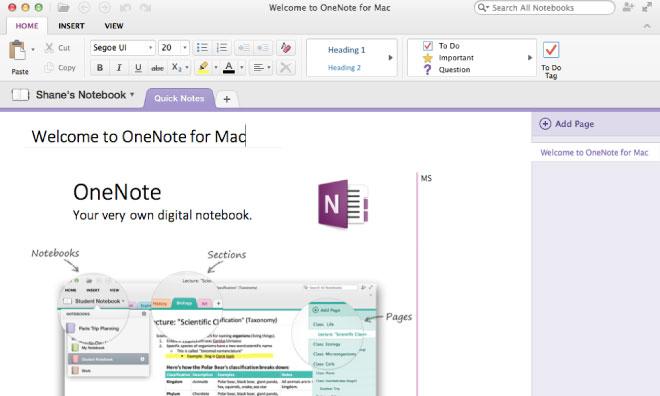 Microsoft on Monday released an all-new Mac OS X edition of its popular OneNote application for free on the Mac App Store, taking the venerable digital notebook cross-platform amid stiff competition from Silicon Valley startup Evernote.
The new Mac version bears a striking resemblance to its Windows counterpart, and notebooks can be shared between platforms — including the existing OneNote for iOS — using Microsoft's built-in OneDrive cloud storage service. The app also provides a limited set of collaboration features, allowing users to share notebooks with friends and coworkers and see edits in near realtime.
Microsoft promises that notes will maintain a standardized look-and-feel regardless of platform, including annotations and link formatting. The company has also added a new OneNote Clipper function that allows web pages to be saved as notes and introduced an open API to enable other applications to interact with users' notebooks.
OneNote's Mac debut is widely viewed as a response to Evernote's rapid expansion, which has seen the freemium suite gain popularity in former OneNote strongholds like college classrooms and small businesses. Evernote came to Apple's platforms in 2011 and has been camped out near the top of the Mac and iOS App Store charts since its release.
Formerly tied to Microsoft's Office suite for Windows, OneNote's platform transition could be a preview of what Mac users can expect in the next edition of Redmond, Wash.-based Microsoft's Office for Mac. That update, the first major revision to the Mac version in nearly four years, is expected to launch later this year.
To use OneNote, consumers will need a Mac running OS X Mavericks as well as a free Microsoft account. Microsoft says the app will be offered at no cost for "a limited time," though there is no indication when that deal may expire or what the company plans to charge once it does.
Microsoft OneNote for Mac version 15.0.1 is available now as a free, 235-megabyte download from the Mac App Store.