New $8-per-month 'NYT Now' subscription will debut first on Apple's iPhone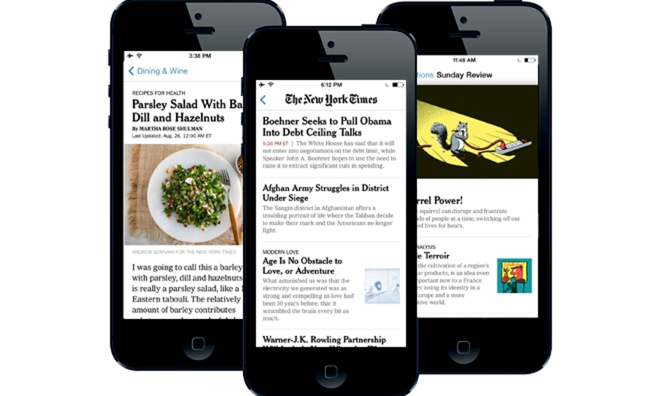 AppleInsider may earn an affiliate commission on purchases made through links on our site.
The New York Times announced on Wednesday that it will expand its digital subscription offerings in the coming months, starting with a "core" package dubbed "NYT Now" targeted at light readers, and it will debut exclusively on Apple's iPhone on April 2.
NYT Now is aimed at readers who primarily get their news from smartphones, but currently do so for free. The entry-level subscription will run $8 for four weeks, while existing Times subscribers will have access to the official NYT Now app for free.
The new, limited publication will be overseen by 10 editors that will curate content for NYT Now. The entry-level offering will be just a sampling of the full coverage available in the Times.
The same day, the "Grey Lady" will also launch its new "Times Premier" subscription, which will run $45 for four weeks, or an extra $10 over the cost of home delivery. The enhanced subscription will include special content, such as access to compilations of articles from the newspaper's archive and additional crossword puzzles.
Finally, the Times is also planning to launch two more applications this summer that will target specific audiences: one focused on food, and the other on opinion pieces.
The publication is hoping to generate revenue from readers who want to access more than the 10 free articles the Times offers on its website every month, but who may not be interested in paying for a full-fledged subscription. NYT Now is portrayed as "essential" news, a standard subscription is categorized as "extensive," and the Premier plan will be labeled "exclusive."
While NYT Now will first be only available on Apple's iPhone, there was no word as to when or whether it will launch on other platforms, such as the iPad, or devices that run Google's Android platform.
The New York Times was one of the first publications to take advantage of Apple's App Store subscription option. The daily newspaper can be read through the Newsstand folder, with iPhone-only subscriptions running $15 per month, while iPad subscriptions are available for $20 per month.