iPad users spend $70K a day on Newsstand content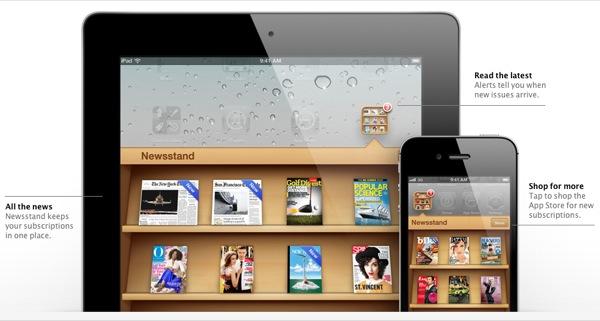 A new study released on Tuesday reveals that Apple iPad users spend about $70,000 each day on tablet-centric newspapers and magazines purchased through Newsstand for iOS.
According to analytics firm Distimo, Apple's Newsstand content aggregator and online content store for iOS devices has helped push digital publication sales, with most of the revenue coming from in-app purchases, reports Business Insider.
Subscriptions or purchases of the New York Times, The Daily and the New Yorker top the list of downloaded content, and news apps as a whole account for 7 percent of the 200 highest grossing apps.
Revenue mostly comes in the form of in-app subscription purchases as many digital publication apps are available as a free download. This allows for content providers to offer a variety of purchasing options in one place. As in other Apple media stores, the company takes a 30 percent cut of each sale.
Unveiled in June 2011 as part of iOS 5, the Newsstand gathers a user's newspaper and magazine apps in a single non-removable folder. A special digital publication section, which can be accessed via Newsstand, was added to the App Store alongside feature's release.
A December 2011 report showed that the storefront and content library helped to accelerate content sales, with major publisher Conde Nast recording a 268 percent rise in paid subscriptions.