Apple unveils 'PC-free' iOS 5 with wireless updates, Notification Center, coming this fall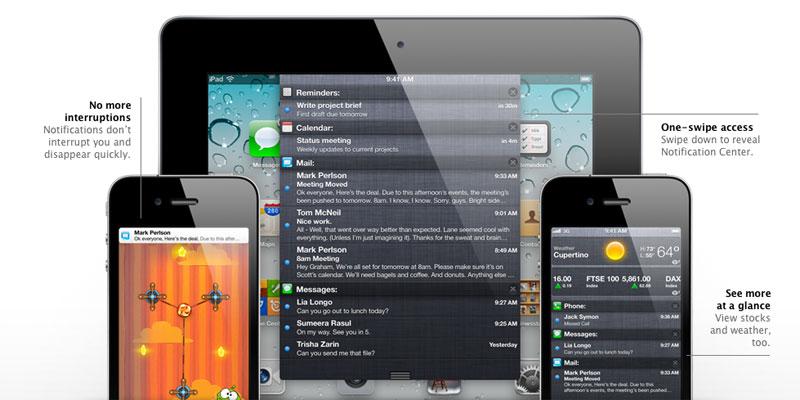 The wraps were taken off the next iPhone and iPad operating system update on Monday, as Apple unveiled iOS 5, packing 200 new user features, an all-new Notification Center, the new iMessage application, and a PC-free design that finally cuts the cable.
The iOS 5 beta release includes over 200 new features that will be available to iPhone, iPad and iPod touch users this fall. New iOS 5 features include:
Notification Center, an innovative way to easily view and manage notifications in one place without interruption
iMessage, a new messaging service that lets you easily send text messages, photos and videos between all iOS devices
Newsstand, a new way to purchase and organize your newspaper and magazine subscriptions.
With the new PC Free feature, iOS 5 users can activate and set up their iOS device right out of the box and get software updates over the air with no computer required.
"iOS 5 has some great new features, such as Notification Center, iMessage and Newsstand and we can't wait to see what our developers do with its 1,500 new APIs," said Steve Jobs, Apple's CEO. "Perhaps iOS 5's paramount feature is that it's built to seamlessly work with iCloud in the Post PC revolution that Apple is leading."
Notification Center: All your alerts. All in one place. You get all kinds of notifications on your iOS device: new email, texts, friend requests, and more. With Notification Center, you can keep track of them all in one convenient location. Just swipe down from the top of any screen to enter Notification Center.
Choose which notifications you want to see. Even see a stock ticker and the current weather. New notifications appear briefly at the top of your screen, without interrupting what you're doing. And the Lock screen displays notifications so you can act on them with just a swipe. Notification Center is the best way to stay on top of your life's breaking news.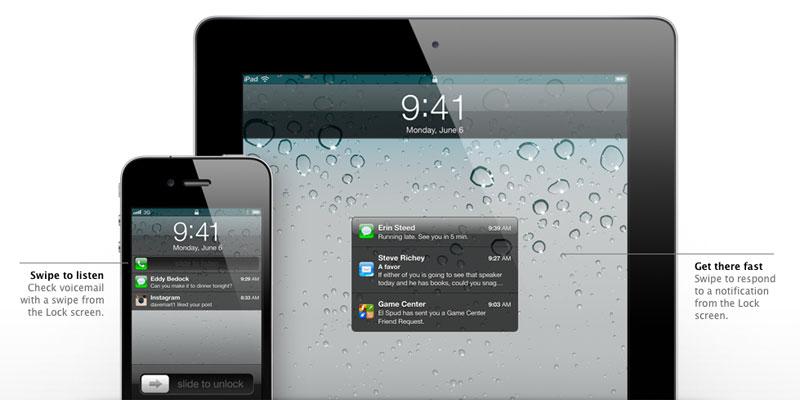 iMessage: iPad and iPod touch join the conversation. With iMessage, we've created a new messaging service for all iOS 5 users. You can send unlimited text messages via Wi-Fi or 3G from your iPad, iPhone, or iPod touch to anyone with one of those devices. iMessage is built into the Messages app, so you can send text, photos, videos, locations, and contacts.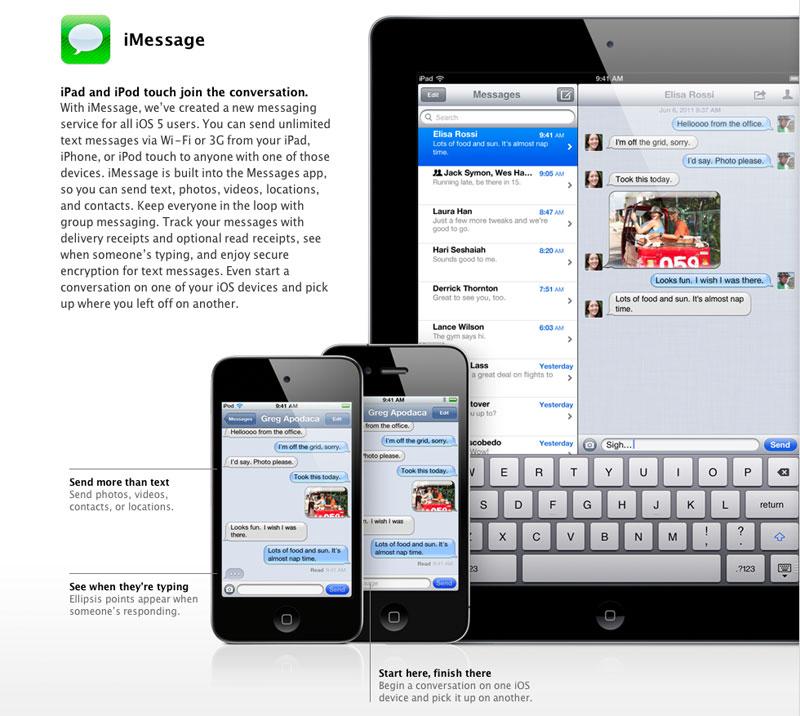 Keep everyone in the loop with group messaging. Track your messages with delivery receipts and optional read receipts, see when someone's typing, and enjoy secure encryption for text messages. Even start a conversation on one of your iOS devices and pick up where you left off on another.
Newsstand: A custom newsstand for all your subscriptions. Read all about it. All in one place. iOS 5 organizes your magazine and newspaper app subscriptions in Newsstand: a folder that lets you access your favorite publications quickly and easily. There's also a new place on the App Store just for newspaper and magazine subscriptions. And you can get to it straight from Newsstand.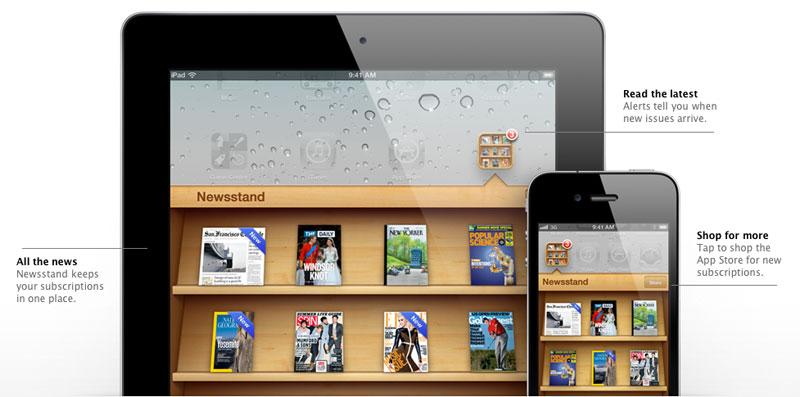 New purchases go directly to your Newsstand folder. Then, as new issues become available, Newsstand automatically updates them in the background — complete with the latest covers. It's kind of like having the paper delivered to your front door. Only better.
Reminders:A better way to do to-dos. Next time you think to yourself, "Don't forget to...," just pull out your iPhone, iPad, or iPod touch and jot it down. Reminders lets you organize your life in to-do lists — complete with due dates and locations.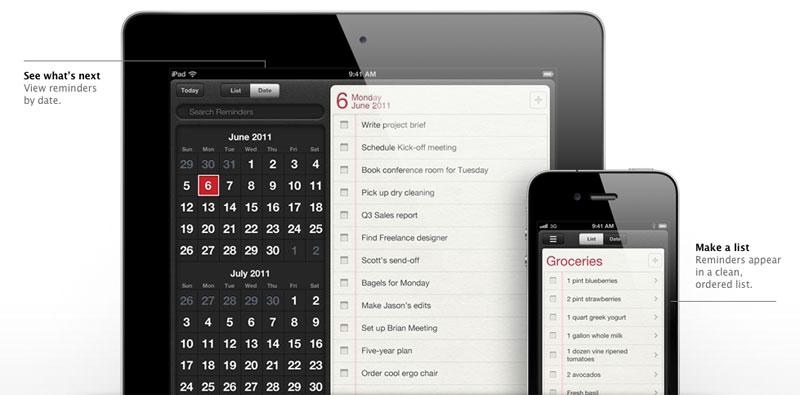 Say you need to remember to pick up milk during your next grocery trip. Since Reminders can be location based, you'll get an alert as soon as you pull into the supermarket parking lot. Reminders also works with iCal, Outlook, and iCloud, so changes you make update automatically on all your devices and calendars.
Twitter: Integrated right into iOS 5. iOS 5 makes it even easier to tweet from your iPhone, iPad, or iPod touch. Sign in once in Settings, and suddenly you can tweet directly from Safari, Photos, Camera, YouTube, or Maps.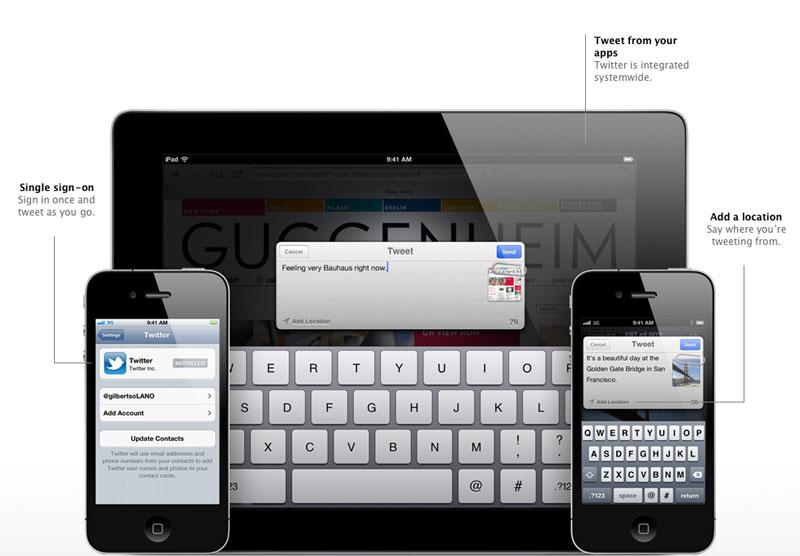 Want to mention or @reply to a friend? Contacts applies your friends' Twitter usernames and profile pictures. So you can start typing a name and iOS 5 does the rest. You can even add a location to any tweet, no matter which app you're tweeting from.
Camera: Capture the moment at a moment's notice. Since your iPhone is always with you, it's often the best way to capture those unexpected moments. That's why you'll love the new camera features in iOS 5. You can open the Camera app right from the Lock screen.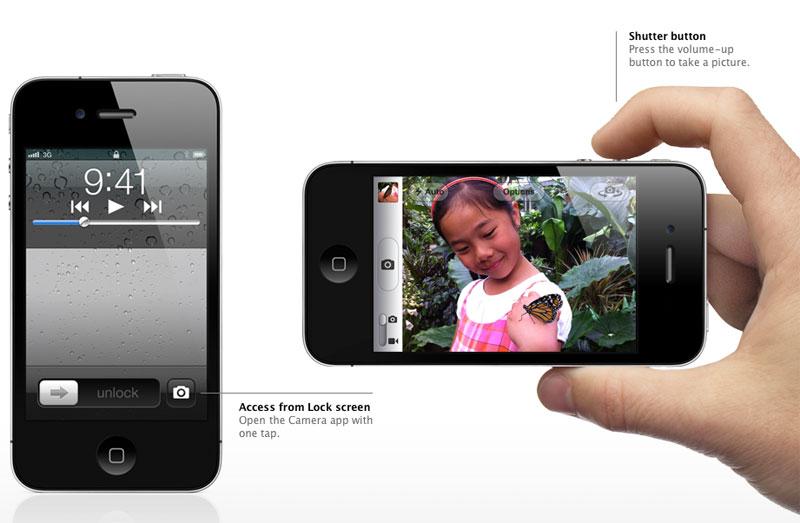 Use grid lines, pinch-to-zoom gestures, and single-tap focus and exposure locks to compose a picture on the fly. Then press the volume-up button to snap your photo in the nick of time. If you have Photo Stream enabled in iCloud, your photos automatically download to all your other devices.
Photos: Enhanced photo enhancements. Turn your snapshots into frame-worthy photos in just a few taps. Crop, rotate, enhance, and remove red-eye without leaving the Photos app. Even organize your photos in albums — right on your device.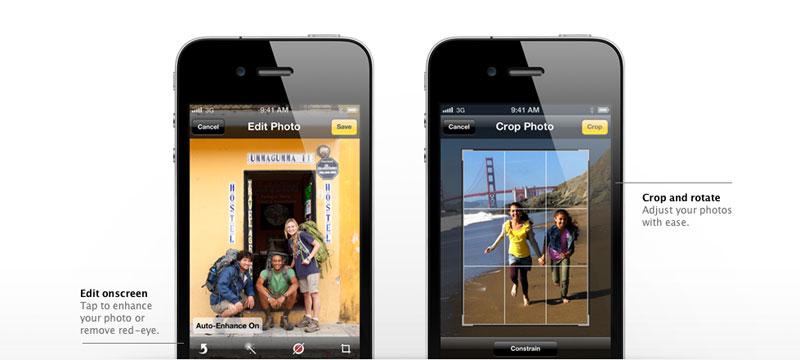 With iCloud, you can push new photos to all your iOS devices. So if you're taking photos on your iPhone, iCloud automatically sends copies to your iPad, where you can quickly touch them up before showing them off.
Safari: Even better site-seeing. iOS 5 brings even more web-browsing features to iPhone, iPad, and iPod touch. Safari Reader displays web articles sans ads or clutter so you can read without distractions.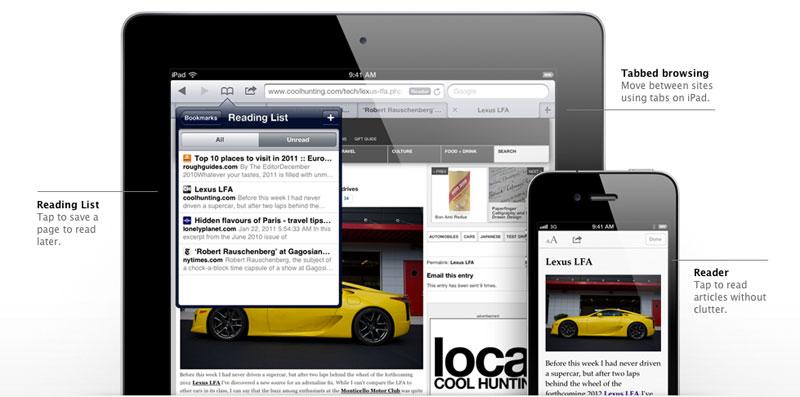 Reading List lets you save interesting articles to peruse later, while iCloud keeps your list updated across all your devices. On iPad, tabbed browsing helps you keep track of multiple web pages and switch between them with ease. And iOS 5 improves Safari performance on all your iOS devices.
PC Free: Independence for all iOS devices. With iOS 5, you no longer need a computer to own an iPad, iPhone, or iPod touch. Activate and set up your device wirelessly, right out of the box. Download free iOS software updates directly on your device.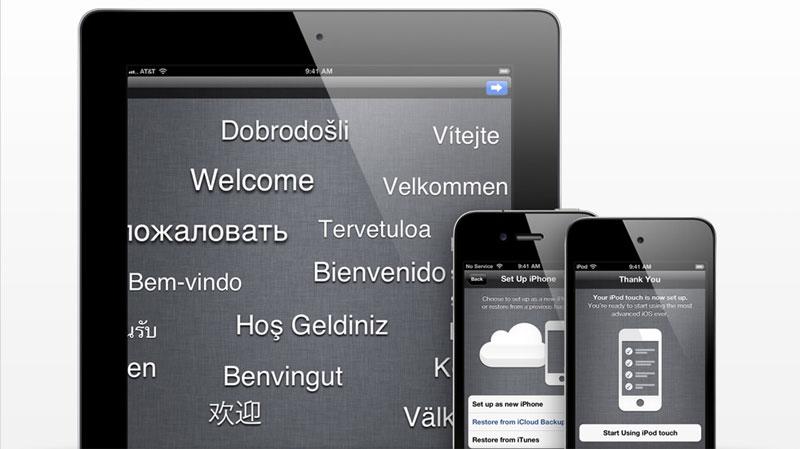 Do more with your apps — like editing your photos or adding new email folders — on your device, without the need for a Mac or PC. And back up and restore your device automatically using iCloud.
Mail: Your inbox is about to receive some great new features. Format text using bold, italic, or underlined fonts. Create indents in the text of your message. Drag to rearrange names in address fields. Flag important messages. Even add and delete mailbox folders on the fly. If you're looking for a specific email, you can now search in the body of messages. And with iCloud, you get a free email account that stays up to date on all your devices.
Calendar: Get more perspective on your schedule with year view on iPad and week view on iPhone and iPod touch. Tap to create an event and drag to adjust the time and duration. Add, rename, and delete calendars directly from your device. And view event attachments without leaving the Calendar app. iCloud lets you share calendars with friends and family, and it keeps your events in sync on all your devices.
Game Center: iOS is the world's most popular gaming platform. With iOS 5, you can get your game face on with even more Game Center features. Post a profile picture. Meet your match with new friend recommendations based on the games you play and the players you already know. Discover new games without leaving Game Center. And size up an opponent on the spot with new overall achievement scores.
Wi-Fi Sync Wirelessly sync your iOS device to your Mac or PC over a shared Wi-Fi connection. Every time you connect your iOS device to a power source (say, overnight for charging), it automatically syncs and backs up any new content to iTunes. So you always have your movies, TV shows, home videos, and photo albums everywhere you want them.
Multitasking Gestures for iPad: iOS 5 includes a few new moves and shortcuts to help you get around even quicker on your iPad: Using four or five fingers, swipe up to reveal the multitasking bar, pinch to return to the Home screen, and swipe left or right to switch between apps.
AirPlay Mirroring for iPad 2: Wow your audience in the board room, classroom, or living room. AirPlay now supports video mirroring. Which means you can wirelessly — and securely — stream whatever's on your iPad 2 to your HDTV via Apple TV. Everyone in the room sees exactly what's on your iPad display up there on the big screen — even when you rotate iPad from portrait to landscape or zoom in and out on photos.
Accessibility: iOS 5 comes with innovative new features that make it easier for people with mobility, hearing, vision, and cognitive disabilities to get the most from their iOS devices. iOS 5 works with specialized hardware accessories. The LED flash and custom vibration settings let you see and feel when someone's calling. And improvements to VoiceOver include custom element labeling. These are just a few of the ways iOS 5 continues making advances in the field of accessibility.
Features were also highlighted onstage Monday at the Worldwide Developers Conference in San Francisco. Details from the keynote presentation are included below:
Notification Center will aggregate all notifications, and can be accessed by swiping down from the top of the screen. From there, users are presented with a list of notifications from a variety of applications.
When doing an activity like playing a full-screen game, users are given an animation up top to notify of things like text messages. This replaces the current notification system, where an alert displays in the center of the screen and pauses the current activity.
Users will also be able to access notifications from the lock screen, viewing text messages and listening to voicemails. Notifications can also be removed by hitting an 'X' to the right.
The new mobile operating system was presented as being "PC-free," meaning users will be able to use the device without syncing to a Mac or PC via USB. Users will be able to set up and activate their device without first connecting to iTunes.
Software updates will also be available over the air, and they will be delta updates, so that users will only need to download what has changed.
Users will also be able to create and delete calendars from right within iOS, as well as create and delete mailboxes in the Mail application. These activities will no longer require tethering to a PC to be accomplished.
A new application in iOS is iMessage, a special messaging service that allows for communication between iOS devices, including the iPhone, iPad and iPod touch. With this service, users can send text messages, photos, videos, contacts, and group messaging.
iMessage also offers delivery receipts, read receipts, and real-time typing notifications. It will work over both Wi-Fi and 3G.
iOS 5 will also bring background downloads, allowing users to automatically receive the latest issues of magazines and other content providers. Publications are collected in a section known as the "Newsstand" that will reside on iOS home screens.
Also being added to iOS 5 is system-wide Twitter integration. Users will be able to quickly post to the social networking site with ease, as accounts will become integrated in applications like Camera and Photos.
The Safari browser for iOS will also gain the Safari Reader feature, allowing users to save content with additional Web material, like advertisements and links, stripped out for an easier reading experience. Reading List will also allow users to save articles for later, or access them on another device.
Apple is also bringing tabbed browsing to Safari for iOS, making it easier to switch between open Web pages.
Another new feature highlighted by Apple in iOS 5 is Reminders. Here, lists of things can be kept, with reminders associated with dates and even locations. Reminders will sync across devices, and even with iCal.
Apple also revealed it is building new camera features into iOS 5, including a shortcut on the iPhone lock screen. From here, users will be able to quickly launch the Camera application to snap a picture. Users will also be able to use the volume up button to take a picture within the Camera application.
Users will also be able to edit photos right on their iPhone, with features such as rotating, cropping and reducing red-eye.
Mail will be overhauled as well, with rich-text formatting, indentation control, the ability to flag messages unread, and search for entire messages. A new built-in dictionary will also be available for all applications system-wide.
A new keyboard variant allows users to use their thumbs to drag the keyboard into two pieces. This will allow iPad users to type more easily while using the touchscreen tablet in portrait orientation.
Apple will also update Game Center, adding new social features including friends of friends, game recommendations, and friend recommendations. Users will also be able to purchase and download games directly within the Game Center application.
Other features glossed over at the event include AirPlay mirroring for iPad, personal dictionary, iTunes Tone Store, a new iPad music application, hourly weather forecasts, multitasking gestures, and improved FaceTime video quality. Developers will get 1,500 new tools as well, including Customize UI, Newsstand Kit, fast forward and rewind streaming content, and improved PDF support.
The new software will be available this fall for the first- and second-generation iPad, iPhone 4, iPhone 3GS, and third- and fourth-generation iPod touch.
The iOS 5 beta software and SDK are available immediately for iOS Developer Program members at developer.apple.com. iOS 5 will be available as a free software update for iPhone 4, iPhone 3GS, iPad 2, iPad, iPod touch (fourth generation) and iPod touch (third generation) this fall. Some features may not be available on all products.