First look: Hands on with Office for iPad from Microsoft's event in San Francisco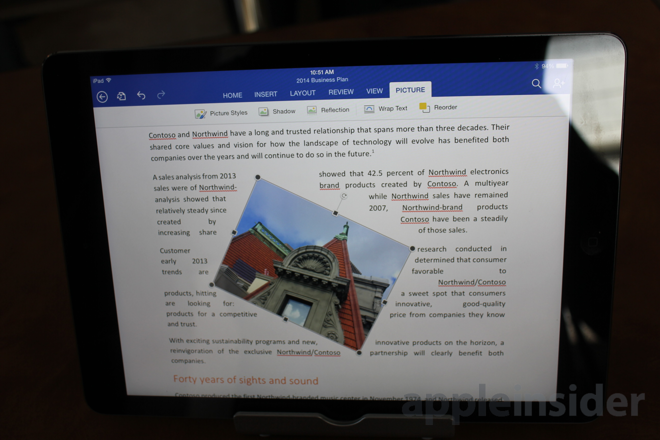 AppleInsider may earn an affiliate commission on purchases made through links on our site.
The long-awaited debut of Microsoft Office for iPad finally took place on Thursday with an event in San Francisco featuring the company's new chief executive Satya Nadella. AppleInsider was there live to test out Office on the iPad, and also see Microsoft's new leader in action.
The new Office for iPad looks very much like Apple's iWork, and the features demonstrated by Microsoft on Thursday were also similar. The newly released Word, Excel and PowerPoint for iPad are actually the first touch-enabled versions of Office, as the existing applications for Windows and Surface are still using what is essentially a desktop PC interface, while Windows Phone sports a very different editor.
Office for iPad brings a true touchscreen interface to Microsoft's productivity suite. The interface is much better than Office for Mac, but is still distinctly Microsoft.
Apple's entirely new interface on Office for iPad seems much better than Office for Mac, which frankly we haven't been impressed by in some time. Office for iPad looks usable and fluid, and likely works with more document types than its Mac counterpart as well.
In our hands-on time, we came away feeling that Office works like an iPad application, though the complex interfaces are distinctly Microsoft.
We spoke with Microsoft Office general manager Julia White, and asked about support for previous version of Office, and how much fidelity users can expect between the Windows and iOS versions of the suite. She said there has been no changes to the file types in Office since ".docx" debuted, and that everything is supported aside from possibly macros.
We were given the impression that Office for iPad is a major effort for Microsoft, and find it interesting that the company is giving the downloads away for free. This is likely because they know they can't sell the applications themselves while Apple is including iWork for free with all new iOS device purchases.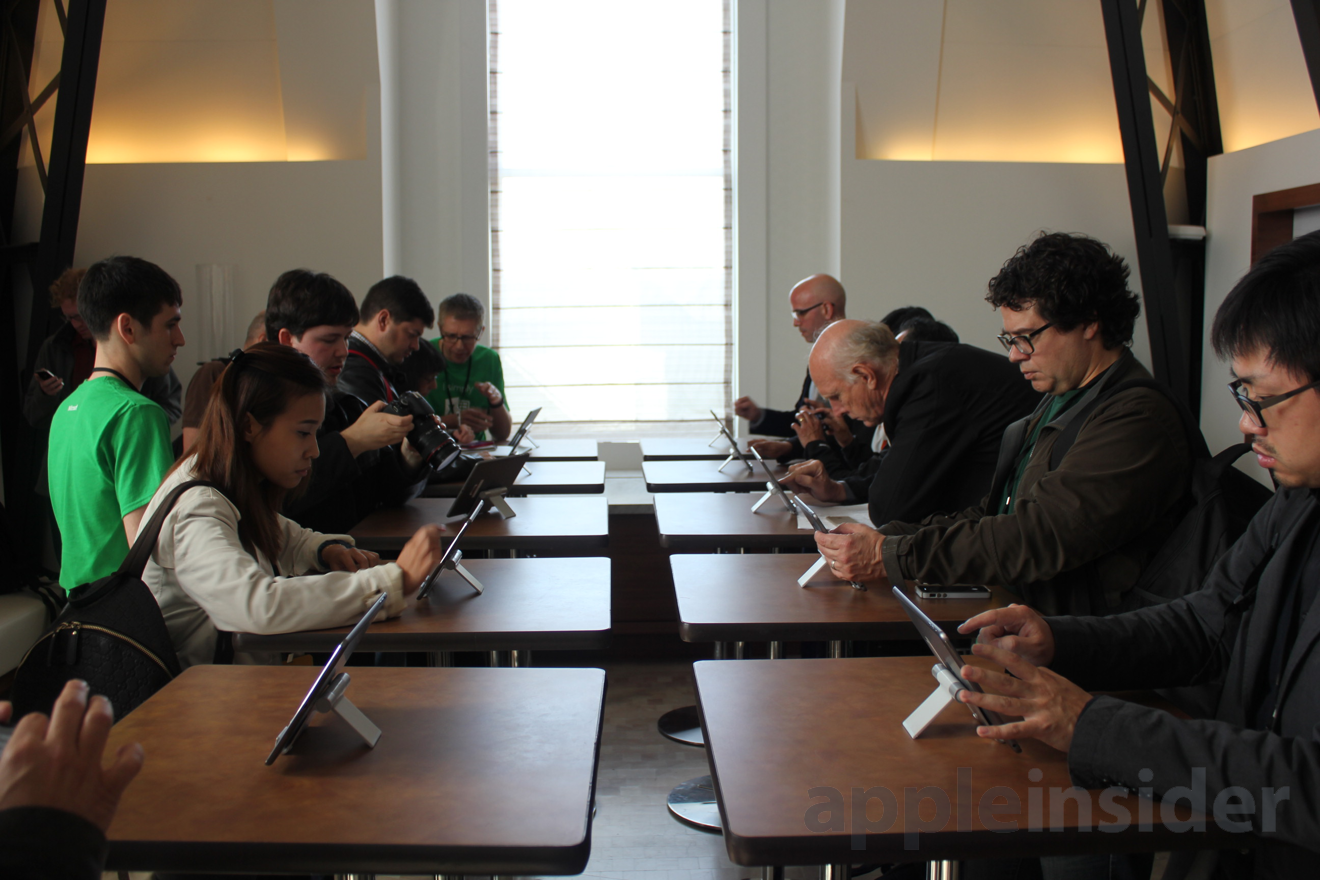 Still, editing documents on Office for iPad will require users to subscribe to Microsoft's Office 365 service, which costs $9.99 per month or $99.99 per year for a home account, and can be used on up to five PCs and Macs, as well as tablets and smartphones. Both personal and corporate accounts can be used, and allow access to OneDrive and Sharepoint, while files can also be shared via standard methods such as email.
One thing we did notice is that Office for iPad does not offer the ability to rotate with multi-touch. Instead, that function works like Office on the desktop, requiring users to select an image and touch the rotation button. While somewhat strange, this may actually be a benefit for some, as people may accidentally touch and rotate items while editing a document.
But many aspects of Microsoft's presentation on Thursday felt similar to how Apple showcased iWork on iPad four years ago, in 2010. For example, the company showed how Word on iPad allows users to move images around freely, and text will automatically flow around the picture. That's exactly how Apple showed off Pages on iPad.
The Excel presentation also emphasized a custom keyboard for character entry — something Apple focused on in showcasing Numbers. And in unveiling PowerPoint for iPad, Microsoft showcased its animated transitions much like Apple has already done.
Still, enterprise users who rely heavily on Excel will be pleased with its arrival on iPad, as Microsoft's spreadsheet application simply has more capabilities than Apple's Numbers. In addition, there are some functions possible in Excel that simply don't translate over to Numbers.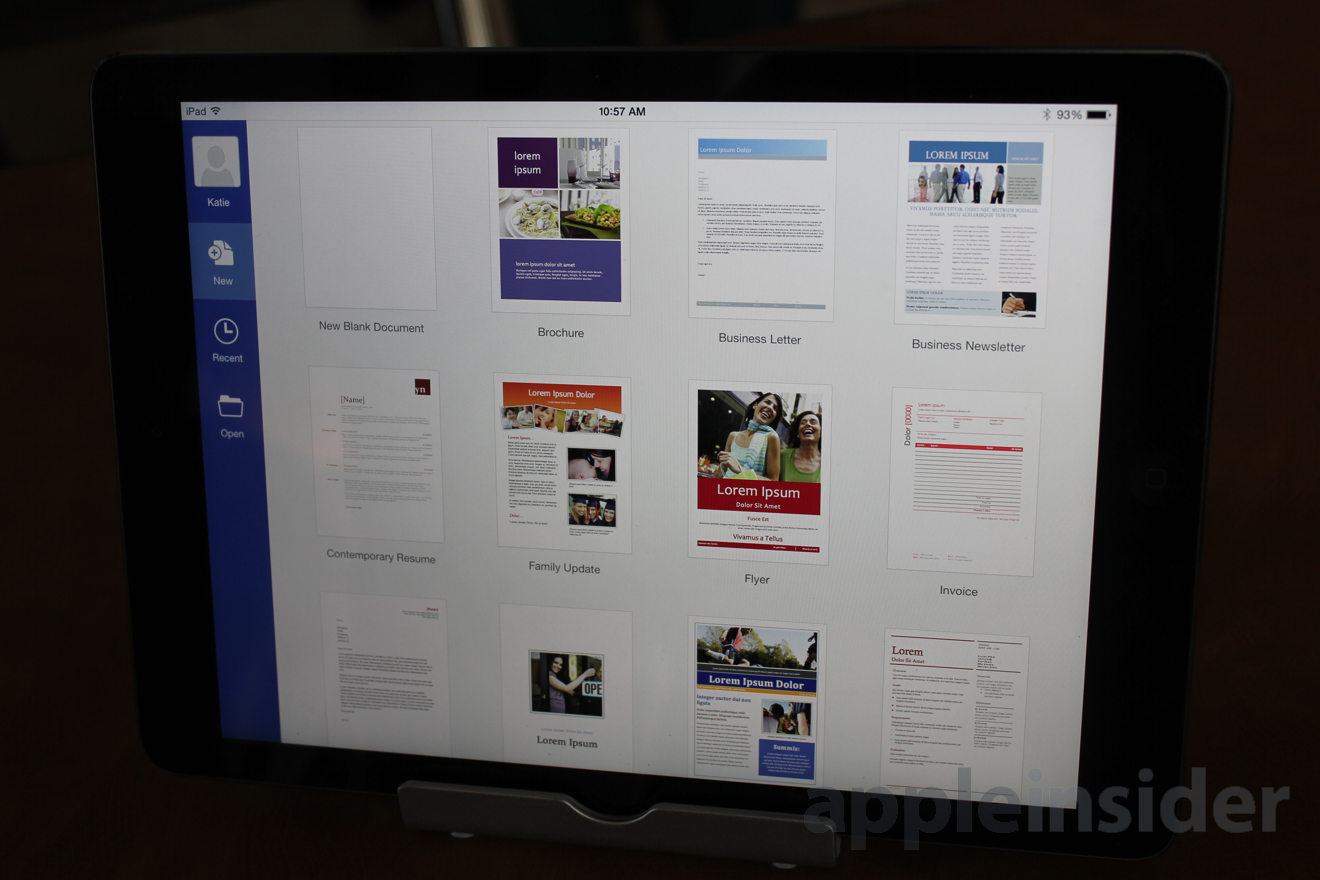 Excel for iPad boasts many more functions available to users than Apple's Numbers. However, it doesn't appear that all desktop-class capabilities have been brought over to the touchscreen interface.
In taking the stage, Nadella emphasized that he's been with Microsoft for most of his adult life, though the role of CEO is obviously new. He said the release of Office on Apple's market leading iPad isn't about competing with other companies, as Microsoft is simply focused on going to where the customers are.
The 45-minute presentation did seem rushed, with very little time being spent on an application before moving on to something else. With its annual Build developer conference next week, it's likely that Microsoft didn't want to draw too much focus away from Nadella's next presentation.