Apple's fiscal Q2 earnings call scheduled for Apr. 23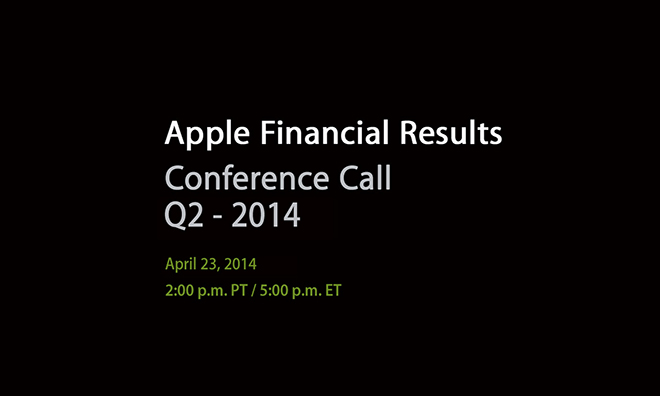 Apple on Monday announced it will reveal quarterly earnings results for the second fiscal quarter of 2014 on Apr. 23, with the usual question and answer session to follow directly thereafter.
The upcoming earnings session was announced on Apple's Investor Relations webpage. Company CEO Tim Cook and CFO Peter Oppenheimer are expected to take part in the conference call that will cover the three months ending in March.
In its conference call for the first quarter of 2014, Apple reported record iPhone and iPad sales fueled by holiday sales of new products in from each category. Of note, new partnerships with China Mobile and NTT DoCoMo boosted iPhone growth for Asia, an important region for Apple.
Overall, the first quarter of 2014 brought net profits of $13.1 billion on $57.6 billion in revenue. Broken down by device, Apple moved 51 million iPhones, 26 million iPads and 4.8 million Macs during the three-month period ending in December.
The company's guidance for the upcoming quarter was pegged at being between $42 billion and $44 billion, compared to actual revenue of $43.6 billion in the year-ago quarter.
A live-stream of the earnings call will be made available on Apple's investor webpage starting at 2 p.m. PDT/5 p.m. EDT. AppleInsider will be providing live coverage of the investor event.