Explicit content slipping through Apple's iTunes Radio profanity filters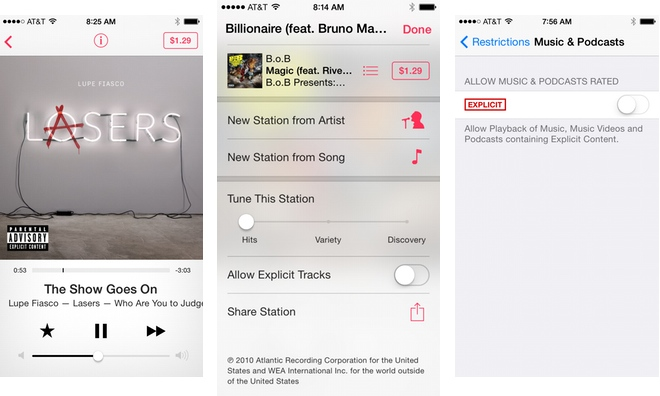 While Apple's iTunes Radio is set by default to block songs with explicit language from streaming, the current filters are far from perfect, with profane content slipping through the cracks to the surprise of some listeners.
A reader who contacted AppleInsider said that although they had purposefully left the explicit content filter on, they found that multiple uncensored songs continued to play. In one example, an uncensored version of the track "Billionaire" by Travie McCoy and Bruno Mars, which features a prominent "f-word" in the opening lines of the song, was said to have played on numerous occasions in front of children.
In our own tests, we also found that explicit content was slipping through the cracks, though many censored songs were also playing with the toggle enabled. Still, many songs with language considered to be unacceptable on radio and television in the U.S. were still being played through iTunes Radio.
Conversely, it seems that the same issue also exists in reverse: Users turning off the filter, in order to allow explicit content to play, report continuing to hear censored tracks, rather than the original explicit language.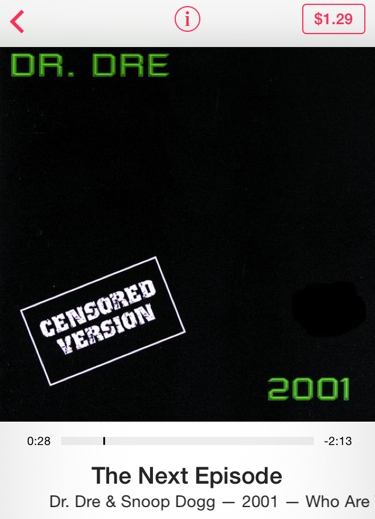 The issues have existed since iTunes Radio launched to the public last September, as indicated by numerous threads on the Apple Support Communities website. Users have suggested that competing streaming music services do not have this same issue.
"The 'allow explicit' is turned on for iTunes Radio and it's still playing explicit songs," user "Ben Hur" wrote. "We recently switched from Pandora where we didn't have this problem at all."
There have also been reports of unexpected content that may not be appropriate for certain audiences creeping into unexpected custom streaming stations. One user posted last year claiming that the station "Disney World Attraction Radio" began playing rap songs intended for mature audiences in front of their child.
There are two ways to enable or disable explicit content in iTunes Radio. The easiest is tapping the "i" button at the top of the screen while playing a station, then flipping the switch for "Allow Explicit Tracks."
Users can also disable all mature-language iTunes content by opening the iOS Settings application, choosing General, and then Restrictions. Under "Allowed Content," users can uncheck "Music & Podcasts," which will change the content filter to "clean." Doing so also removes the ability toggle such content back on through iTunes Radio.