Apple updates iWork for iOS, OS X and iCloud with enhanced usability, graphics tweaks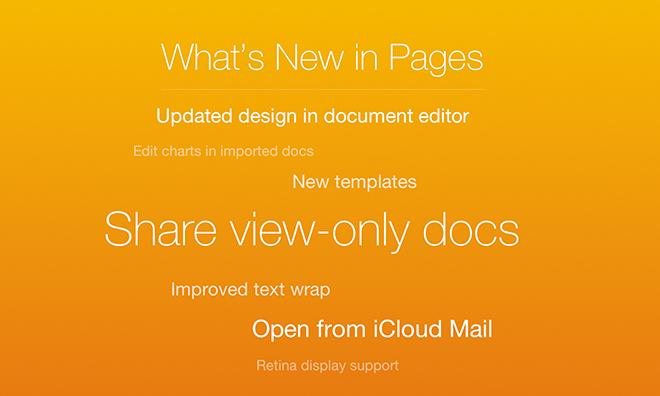 AppleInsider is supported by its audience and may earn commission as an Amazon Associate and affiliate partner on qualifying purchases. These affiliate partnerships do not influence our editorial content.
Apple on Tuesday released a series of updates to the iCloud versions of Pages, Numbers, and Keynote, including new iOS and OS X app versions, as the company continues to refine its web-based productivity suite.
On iCloud, all three applications gained new Retina display-ready graphical assets as well as the ability to open files directly from iCloud Mail. Additionally, users can now share documents with a 'view only' security setting.
Pages
Pages received a new document editor design, improved text wrap, and new document templates for iCloud. Users can also edit charts contained in imported documents. The view only option is also available on the iOS and Mac versions.
For iOS, Pagesbrings the following enhancements:
New "view only" setting lets you share documents you want others to view but not edit
Search documents by name
Inline images and shapes in table cells are preserved on import
Better placement of inserted and pasted objects
New Arabic and Hebrew templates
Improved support for bi-directional text
Word count for Hebrew
Improved ePub export
Control the z-order of bubble chart labels
Usability improvements
Pages for Mac was also updated on Tuesday and adds the following features to those seen above:
Delete, duplicate and reorder sections using the page navigator
Copy-paste style improvements
Improved Instant Alpha image editing
Media Browser improvements, including search
Improved AppleScript support
Create custom data formats
Show rulers as a percentage of document size
Improved text box behaviour
Improved EndNote support, including citations in footnotes
Improved ePub export
Numbers
Apple's Numbers (iOS, OS X)was was given a fresh coat of paint, with the Excel competitor gaining improved pop-up menu support for more complex spreadsheets.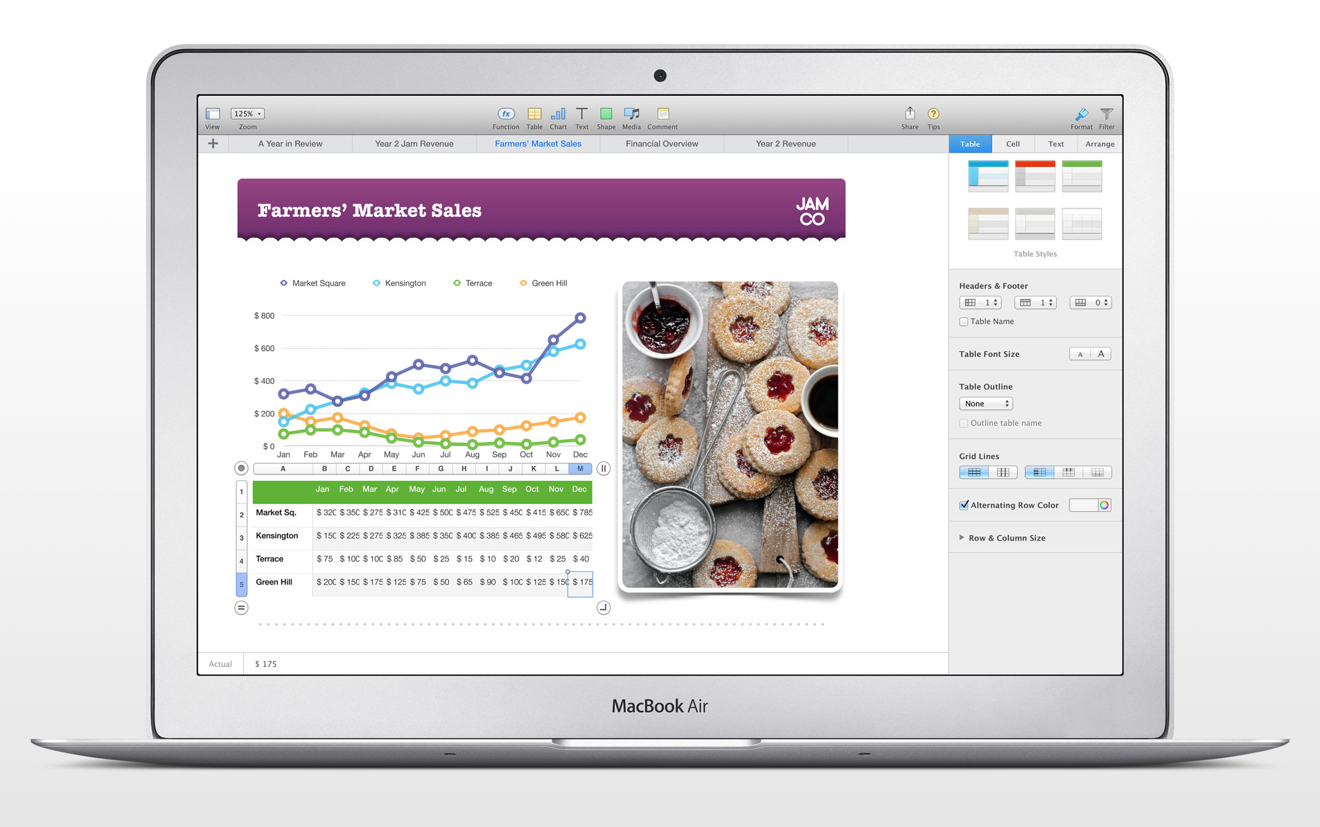 In addition to the read-only feature introduced in Pages, Numbers for iOS includes:
Search spreadsheets by name
Progress indicator for calculations
Control the z-order of bubble chart labels
Faster CSV import
Improved Microsoft Excel compatibility
Usability improvements
The Mac version includes the same improvements plus the following:
Set margins in print setup
Create headers and footers in print setup
New printing options: page numbering, page ordering and zoom
Create custom data formats
Create custom table styles
Drag and drop a CSV file directly into a sheet
Automatically update an existing table by dragging in a CSV file
Cell-based import feedback
Improved text box behaviour
Media Browser improvements, including search
Improved Instant Alpha image editing
Improved AppleScript support
Usability improvements
Keynote
Keynote (iOS, OS X) was not left off of the visual tweak train, with the new iCloud version bringing an updated presentation editor design. Like Pages, Keynote users can also edit charts in imported documents.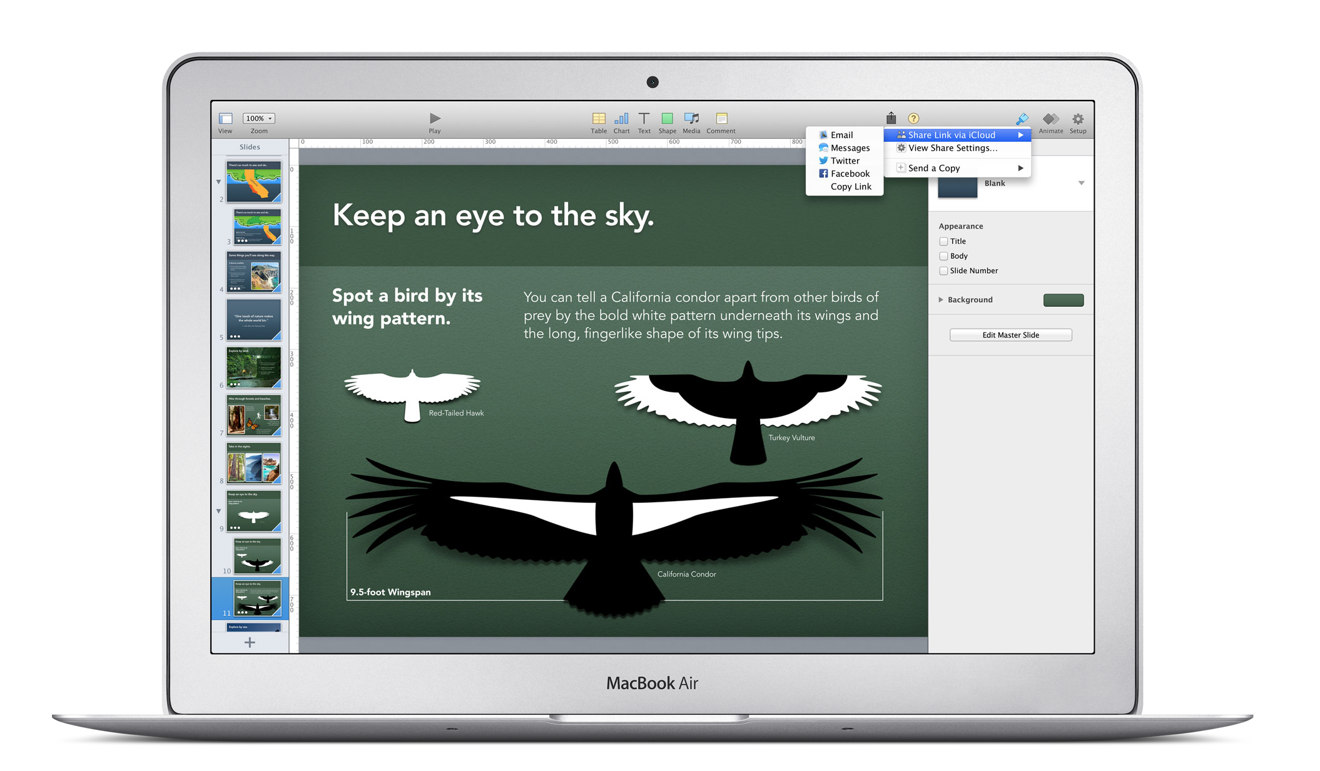 Use your finger to illustrate on slides as you present
New "view only" setting lets you share presentations you want others to view but not edit
New portrait layout option in presenter display
Search presentations by name
New transitions and builds: Object Revolve, Drift and Scale, and Skid
Control the z-order of bubble chart labels
Export to PPTX format
Detailed presentation import feedback
Improved animation performance
Improved bi-directional support: switch direction for text, lists and tables
Usability improvements
The Mac version adds the following:
Improved Presenter Display layouts and labels
Improved Magic Move including text morphing
Apply motion blur to animations
Show rulers as a percentage of document size
Improved Instant Alpha image editing
Media Browser improvements, including search
Directly specify start and end points of movies
Create custom data formats
Export to PPTX format
Improved AppleScript support
Support for animated GIFs
Allow objects on slide to layer with master
Improved text box behaviour
Usability improvements