Apple's iPhone 5s remains best selling smartphone in US as handset market softens, shifts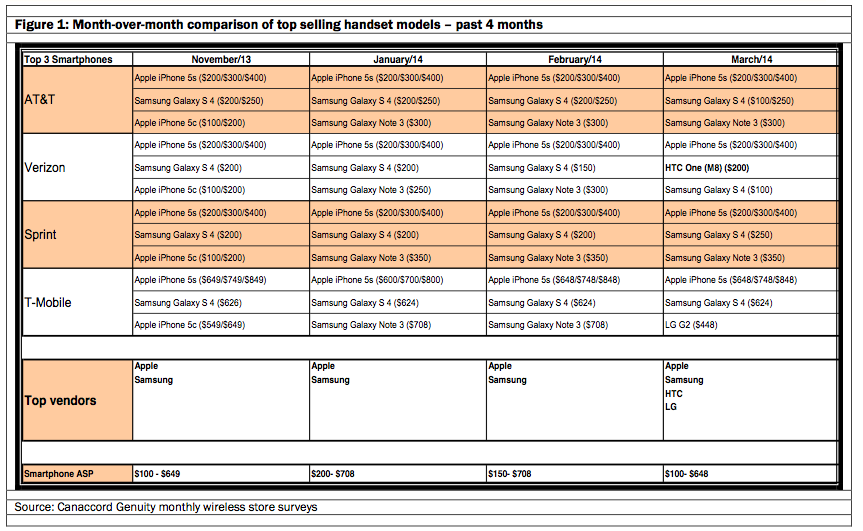 Consumers continued to choose Apple's flagship iPhone 5s more than any other smartphone in March thanks in part to strong brand loyalty, and one analyst believes that Apple's sales could increase even further as buyers begin to upgrade their handsets more frequently.
The iPhone 5s was number one at each of the big four carriers while Samsung's Galaxy S4 maintained its runner-up position at AT&T, Sprint, and T-Mobile and HTC's new HTC One M8 took the number two slot at Verizon. The numbers were revealed in a Thursday morning note to investors, obtained by AppleInsider, from Canaccord Genuity analyst T. Michael Walkley.
Walkley believes that Apple's position may be in peril, as many Android buyers are thought to have been waiting for the release of the HTC One M8 and Samsung's new Galaxy S5 before upgrading. Those launches could knock Apple out of the top spot next month, he argues, though the company would likely win back its crown with the launch of the so-called iPhone 6.
"We believe Apple will win back meaningful high-end market share during H2/C2014 based on our belief new iPhones with larger screen sizes could create a strong upgrade cycle among Apple's loyal base," Walkley wrote.
Also working in Apple's favor is the increasing number of consumers who are choosing new service plans with early-upgrade options, rather than traditional two-year contracts with large handset subsidies, he argued. This could help to augment Apple's growth in mature markets where the majority of target customers already own recent-model iPhones.
"With our surveys indicating strong customer loyalty for the iPhone, we believe Apple could strongly benefit from a broader adoption of these early upgrade plans," the note reads. "Further, with these plans facilitating annual upgrades to new smartphones, we believe these plans in the coming years could in fact boost iPhone replacement sales and help Apple grow sales in the more saturated and mature developed countries that sell a greater mix of high-end smartphones."
Walkley maintained the bank's "buy" rating for Apple stock and kept its share price target locked on $600. Those estimates do not include, he noted, the potential for Apple to enter new product categories — such as wearables and mobile payment services — this year, moves which he predicts are likely to happen.