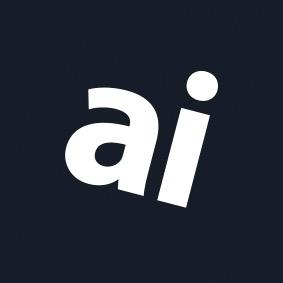 Why you can trust AppleInsider
Review: Parrot's AR.Drone 2.0 makes iPhone aerial reconnaissance easy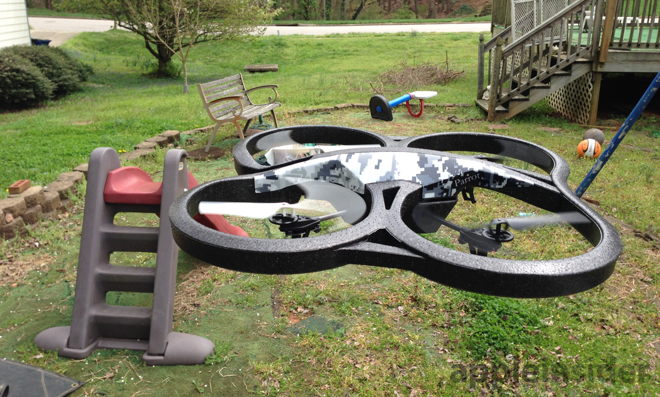 Parrot AR.Drone 2.0
4.0 / 5
---
As one of the most popular iOS-friendly aerial camera platforms available, Parrot's AR.Drone has become a great example of what's possible within Apple's mobile ecosystem. AppleInsider was recently able to spend time with the second-generation version to see if it's worth the $300 price of entry.
Due to its association with modern military operations, the word "drone" has become part of the vernacular and for some carries negative connotations. In spite of — or because of — the buzz surrounding the term, Parrot has continued with the AR.Drone moniker for version 2.0 of its remote control quadricopter.
Whether you call it an unmanned aerial vehicle, remote-controlled aircraft, or simply a drone, Parrot's iOS-compatible accessory does the neat job of hovering, performing tricks and flying about all while recording video.
Clearly the Parrot AR.Drone 2.0 Elite Edition isn't cheap at a starting price of $300, but it costs less than the $1,199 DJI Phantom 2 Vision we reviewed in March.
It should be noted, however, that the Parrot is better classified as a recreational toy, while the better-equipped DJI Phantom 2 series of products are aimed at enthusiasts and professionals.
Tech specs
Unlike other remote control machines, the AR.Drone 2.0 doesn't come with a traditional two-stick transmitter. Instead, it uses an ad-hoc Wi-Fi network to connect to an iOS device running the FreeFlight app, which can be used to configure and control the device.
Streaming video is also offloaded from the AR.Drone's integrated front-facing HD camera for first-person maneuvering. A second, lower-resolution camera captures a downward-looking birds-eye-view, but the quality is sub-par and easily distinguishable even in-app.
The front facing camera captures video to either the iOS device or an attached USB flash drive secured to the AR.Drone's battery. Video is recorded in 720p at 30 frames per second using the H.264 encoding base profile. This means the video is ready for playback through an Apple TV or any iOS device.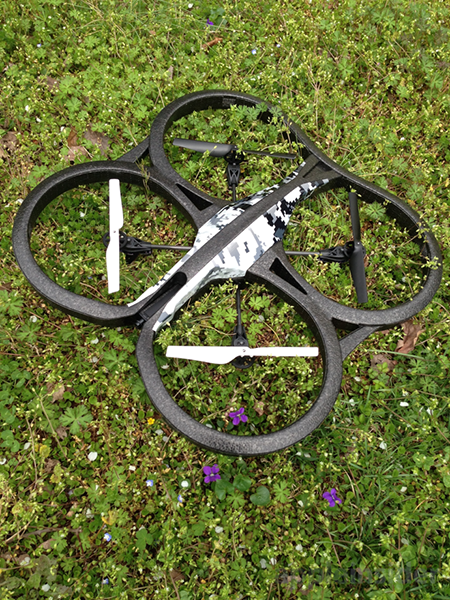 Flight information like battery life and video recording status are overlaid on top of the live video feed alongside virtual joystick controls.
Using the included 1000mAh batteries provided by Parrot, normal flight time is advertised as 12 minutes. When testing with an iPhone, the app displayed a low battery warning at about that time, but we consistently got around 15 minutes before complete shutdown during testing. In fact, we suspect battery life may have been reduced due to cold winter weather.
Setup
The AR.Drone 2.0 Elite Edition comes with two body hulls, a closed rotor configuration for indoor use and an open aerodynamic version for outside. The unit comes with the indoor hull preinstalled, while the outdoor shell sits cradled under in packaging under the drone body. There are no extra blades to install and no complicated preparation steps required to start flying out of the box.
To acclimate ourselves to the drone's flight characteristics we flew a few short circuits indoors, cruising a few inches off the ground before graduating to a few feet. What we discovered from this experience is that the drone tilts dramatically when coming to a stop. We also discovered that it's risky to fly around houseplants (the quadrotors butchered a perfectly lovely peace lily). Green leafy bits showered in a 10-foot radius and profuse apologies were rendered to the rest of the family, but the AR.Drone was left unscathed.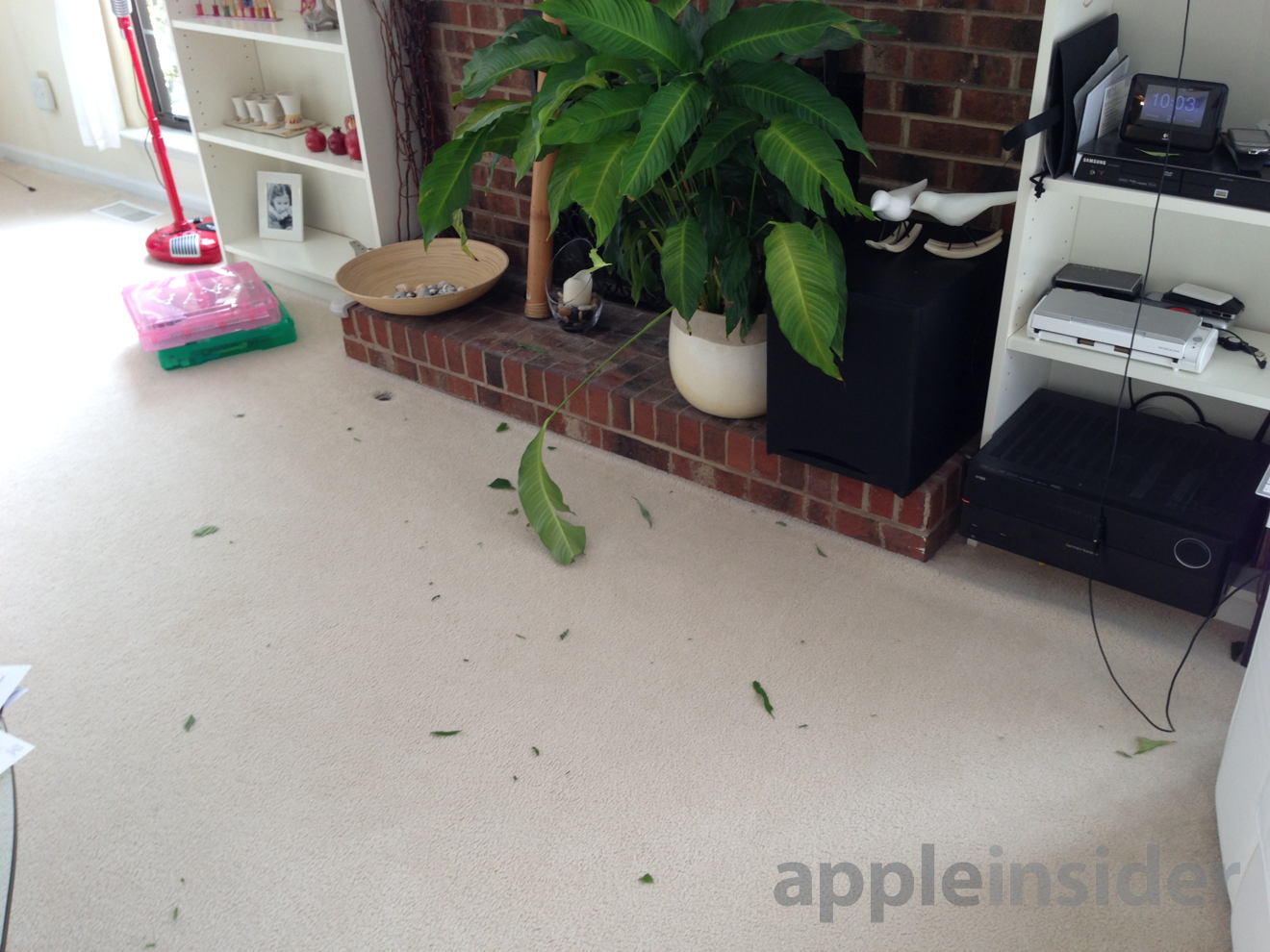 Control and flight
iOS integration is a much more important part of the Parrot drone than the DJI model we tested. That's because unlike the DJI Phantom, which has its own dedicated controller and used the iPhone for viewing purposes only, the Parrot relies on an iOS device both.
Unfortunately, the instruction manuals detail everything about the hardware, the shells, battery charging, but almost nothing about actual flight. In-app help was similarly inadequate. Learning how to fly was largely trial and error.
The AR.Drone 2.0 can be controlled either with virtual joysticks displayed on the touchscreen, or via an iPhone's accelerometer. We found the accelerometer to be twitchy and a little beyond our abilities in the freezing cold, so we stuck with the virtual joysticks.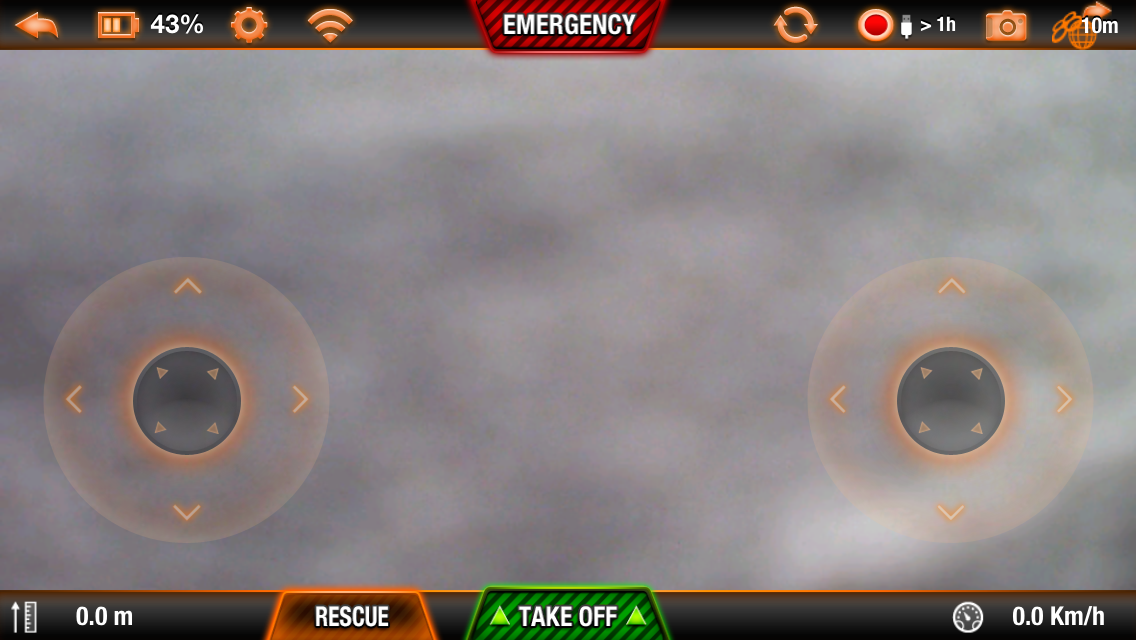 We were able to get the hang of flying outdoors relatively quickly. Once we set the app to "outdoors" mode, we were able to climb to higher altitudes, flying above rooftops for better vantage points. To be honest, we were surprised at how easy it was to master flight.
We did, however, have difficulty with the Flight Recorder, which comes with a GPS module for mapping out flight paths and on-board storage for video recording.
Specifically, we but didn't feel comfortable using the provided mapping functions to add waypoints due to close proximity to power lines. The map does didn't allowus to zoom in enough, making accurate flight paths nearly impossible. The 4GB of flash storage did come in handy to record movies, however, especially when we ran low on space in our iPhone.
One feature that proved useful was the app's "EMERGENCY" button. When tapped, the button causes the aircraft to cut power and drop from the sky. The only problem is that it's possible to hit EMERGENCY when attempting to hit RECORD.
Many of our testing sessions were during the polar vortex that hit the U.S. east coast earlier this year. Once, during a power outage, we flew the AR.Drone through our neighborhood and over to a heavily-trafficked street corner that had been blocked by a police officer. Power company employees were working to restore electricity and, while we chose not to push our luck by flying near the workers, the officer acknowledged us and made no effort to stop our flying.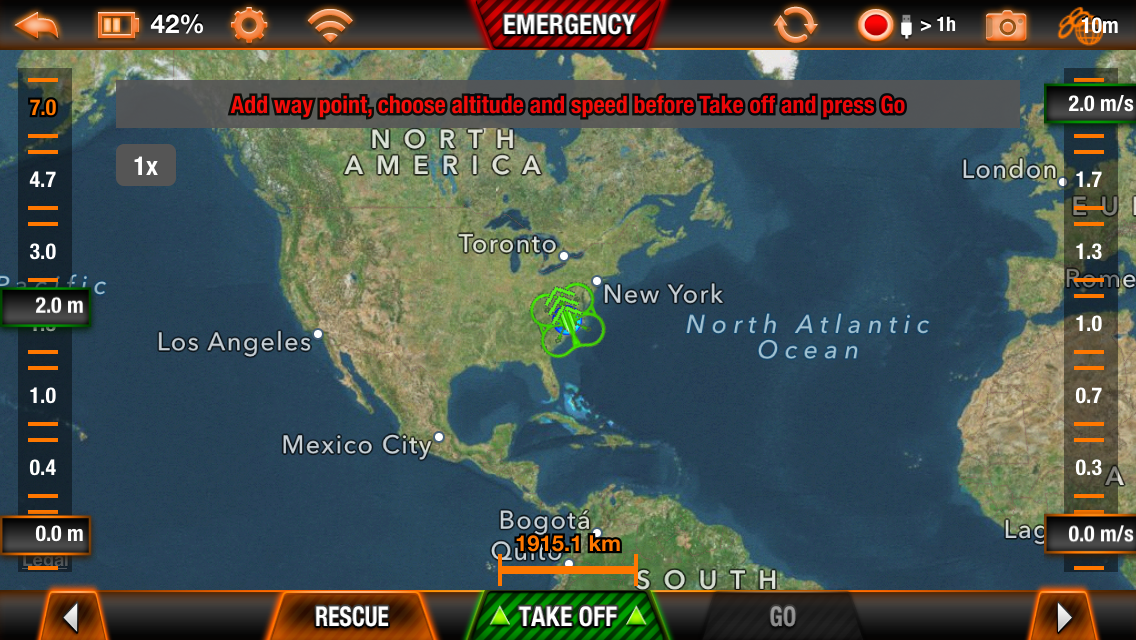 Besides the obvious risks of annoying workers and the police, or flying too close to power lines, flying was relatively straight-forward. But be advised, there's nothing subtle about it. There are four brushless motors spinning rotors at a high rate of speed; it buzzes like a swarm of hornets.
As for weather, the AR.Drone handled moderate cold just fine, but we cannot say how performance is affected by extreme conditions. While we tested the DJI Phantom down to -25 degrees, we just didn't have that sort of cold winter weather when we used the Parrot.
iOS integration
As mentioned above, iOS integration is essential for controls, but thankfully Parrot's efforts go beyond that. The AR.Drone has been an iOS-native accessory since the first generation launched in 2010 and setting up the ad-hoc Wi-Fi connection was relatively easy. There was a slight amount of video lag due to limited data bandwidth, but controls were responsive and immediate.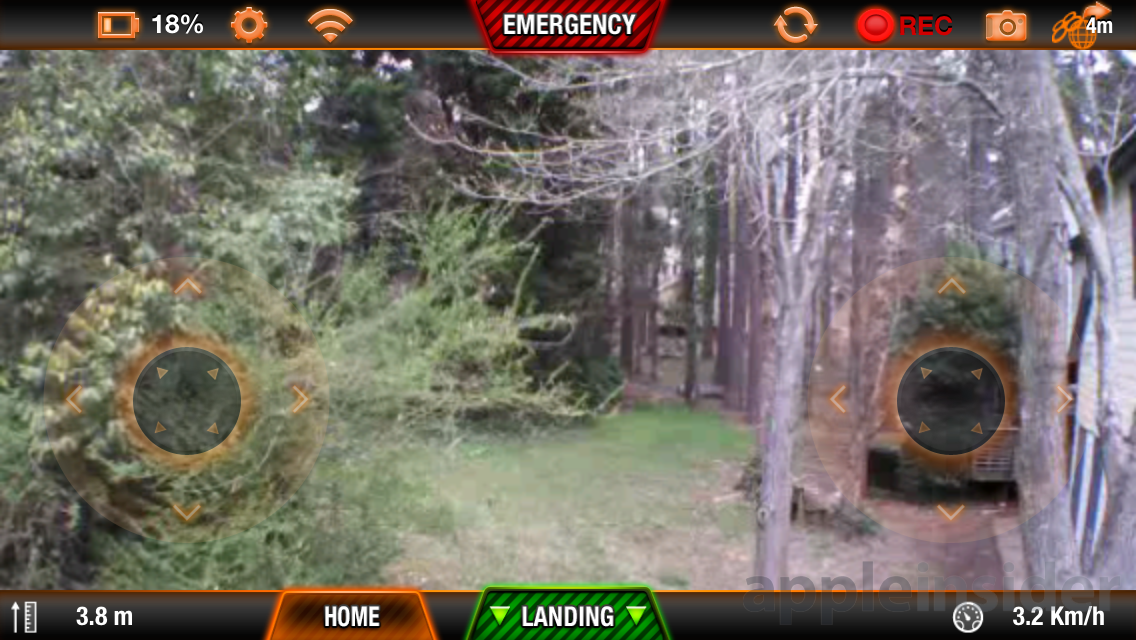 Because we had the Flight Recorder GPS attached, we were able to plan a flight path on a map and have it run the course autonomously. We didn't really get the hang of this and are not convinced it is a good idea given power lines and road conditions.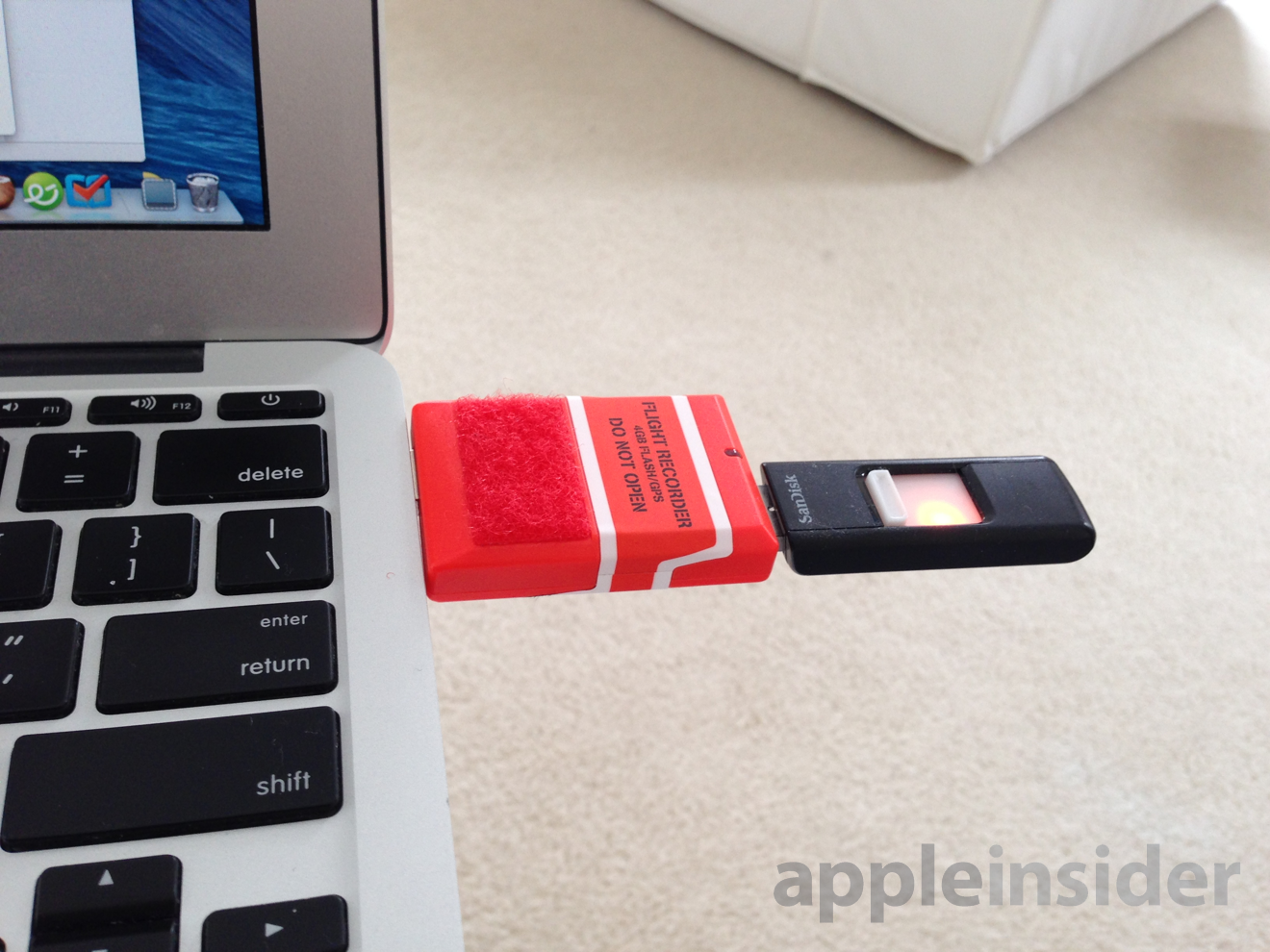 The Fight Recorder has a USB port on its end — essentially an internal USB hub — which allows USB flash drives or other accessories to be connected.
Conclusion
At $300, the Parrot AR.Drone 2.0 Elite Edition isn't cheap — especially when you add in extra batteries and the Flight Recorder GPS attachment. Even so, this drone is mostly easy to fly and operates as advertised. Video quality is reasonably good, although not as good as a GoPro Hero. We are a little concerned about the fragility of the airframe, but it didn't break even after a couple of bad landings.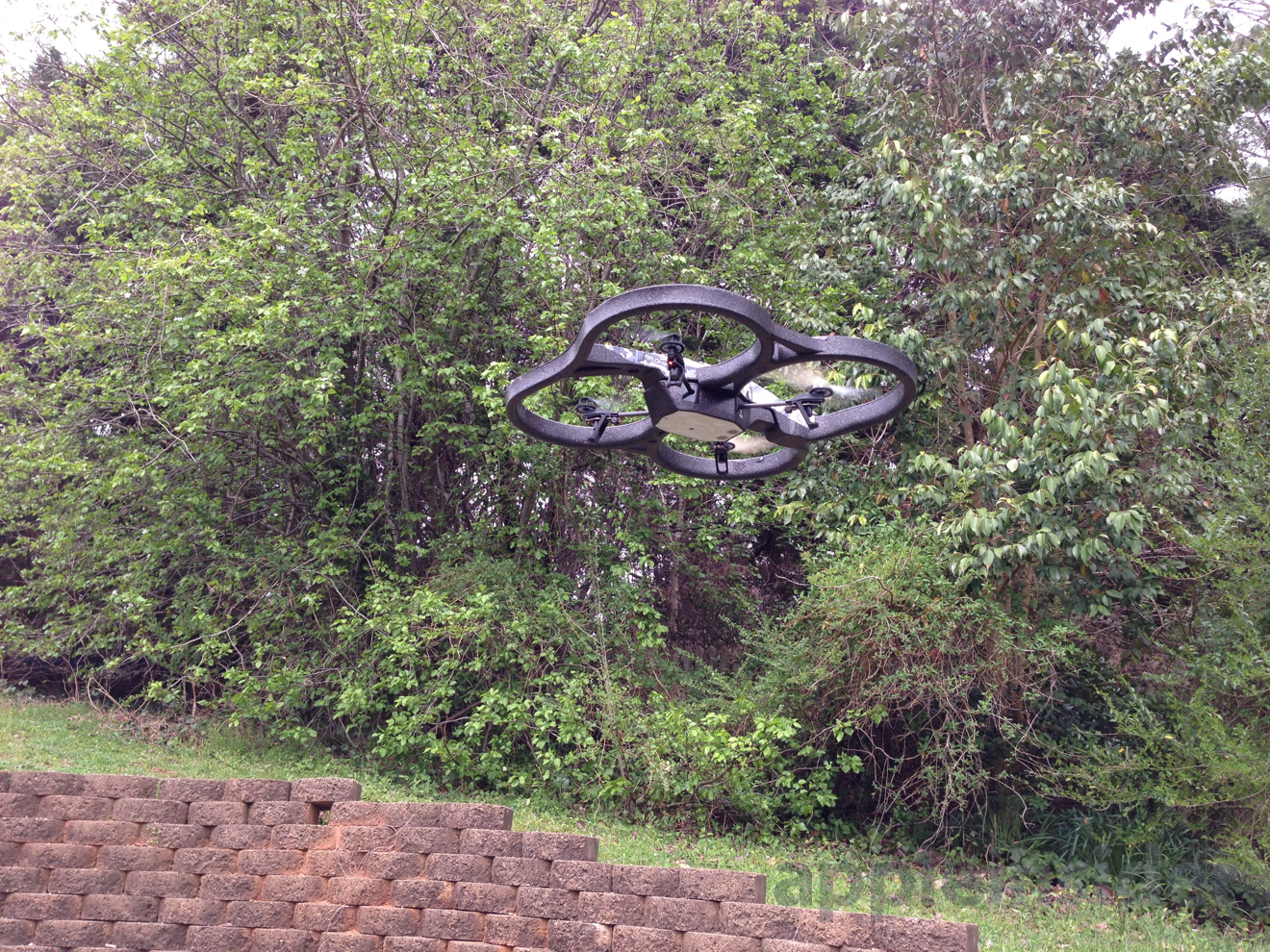 We can easily recommend the AR.Drone 2.0 to anyone looking to casually fly a drone for fun, but if you're serious about getting into iOS-compatible remote control quadricopters, consider the DJI Phantom 2 lineup instead. Professional photographers and videographers would be best served by a standalone rig with a gimbal.
Easy to fly
On-screen joysticks work well
Flying over rooftops and higher altitudes is cool
Easy to crash, easy to harm defenseless houseplants
Uncertainty in settings, uncertainty on how to use the GPS to plot course best in suburban or urban settings
Easy to fat-finger the Emergency button and crash land
Score: 4 out of 5

Where to buy
The Parrot AR.Drone 2.0 Elite Edition Quadricopter is available at Amazon for $299.99, where it is tax-free in all states but AZ, CA, IN, KS, KY, MA, NC, NJ, NY, ND, NV, PA, TN, TX, WA and WI. Amazon also sells the Flight Recorder kit for $110 and a high-density 1500mAh battery pack for $60.