Apple's Schiller was 'shocked' at ad agency's suggestions for branding turnaround, documents show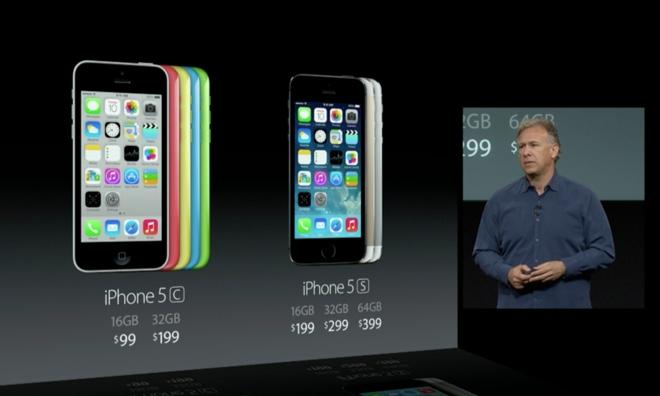 AppleInsider is supported by its audience and may earn commission as an Amazon Associate and affiliate partner on qualifying purchases. These affiliate partnerships do not influence our editorial content.
Email correspondence made public as part of the second California Apple v. Samsung patent trial illustrates Apple marketing guru Phil Schiller's displeasure at the company's high-profile ad agency, which in 2013 was under the gun to churn out quality material in light of Samsung's own media blitz.
The email string, first spotted by Business Insider, comes from a 2013 conversation between Apple SVP of Worldwide Marketing Schiller and longtime advertising partner TBWA/Media Arts Lab, a high-profile ad agency behind some of the best campaigns in recent memory.
In the first note, Schiller expressed concern about a Wall Street Journal story titled "Has Apple Lost Its Cool To Samsung?" and told TBWA, "We have a lot of work to do to turn this around."
The ad agency — which apparently has an aversion to capital letters — responded with a long, detailed list of bullet points outlining ideas, strategies and possible avenues Apple marketing could take to reverse the "chilling narrative on apple."
The first of "3 big areas" of discussion involved a company-wide response that looked to change company behavior, focus on the upcoming product roadmap, advertising and new approaches to sales. TBWA suggested an emergency meeting "similar to antenna-gate" that would convene top-ranking executives including CEO Tim Cook and design chief Jony Ive.
Second, as seen above, the ad agency compared the then-current situation to Apple's situation in 1997, when marketing played a large part in bringing the company back from the dead. To accomplish this, the firm tossed out the idea of experimenting with new marketing ideas that went beyond what was discussed at weekly marketing communications (marcom) meetings.
Finally, TBWA recommended the team hold a regular mini-marcom meeting to coordinate efforts.
Schiller did not appreciate the memo.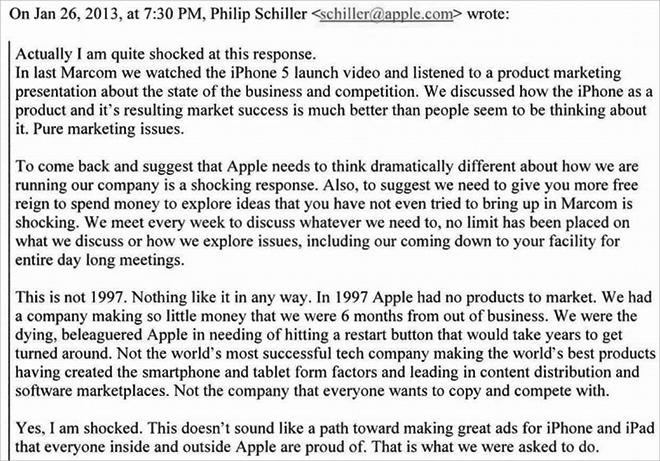 TBWA apologized for its "over-blown" reaction and suggested a more even-handed approach. Subsequent emails from Schiller showed the marketing chief was increasingly concerned with Samsung's marketing prowess.
"I watched the Samsung pre-superbowl ad that launched today. It's pretty good and I can't help but think 'these guys are feeling it' (like an athlete who can't miss because they are in a zone) while we struggle to nail a compelling brief on iPhone. That's sad because we have much better products," Schiller wrote, ending the email, "Something drastic has to change. Fast."
The final correspondence revealed in court showed Apple's board of directors was also getting anxious over the company's lack of effective advertising. While there was definite tension between Schiller and TBWA/Media Arts Lab at the time, as reported in mid-2013, the firm continues to produce high-quality ads as Apple's go-to agency.