Apple's Tim Cook encourages US House to pass sexual orientation nondiscrimination act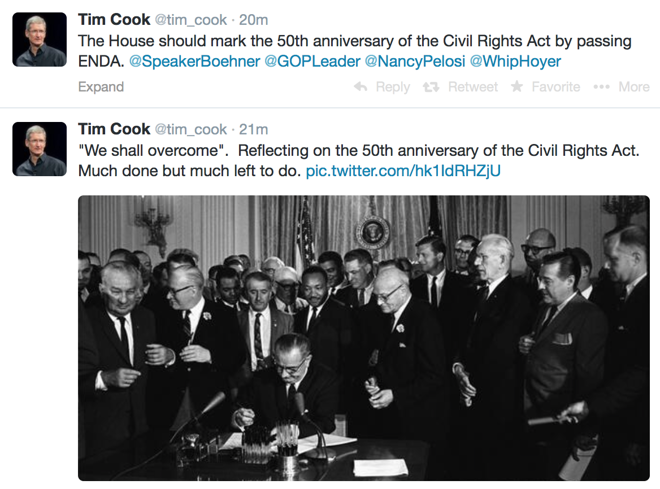 AppleInsider may earn an affiliate commission on purchases made through links on our site.
Apple Chief Executive Tim Cook took to Twitter on Friday to again express his support for the Employee Non-Discrimination Act, a proposed bill that would make it illegal for companies to discriminate in hiring based on gender identity or sexual orientation.
The act, dubbed ENDA, has been presented to Congress since 1994, but has yet to pass into law. Cook said on Friday that he believes the U.S. House of Representatives should mark the 50th anniversary of the Civil Rights Act, signed into law by then-President Lyndon B. Johnson in 1964, by finally passing ENDA after 20 years.
Tagged in Cook's post were Speaker of the House Rep. John Boehner, House Minority Leader Rep. Nancy Pelosi, House Majority Leader Rep. Eric Cantor, and Democratic Whip Rep. Steny Hoyer.
In a separate post, Cook quoted the iconic protest song of the American Civil Rights Movement, "We Shall Overcome." He also shared a picture of Johnson signing the Civil Rights Act while Dr. Martin Luther King, Jr. looked on.
"Reflecting on the 50th anniversary of the Civil Rights Act," Cook wrote. "Much done but much left to do."
Cook's support of ENDA has been well publicized before, as the CEO penned an editorial in The Wall Street Journal last November urging U.S. senators to pass the act — which it did, in a 64 to 32 vote. The bill has not yet gone up for a vote in the House.
ENDA would prohibit most employers from discriminating in hiring based on a person's sexual orientation or gender identity. In addition to official passage through the U.S. Senate, the bill has also been given public support by President Barack Obama.