Apple buys hydroelectric green energy project near Oregon data center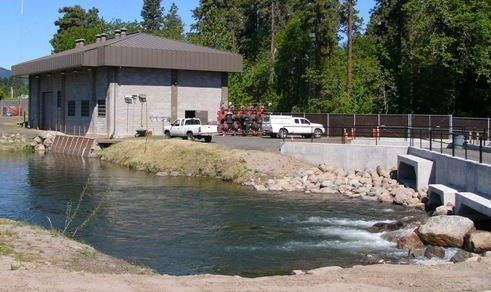 Apple is expanding its use of clean energy to power its iCloud data centers, with the company's Prineville, Ore., facility now flanked by a small hydroelectric project acquired by the iPhone maker.
The company's new purchase was revealed on Saturday by The Oregonian, which noted that initial proposals for the project indicated it would generate between 3 and 5 megawatts — Â enough to power 2,000 to 3,500 homes, but still only a tiny amount of the power Apple will need to run the facility
The 45-mile project is located near Haystack Reservoir in a Jefferson County irrigation canal about 20 miles from Prineville. The price Apple paid for the project is unknown, but the previous owner, EBD Hydro, reportedly secured some $8.5 million in federal loans and grants to help finance it.
Apple's Oregon data center already utilizes wind energy, as does its California center. Apple also relies on the largest privately owned solar farm in the country for its Maiden, N.C., operation, while its upcoming Nevada center will utilize solar and geothermal energy.
Apple began construction of the Prineville facility in October of 2012, clearing and flattening the land where the two 338,000 square-foot buildings would eventually stand. Land preparation and construction are thought to have cost Apple around $68 million. Including server hardware, construction costs, and labor costs, the facility is expected to cost in the hundreds of millions of dollars — perhaps billions.
And last September, it was revealed that Apple was looking to double the size of its Oregon data center, as the company was looking to purchase more land at a nearby location that would house a second structure of equal size. Apple is also paying some $150,000 each year to the governments of Prineville and Crook County in return for a 15-year property tax exemption.