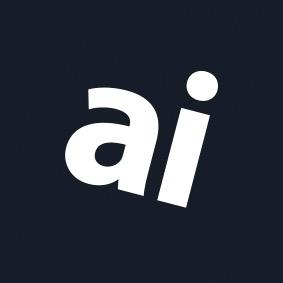 Why you can trust AppleInsider
Review follow-up: Gaming on Amazon's Fire TV and Fire Controller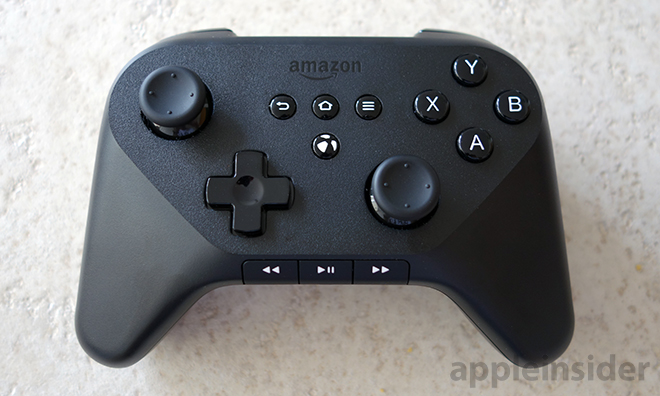 Gaming on Fire TV
3.5 / 5
---
When Amazon launched its Fire TV earlier this month, the company positioned casual gaming as one of the set-top streamer's "bonus" features. In this review follow-up, AppleInsider picks up the controller to find out if mobile gaming is ready for the living room.
As mentioned in our initial Fire TV review, it comes as no surprise that Amazon wants to differentiate its set-top box from the competition. Apple TV and Roku already have a substantial lead in large installed user bases, while Google's latest Chromecast offering comes at a hard-to-beat price point.
Not marketed as a "killer feature," Fire TV's ability to throw made-for-mobile games up on the big screen promises to bring a new dynamic to the streaming media player space. And in spite of downplaying the feature — it's shoehorned between "Easy to Use" and "Made for Music" on Fire TV's product page — Amazon thinks so too.
The company built Amazon Game Studio which released its first-ever title alongside the box. With a quad-core 1.7GHz Qualcomm Krait 300 SoC with 2GB of RAM and an Adreno 320 GPU, Fire TV is a machine more than capable of playing casual, bite-sized games, including Amazon's ambitious Sev Zero project.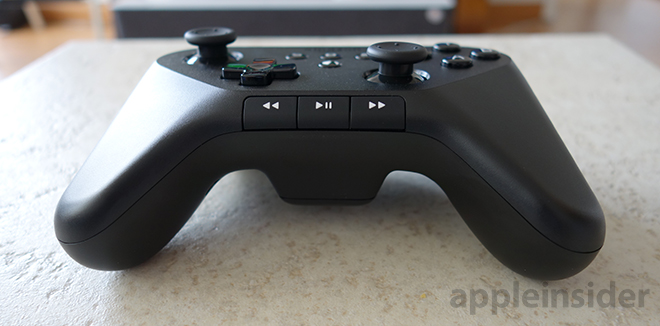 If that isn't enough to illustrate Amazon's new found zeal for gaming, Fire TV has only one first-party hardware accessory add-on: a game controller.
At $40, the Fire Game Controller comes in at nearly half the price of Fire TV. On the surface, it looks good, with a layout identical to that of Microsoft's Xbox controller (even down to the X, Y, B, A action buttons). Aside from components meant for pure gaming, Amazon borrowed buttons from the voice-activated remote that comes with the Fire TV, including Home, Return, Menu and video transport controls.
Two AA batteries power the device, while Bluetooth is used for data transport. This makes setup easy and allows for expansion to other Fire-branded portables down the line (something hinted at in certain games with a "connect your device to..." message).
Basically, on paper the controller sounds good and we expected usability would be somewhat high considering the price tag.
Amazon appears to have put some thought into the design and materials used. Chassis build quality is good, with zero flex and a matte finish that feels robust. Ergonomics are fair, though the grips are not what we would consider comfortable. For users with small hands, the handles may be too thick to reach the right joystick with ease.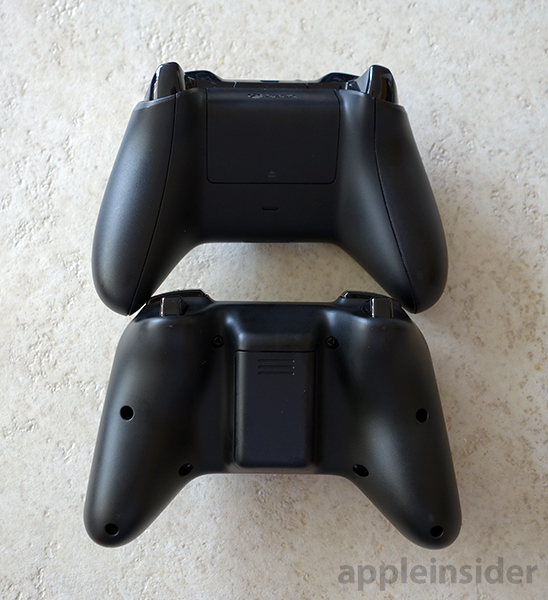 Inclusion of Fire TV's system buttons was also a good move and we found ourselves reaching for the controller more often than the included remote. It should be noted that Amazon has incorporated a dedicated button for GameCircle, the company's gaming hub where users can earn achievements, compete on leaderboards and connect with friends.
Setup is quick and painless, largely thanks to Bluetooth. Fire TV discovered our controller immediately and we were off and running within seconds. Around back near the left bumper is a bank of four LEDs for player number identification. The lights will cycle and blink as the controller searches for Fire TV and will glow steadily once connected.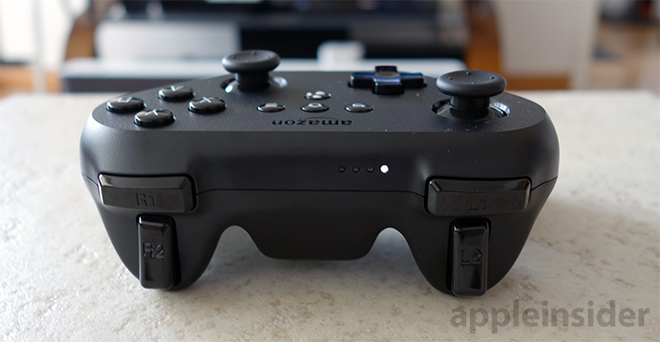 Unfortunately, internal hardware like button actuators and joystick springs, failed to impress. As the only interface between user and game, a good controller needs to be comfortable, fast and intuitive. Amazon's take is adequate in some areas, but falls flat in those that count.
Our main gripe with the Fire Controller is that it constantly makes you aware of its presence. For example, in Amazon's third-person shooter Sev Zero we had to compensate for joysticks that lacked proper sensitivity (made more apparent by the fact that one side was much looser than the other). The shoulder bumpers were also difficult to actuate and trigger pull is far too shallow. We found the input buttons, as well as the D-pad, to be mushy and unresponsive.
In short, the device is not designed well enough to be transparent in the gaming experience. To be fair, designing a gaming controller is an incredibly difficult task. Even console heavyweights Nintendo, Sony and Microsoft have been tweaking their products for years with each successive generation in search of controller nirvana.
Game selection is another shortcoming for Fire TV. Although a number of titles were ported at launch, it remains unclear how many mobile-first games can translate over to light console-like play. The games that are offered look great on a large HDTV, which at the very least proves Amazon has the technical know-how to get the job done right. Now it needs content.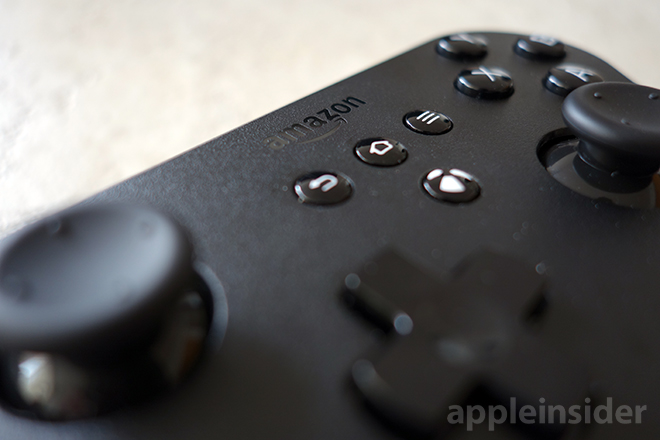 As expected, Fire TV gaming is nowhere near console levels, but that was never the goal. Amazon wants to target casual gamers with pick-up-and-play mid-tier titles. And for that, Fire TV is fairly successful. The two things holding the company back from delivering a truly great quick-fix gaming experience are a gussied up "parts bin" controller and lack of enticing original titles.
Amazon has given itself a nice push out of the gate in the race to extend mobile into the living room, but solid game-centric peripherals would make Fire TV a far more compelling platform. Unfortunately, without a proper controller the games category feels more like a slick experiment than a full-blown feature; we can understand why Amazon is loath to market it more aggressively.
For those who don't mind mediocre hardware or are just looking to get in a few headshots between episodes of "Mad Men," the Amazon Fire Controller is available for $39.99. As of this writing, the device is backordered for an entire month, with shipments resuming in mid-May.