Revenue from mobile device displays to surpass televisions for first time in 2014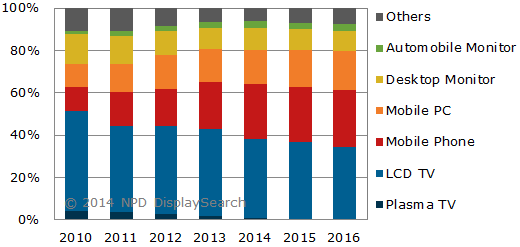 Display manufacturers will make more money in 2014 from the screens found in mobile phones, tablets, and laptop computers than those in television sets for the first time as consumers increasingly demand higher-quality displays in mobile devices, according to new data.
Mobile displays are expected to account for 42 percent of the flat panel display industry's 2014 revenue compared to just 37 percent for LCD televisions, knocking television out of the pole position it has held since 2006. The prediction came in a Tuesday report from industry watchers NPD DisplaySearch.
"With strong growth in tablet PCs, high-end notebooks, and smartphones - especially high resolution and wide-viewing angle displays — mobile devices are leading the growth of the FPD industry," NPD DisplaySearch executive David Hsieh said. "Mobile devices are expected to expand their revenue lead over LCD TV in the years to come, accounting for nearly half of all FPD revenue by 2016."
Part of the blame rests with the declining sales of large televisions, or those with displays over 40 inches diagonally. Sales of television panels are expected to drop by $4 billion year-over-year while mobile panels will likely increase by a comparable amount.
The shift — arguably begun when Apple introduced the Retina display alongside the iPhone 4 — has caused many Asian panel manufacturers to change their focus from producing large television panels to smaller mobile device panels.
"The FPD industry is becoming increasingly dominated by smart handheld applications," Hsieh added.