New photos purport to show Apple's next-gen iPad Air with bonded display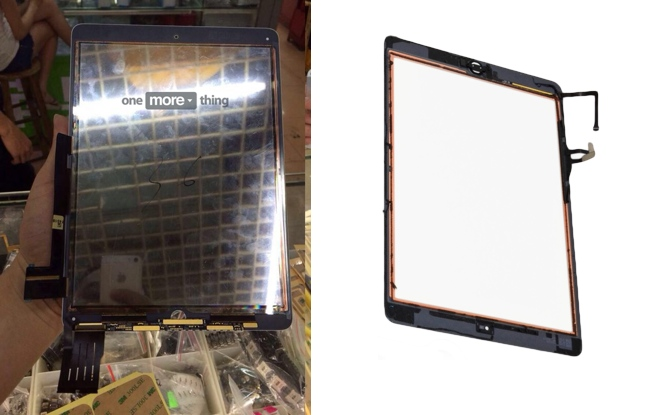 Consumers hoping for an even thinner version of Apple's flagship tablet may get their wish, as a new set of snapshots appears to show a revised iPad Air display assembly with the LCD and cover glass manufactured as a single unit, much like the company has done for years with the iPhone.
The assembly shown in the images appears identical to the current-generation iPad Air from the front, but the rear reveals a new connector configuration. Additionally, the LCD appears to be bonded directly to the cover glass, a feature introduced with the iPhone 4, as noted by Dutch blog onemorething.nl
Chemically bonding the cover glass to the LCD results in a thinner overall assembly as well as enhanced viewing angles. Those who own an iPad and a recent iPhone can see the difference when placing the devices on a flat surface and viewing them from an obtuse angle.
According to the publication, the photos were sourced from a Chinese display supplier. Samsung is thought to be the primary supplier of display assemblies for the iPad, with Sharp and LG also providing some units.
Little is known about the next-generation iPad Air, but it is widely assumed that Apple will equip the tablet with their new A8 processor. Well-connected analyst Ming-Chi Kuo of KGI Securities also expects Apple to bring the Touch ID fingerprint sensor to the iPad and upgrade the tablet's rear camera in advance of a late third quarter debut.