Apple boosts iPhone 4/4S trade-in values in handset upgrade push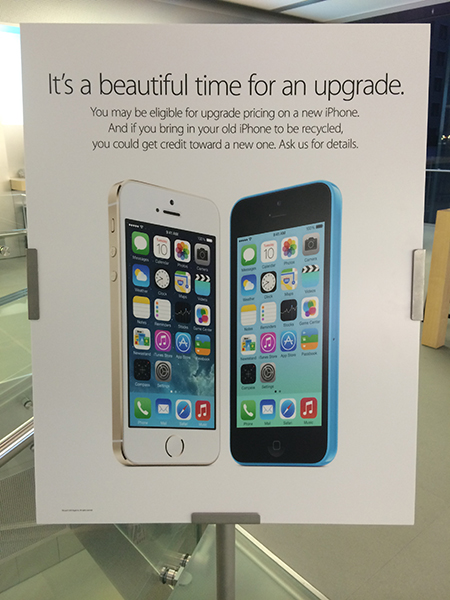 AppleInsider may earn an affiliate commission on purchases made through links on our site.
Apple on Friday launched an iPhone upgrade promotion that sweetens the deal for iPhone owners looking to step to a new iPhone 5s or 5c. Specifically, owners of iPhone 4S models can net greater trade-in incentives than usual — up to $199.
As seen in the image above, owners of previous generation iPhones can bring their old handsets into an Apple Store for recycling, with trade-in proceeds going toward the purchase of a new iPhone 5s or 5c.
Customers can check upgrade eligibility with their wireless carrier in-store and immediately apply an iPhone's trade-in value to a new purchase.
Apple is apparently targeting iPhone 4 and 4S owners with the program as trade-in values for those devices have been boosted to up to $99 and $199, respectively. For example, the maximum $99 iPhone 4 trade-in amount can fetch a free iPhone 5c with two-year contract, while iPhone 4S trade-ins are worth up to $199, meaning some owners will be able to upgrade to a brand new iPhone 5s at no cost.
The process is based on Apple's Reuse and Recycling program, for allows customers to bring in old products that can be "recycled" for . Apple first partnered with PowerON to offer its buyback program in 2011 and recently expanded operations to include free recycling of all Apple products at all brick-and-mortar Apple Stores.
Other iPhone models are also part of the Reuse and Recycle program, including the iPhone 3G and 3GS, as well as more recent versions like the iPhone 5. Owners of the latter may not be eligible for a carrier-subsidized upgrade, however.
Outside of Apple's Reuse and Recycle program, third-party firms like Gazelle and eBay offer up to $270 in cash for 64GB iPhone 4S models. Those looking to upgrade to a newer model or simply offload old hardware can check out AppleInsider's Trade-in Guide for the latest deals.