Berkeley Apple Store glass entrance is latest to be smashed by car [u]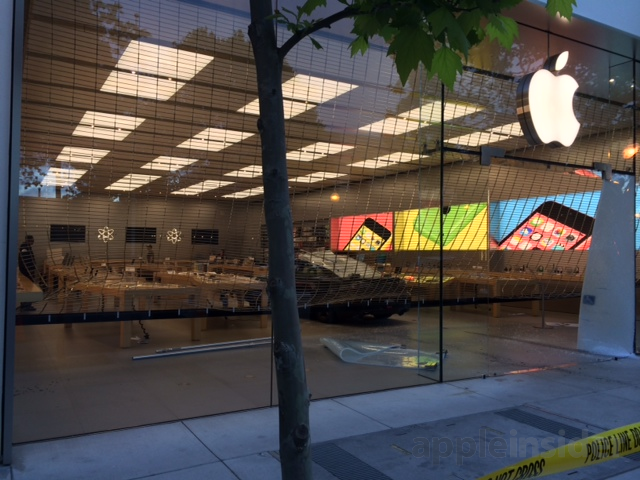 Continuing a recent trend of ramming vehicles through the all-glass front facades of Apple retail outlets, an unknown person drove their car into the 4th Street Apple Store in Berkeley, Calif. early Friday morning, and AppleInsider was sent exclusive pictures of the aftermath.
Update: The crash now appears to have been part of a burglary, rather than a simple accident. Photos sent in by reader Benjamin do not seem to show any missing devices on the store's display tables, but Berkeleyside notes that "several items" were indeed stolen.
The vehicle appeared to aim directly at the store's front doors, damaging both them and the metal security gate. The windows both above and on either side of the doors survived the impact.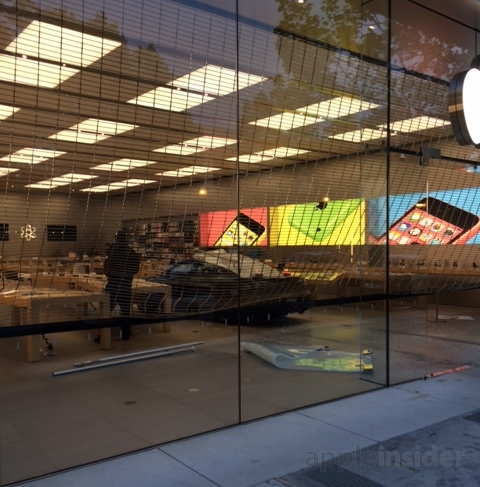 Vehicular smash-and-grabs have become increasingly common at Apple stores around the world thanks to the high resale value of the merchandise on display and Apple's unwillingness to mar the stores' aesthetic with hefty security features. Apple's Kurfürstendamm store in Berlin fell victim to such a crime last December, while the Lincoln Park outlet in Chicago and the Temecula, Calif. location have also seen similar vehicular violence.
Security gates have become more common in Apple Stores which are exposed to the street. The Temecula robbery (depicted in the video embedded above) was nearly foiled after the security gate fell down behind the thieves, effectively trapping them in the store.