Review: Doxie Go battery-powered portable scanner is a workhorse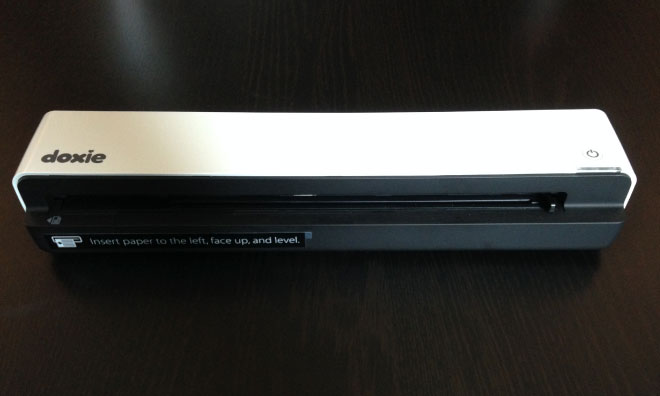 ---
AppleInsider may earn an affiliate commission on purchases made through links on our site.
Many people love the idea of living a paperless life, but the reality of constantly scanning and tagging documents is usually grim. AppleInsider recently went hands-on with Doxie's battery-powered Doxie Go portable scanner, which promises to lighten up that dreary task.
Hardware
The $199 Doxie Go is designed to be used on its own, connected only occasionally to a computer when its memory is full — and its industrial design fits this purpose nicely. The scanner is made of matte, soft-touch black plastic with an Apple-style white cover over the top, and it's only slightly taller and wider than the ultraportable $199 Fujitsu ScanSnap S1100 that we used as a benchmark.
Surprisingly, despite packing a built-in battery that the company says is good for scanning some 100 documents per charge, the Doxie is only marginally heavier than its Japanese counterpart. In our view, anybody dealing with a sufficient amount of paper that they need to carry a scanner around with them is unlikely to feel burdened by the Doxie's presence.
Controls are sparse: the Doxie sports only a single power button on its upper right. The button includes a built-in multicolor LED which acts as the scanner's status indicator; a green light means the scanner is in its default 300 DPI mode, while an orange glow points to a higher resolution 600 DPI setting.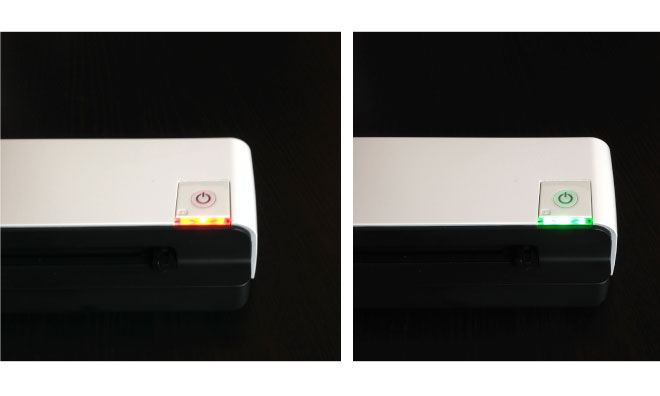 The Doxie Go includes enough built-in memory to hold 450 pages of documents or 1800 photos in 300 DPI mode, but heavy users can plug a USB thumb drive or SD card into its chassis for additional storage. The Doxie also works with WiFi-enabled SD cards, letting users eschew wires when downloading documents.
Our review unit came packed with a power brick with interchangeable plugs for different outlet layouts, a USB cable for charging and sync, quick start documentation, a photo sleeve, and a cleaning and calibration tool.
After topping up the power — our unit took about an hour to charge out of the box — scanning is as simple as turning on the Doxie and sliding a piece of paper into its slot. Doxie says the scanner will accept anything from a business card to an 8.5-inch-by-15-inch sheet, though the largest document we were able to try was an 8.5-inch-by-14-inch U.S. legal size paper.
Scanning is quick, with sheets gliding through in about six seconds each. Though that's nearly one second per page slower than the ScanSnap, we prefer the Doxie's paper handling design, which tends not to angle the paper as often as the ScanSnap.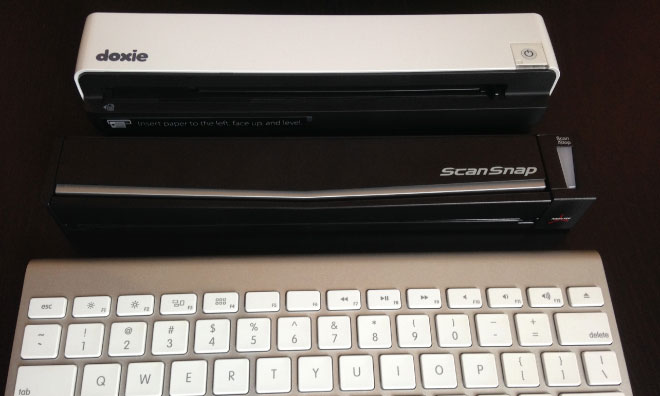 We had very few hangups or misalignments when scanning with the Doxie — though receipts sometimes proved challenging — and we grew to like its "scan now, organize later" approach. We found it less cumbersome when trundling through large stacks of documents than the traditional method of collating digital copies as you go.
When it comes to image quality, we found the Doxie to be essentially on par with the ScanSnap, though noticeably worse than a traditional flatbed scanner. Colors were slightly faded and some black-and-white documents showed an odd color banding in finely textured areas, but none of these issues affected readability.
Software
Though you are able to pull images directly from the Doxie's memory as though it were a digital camera, it's far more useful when combined with a software organizer.
It's worth noting that the Doxie will be automatically mounted in OS X once it's plugged in. When combined with the scanner's power-saving auto-off feature, this can spawn seemingly random "disk not ejected properly" warnings from OS X that nonetheless don't seem to harm the data.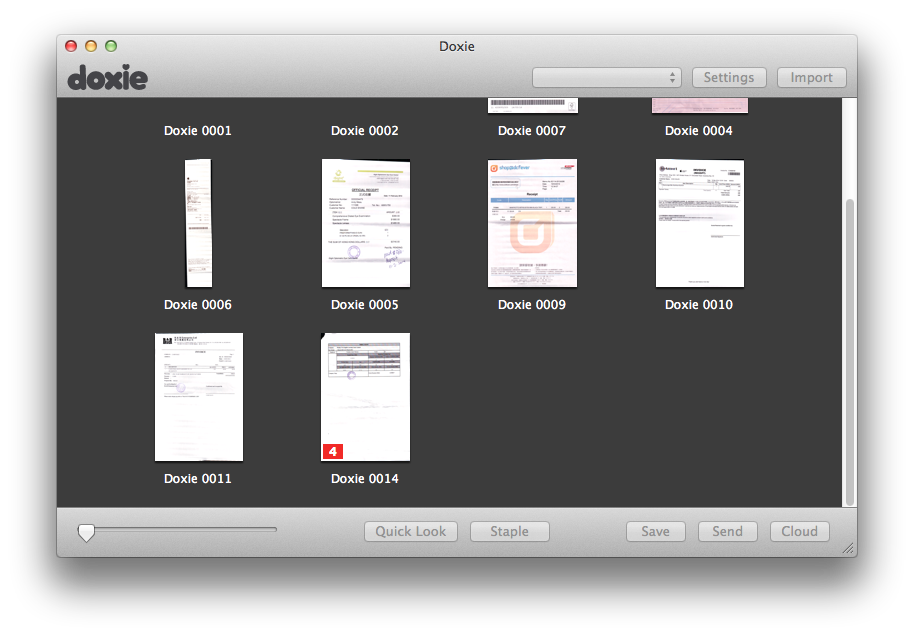 Doxie's own software offering (which is only available for download via the company's website and does not come in the package) is essentially a clever caching and triaging app. After importing, each scan shows up as a separate document, leaving it up to the user to collate, save, and export them.
Individual pages of a multi-page document can be "stapled" back together, and the software also lets users rename or rotate their scans before deciding what to do. While you could leave everything in Doxie as a sort of digital junk drawer, most people will likely choose to take advantage of its numerous integrations.
Documents can be directly exported as PDF, PNG, or JPG files. Doxie also provides the option of sharing files via email, AirDrop, or iMessage, sending them to cloud services such as Dropbox or OneNote, or pushing them to postprocessing applications like iPhoto or Photoshop.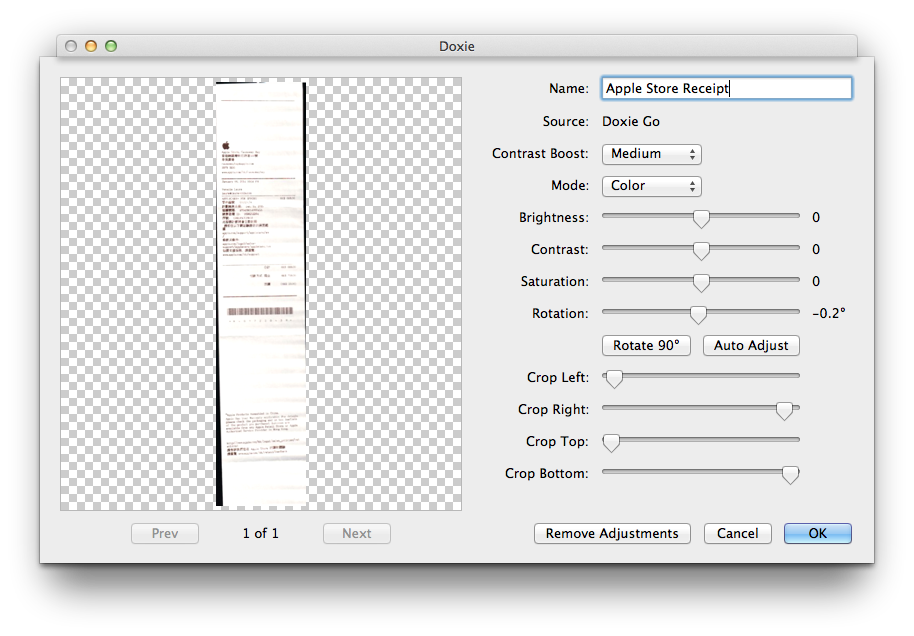 Exporting documents as PDFs grants the option to run them through the excellent ABBYY OCR process, which we found to be extremely accurate. Though processing was sometimes lengthy, ABBYY correctly identified all but the blurriest of text and we were able to search through processed documents easily using Spotlight.
Our only complaint about Doxie's software is that multi-step workflows are a bit cumbersome, and we wish there was a way to create and save Photoshop-like actions. We'd love, for instance, to have a single button with the effect of "staple these three pages, run them through OCR, then save them as a PDF in Dropbox."
Conclusion
Before trying the Doxie Go, we were heavy users of Fujitsu's ScanSnap S1100, primarily due to its portability. We've now switched entirely to the Doxie because we prefer its paper handling, ease of use, and ability to run through a stack of documents quickly without pausing for administrative minutia.
Though it won't replace our flatbed scanner when quality is of the utmost concern and we wish the company would revisit some of its user experience choices in the companion software, we wholeheartedly recommend the Doxie Go for road warriors or those who simply prefer not to have to look at their computer every time they scan a document.
Score: 4.5 out of 5

Lightweight, even with built-in battery
No computer required for scanning
Can tear through a stack of documents very quickly
Software could offer more customization
Relatively expensive for those who don't absolutely need portability
Where to buy