China Mobile 4G adoption continues to be driven largely by Apple's iPhone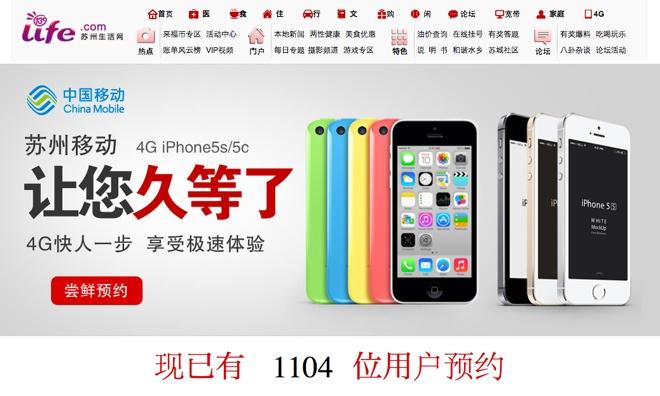 About half of all of the 2.8 million 4G subscribers on China Mobile's network are iPhone users, giving Apple a strong position as the world's largest wireless provider looks to expand its high-speed mobile presence.
China Mobile CEO Li Yue revealed his company's latest figures this week, according to rthk.hk, noting Apple's continued success since it launched on the carrier earlier this year. The figures do not include iPhone users who might not be on the carrier's fledgling 4G network.
Though it is the world's largest cell phone provider with some 780 million customers as of last month, China Mobile was late to the high-speed LTE game, and is working to catch up with rivals China Telecom and China Unicom. Most of its customers remain on slower 3G networks, as China Mobile finished 2013 with 417 million 3G users. Apple's iPhones are compatible with both China Mobile's 3G and 4G networks.
The number of 4G subscribers on China Mobile has steadily grown while Apple has maintained its position as the most popular LTE smartphone offered by the carrier. The company revealed in March that it had 1.34 million 4G users.
China Mobile's 4G figures don't tell the whole story, however, as the LTE network covers only a small portion of mainland China's biggest cities. Customers outside of China Mobile's 4G footprint must purchase an iPhone outright or with a 3G contract.
Apple's hotly anticipated deal with China Mobile was made official earlier this year when the iPhone 5s and iPhone 5c became officially available through the carrier. Analysts have forecast that the arrangement could add 5 percent to Apple's total revenue in 2014.