Online Apple Store offering free shipping on all purchases through May 29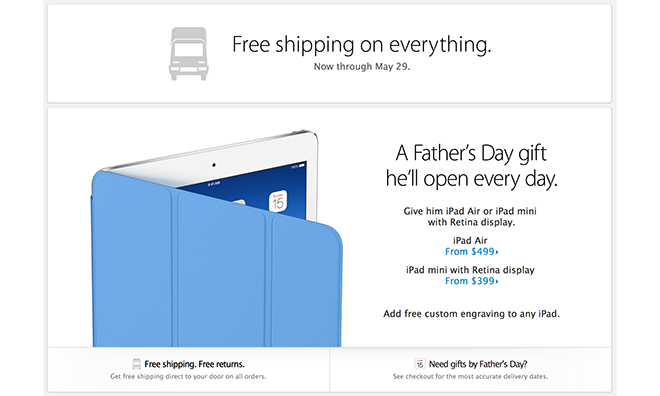 Apple on Friday announced free shipping on all purchases made through the Online Apple Store in the run up to Father's Day, a change from the typical $50-and-up campaign pricing.
In a departure from its usual shipping promotions, which are normally applicable on orders $50 and up, Apple is offering free shipping on all orders placed through the Online Apple Store from now through May 29.
Along with the banner seen above, Apple also tweaked its Shipping and Returns webpage to reflect the new campaign.
The promotion aligns with Father's Day, which falls on June 15, allowing shoppers to buy a wider range of items from Apple's online shop than in previous years. This includes accessories and third-party products not usually eligible for free shipping when purchased separately.
The online storefront was last updated on Tuesday with a dedicated section for Father's Day titled "A Father's Day gift he'll open every day." As in 2013, Apple is pushing its most recent iPad products with direct links to the iPad Air and iPad mini with Retina display along with reminders for ship-by dates and free engraving.