Apple unveils iOS 8 with interactive notifications, QuickType keyboard, group text enhancements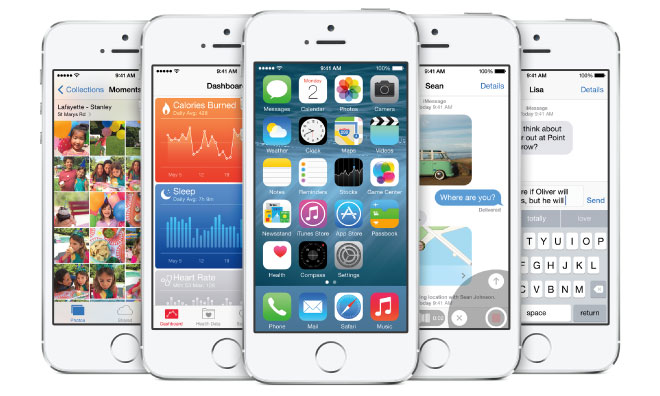 While taking the wraps off of iOS 8 on Monday, Apple showcased a broad array of new features for users, including interactive notifications, a faster and smarter text entry system dubbed "QuickType," and enhancements to Messages that will improve group texting.
One of the highlights of iOS 8 are new interactive notifications that allow users to reply to text messages or accept calendar invites without leaving the app they are currently in. These new interactive notifications can be invoked from their temporary banner that appears at the top, as well as on the lock screen.
The iOS keyboard has also been revamped with predictive typing suggestions, a feature Apple has dubbed "QuickType." It also intelligently interprets appropriate responses: In one example, a text message asked whether the user wants to do dinner or a movie, and suggestions were either "Dinner" or "Movie."
These new suggestions learn a user's language and words they prefer, but Apple also emphasized privacy, saying that the information will never leave the device.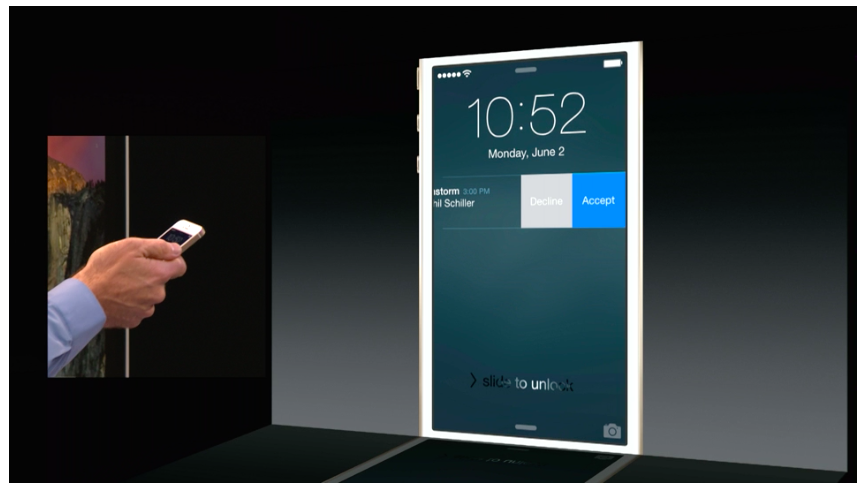 Continuity features on iOS and Mac also allow users to easily share content, receive standard text messages on other devices like an iPad or Mac, and even remotely enable Personal Hotspot.
Messages has also been improved with the abilities to name threads, add and remove users, and even enable "Do Not Disturb" for a specific thread.
Recent contacts and favorites are also shown in the multitasking view, allowing users to quickly place phone calls, send messages or start a FaceTime call. Safari on iPad will also also gain a new tab view that is similar to the iPhone view.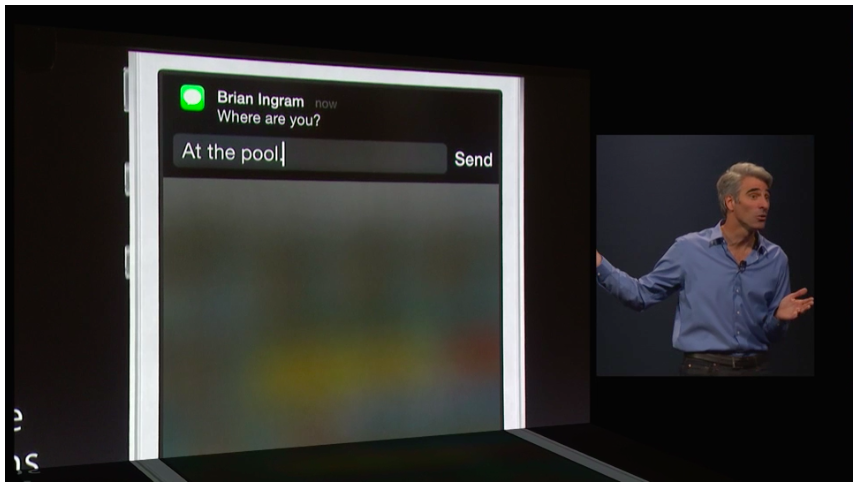 When composing mail, users can now swipe down to access other mail without closing the message being written. Mail also adds the ability to quickly delete messages or flag them, while smart integration with Calendar allows events to be easily added.
Spotlight searches have also been expanded, now allowing users to find news, songs, movies and other content that may not be saved on the iPhone.
iOS 8 also adds support for iCloud Drive, allowing users to easily open documents from other compatible applications. Edits are saved back to their original location, so there aren't different versions or copies. iCloud Drive syncs to iPhone, iPad, Mac and Windows.
Additionally, Apple introduced a new Family Sharing program for content purchased from the iTunes Store. Up to six family members — Â who all share the same credit card — can access each other's purchased content automatically from any device.
In a nod to regulators, Family Sharing also includes a new parental control feature that will notify parents when their child wants to make a purchase through the App Store. The parent can then accept or reject the purchase.
Also coming along for the ride are a number of new editing options in the camera, including an extended automatic "fixing" mode. In one demonstration, Federighi brought up a simple levels tool that allowed him to scrub over a live preview to find an aesthetically pleasing setting while iOS adjusted a number of variables in the background to achieve the desired effect.
Siri received an update as well, with a new "Hey, Siri" function that allows users to activate Siri with their voice while driving. Additionally, the personal digital assistant now supports song recognition via a new partnership with Shazam.