Apple's OS X 10.10 Yosemite beta hints at Retina display iMacs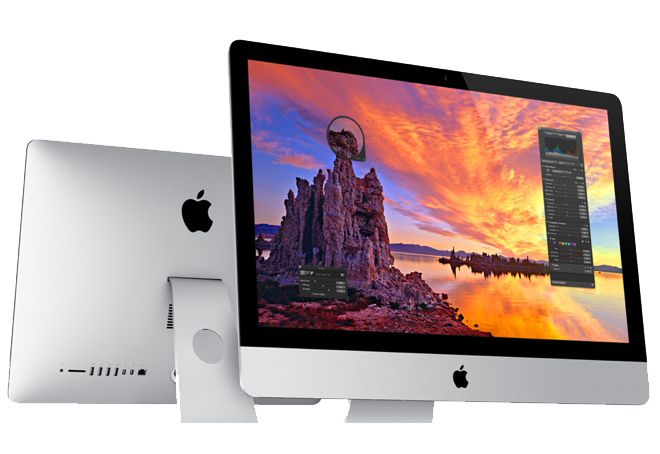 Rumors of Retina iMacs have been floating since the iPhone 4 with Retina display launched in 2010, but newly discovered code in Apple's latest OS X 10.10 Yosemite beta suggests the anticipated all-in-ones may be close to market.
Rooting around in the recently released Yosemite developer preview's system library, a member of French forum MacBidouille uncovered a string of code pointing to scaled display resolutions of what could be a Retina-toting iMac.
A file covering display device scaling settings shows a number of high-resolution options for an unknown computer that go far beyond Apple's current offerings. The highest resolution is shown as 6,400-by-3,600 pixels, which would likely be scaled down to 3,200-by-1,800 pixels for a Retina panel. Product identifiers associated with the file were previously referenced in a recent beta build of OS X 10.9.4 Mavericks and tied to an as-yet-unannounced iMac model.
The first of these resolutions indicates hexa "00001900 00000e10" is therefore a resolution scaling of ... 6400 x 3600 (probably 3200x1800 HiDPI).
Continues and is 5760x3240 (2880x1620 HiDPI) 4096x2304 (2048x1152 HiDPI), etc..
(There are other resolutions, just make the conversion from hex)
While scaled resolutions can be deduced from the code string, the forum user notes a native display resolution is more difficult to pin down. It can be speculated that Apple will treat the Retina iMac much the same as it does the MacBook Pro with Retina display, meaning system graphics are generated at high resolutions then scaled down to sharpen the image.
Apple has long been rumored to field a Retina display iMac, but the company has only deployed the high-resolution hardware in products up to the MacBook Pro. In April, KGI Securities analyst Ming-Chi Kuo predicted Apple would release a low-cost iMac as well as a Retina MacBook Air by the end of 2014.